Summary

Krakatoa Resources has reported positive assay results from the maiden AC drilling program at the Rand Bullseye Magnetic targets.
KTA intersected moderately magnetic, intermediate intrusive rocks at the three bullseye targets through wide-spaced reconnaissance AC drill holes.
KTA also received outstanding assays from regional rock-chip samples that reinforce the IRGS model.
KTA will undertake additional work for investigating the potential for tin-tungsten mineralisation.
Yet again, Krakatoa Resources Limited (ASX:KTA) has received encouraging assay results from the exploration program at the Rand Bullseye Magnetic targets.
The Company tested a variety of targets through wide-spaced aircore drill holes while drilling at some holes aimed at testing the interface directly above numerous bedrock anomalies dentified in the dipole-dipole IP survey.
Most significantly, the drill program was aimed to confirm intrusive rocks as the source of the three bullseye magnetic anomalies and testing for IRGS mineralisation within and close to them.
PREVIOUS UPDATE: Krakatoa Resources (ASX:KTA) kicks off AC drilling at Sugarloaf
AC collars, magnetic bullseye anomalies and dipole-dipole survey lines with anomalies (Source: KTA Announcement 30/06/2021)
KTA had undertaken a maiden aircore (AC) drilling program during March-April 2021 with 43 holes totalling 2,761.7m that concluded over the three areas (west, north and south).
GOOD READ: Krakatoa Resources discovers extensive gold anomalies at Rand
Encouraging results from the drilling program
Moderate to strong anomalous IRGS pathfinder elements were returned from the holes, and the IRGS model was confirmed through anomalous gold in multiple holes within the weathered intrusive units. Moreover, phyllic alteration was intersected in numerous holes within or close to the intrusives that are characterised by IRGS.
KTA also gathered the following gold results from the bedrock:
Data Source: KTA Announcement 30/06/2021
DID YOU READ: Krakatoa Resources (ASX:KTA) kicks off exploration at Mt Clere REE Project
Besides this, strongly anomalous IRGS pathfinder elements also support the anomalous gold-in-bedrock results with silver, copper, lead and zinc found to be strongly anomalous.

A glance at AC program (Source: KTA Announcement 30/06/21)
Outstanding rock-chip sample results
KTA has also received assay results from the final batch of rock-chip samples, with results reinforcing the potential for economic gold grades again. The samples were collected during reconnaissance fieldwork undertaken earlier in 2021 and bucky quartz veins at Show Day Mine pitted were anomalous in Au, As and Sb.
IMPORTANT UPDATE: Krakatoa Resources cranks up exploration at Rand and Mt Clere in May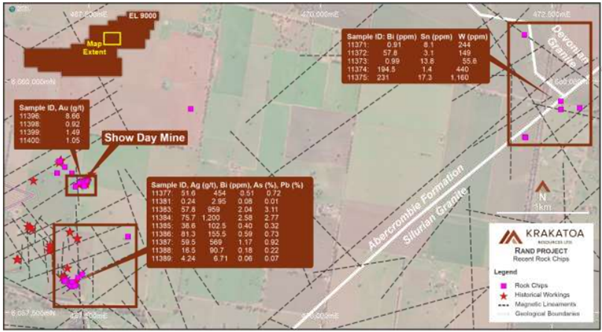 Source: KTA announcement 30/06/2021
RAND PROJECT UPDATE: Krakatoa Resources (ASX:KTA) announces high-grade gold results at Rand Project
Planned activities
The exploration over the past 12 months by KTA across the Rand Project has suggested the potential for a significant IRGS to be hosted within the Bulgandry - Rand area. This hypothesis is strongly endorsed by historical mining and the recent reconnaissance drilling.
The Company is encouraged and plans to move forward with additional exploration programs on the back of confirmation for the IRGS model with gold mineralisation intersected in all three intrusives through the first-pass AC holes.
An RC ± DD drilling program aimed at testing the IP anomalies and the intrusives will be a part of KTA's follow-up work for the bullseye targets. This drilling shall comprise of 6-10 holes spanning over 2000 metres and is anticipated to be finalised around late 2021 to early 2022, once the crops are harvested.
Source: KTA Announcement 30/06/2021
GOOD READ: Krakatoa Resources (ASX:KTA) wraps up maiden drill program at Ran