Summary

Exploration tenements (E52/3730 and E52/3731) have been granted at the Mt Clere project in Yilgarn Craton.
Mt Clere is considered highly prospective for REE, HMS gold and intrusion hosted Ni-Cu-(Co)-(PGEs) mineralisation.
The tenements are located in the highly sought-after neighbourhood, which experienced a major pegging rush after lodging the exploration tenement applications.
Krakatoa Resources Limited (ASX:KTA) has smashed a major milestone with the grant of two additional exploration tenures at the Mt Clere project in Yilgarn Craton of Western Australia. The company has extended its landholding at the highly prospective Rare Earth Elements (REE) and heavy mineral sands project by notching up two exploration tenements, E52/3730 and E 52/3731, that stretch over an area of 749 square kilometres. These licences have been awarded after months of marathon negotiations on heritage agreements finally reached a breakthrough.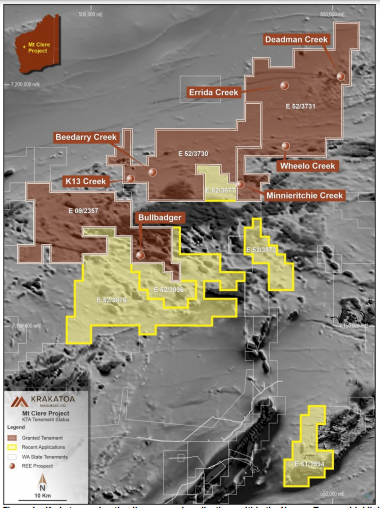 Krakatoa exploration licenses and applications Source: KTA Resources ASX Update 15 February 2021
In aggregate, Krakatoa controls 1,780 square kilometres of highly prospective geology at the Mt Clere Project with 1,080 square kilometres under granted licences.
Market cheers the news
On 15 February 2021, after the news, the shares of Krakatoa Resources zoomed up 6% on the ASX to trade at $0.069, with a market capitalisation of $18.13 million. Over the past one year, KTA shares have appreciated by 130%, rewarding its shareholders handsomely.
Read: Krakatoa Resources (ASX:KTA) Closes A Rocking December Quarter
Mt Clere REE & HMS project in the sought after region
Mt Clere hosts substantial REE geochemical anomalies which were initially identified by BHP Minerals and were later confirmed by Astro mining during the 1990s. Previous exploration activities at the newly granted tenements were undertaken by BHP and Astro Mining NL. These confirmed high monazite grade in pan concentrates, with grades in excess of 50% in a large number of samples from the anomaly with a size of over 100 square kilometres.
The newly granted tenures are prospective for 3 REE deposits –
Ion adsorption clays across the large laterite areas,
Monazite sands of the extensive alluvial terraces, and
Carbonatite dyke swarms similar to Hasting's (ASX: HAS) Yangibana Project.
The Ion adsorption clay targets had been delineated by La Trobe Magnesium in the large laterite areas. The monazite is considered to originate from the REE ion adsorption on clays within deeply weathered lateritic profiles within the gneissic rocks or potentially within the monazite-rich carbonatites.
Pegging rush around the KTA's tenements Source: KTA Resources ASX Update 15 February 2021
The Mt Clere's project presents multi-commodity opportunity and is prospective for:
Monazite hosted Rare Earth Elements.
HMS hosted Zircon-Ilmenite-Rutile-Leucoxene.
Gold and Ni-Cu-(Co)-(PGEs) within intrusive bodies.
The project covers region with structural complexity in the Narryer Terrane of Yilgarn Craton, which is interpreted to represent the reworked remnants of greenstone sequences prospective for Ni-Cu-(Co)-(PGE's) mineralisation within intrusive bodies. At the recently granted tenements, the priority exploration campaign will determine the nature and extent of ion -adsorption clay REEs.
Read: Krakatoa Resources (ASX:KTA) All-Set to Go for Gold
Next Steps and the Way Forward
KTA is currently planning to commence the initial field program at the tenements within the month, contingent on suitable access amidst the heavy rainfall in the recent weeks. The exploration program will include an initial field reconnaissance, geological and geochemical mapping, stream, and geological outcrop sampling.
All financial information pertains to Australian Dollar unless stated otherwise.