Summary

King River Resources produced High Purity Alumina (HPA) at >4N (99.99%) purity during the March quarter.
The Company is also advancing the Speewah Specialty Metals Project, focusing on extracting high purity vanadium and titanium products.
KRR received encouraging gold results from drilling campaigns at the Mt Remarkable and Tennant Creek projects.
King River Resources Limited (ASX: KRR) has undertaken a bevy of developments in the past couple of months, providing a springboard for growth. Its March 2021 quarter report highlights all-round progress that seems to have catalysed the Company's journey.
The activities were focused on producing High Purity Alumina (HPA). Also, the Company's gold project portfolio experienced extensive exploration progress.
The Company had a cash balance of $6,626,845 at the quarter-end.
ALSO READ: King River Resources (ASX:KRR) in excellent shape with major headways across projects
HPA Development at >4N (99.99%) Purity
KRR produced HPA at >4N (99.99%) purity by calcining high purity precursor materials, which were produced by the refining of an industrial chemical feedstock material. The Company indicated improvements in the precursor decomposition during calcination, which removed more of the volatile element, thereby generating >4N HPA grade results.
The assay techniques such as fusion-XRF and fusion-laser ablation are being deployed by a Perth-based independent laboratory to verify the HPA purity.
The assaying, which will assist in ensuring quality control and quality assurance, remains a critical step for finalising the HPA Prefeasibility Study (PFS). The Company would also undertake phase analysis to confirm that the crystal structure is 100% alpha alumina.
ALSO READ: King River Resources' shares leap 27% on crucial HPA milestone
Other PFS Associated Developments
Prefeasibility Study Advancing Well
The Company has achieved several other PFS outcomes. KRR continued to investigate for an industrial site in the Kwinana area, located south of Perth and ideally suited for industrial production activities. Capex and Opex estimates by Como Engineers are also being finalised for incorporating into the PFS documentation.
Mini-Pilot Plant
KRR has kicked off the development of a mini-pilot plant for demonstrating the KRR process works at a larger scale for the Definitive Feasibility Study (DFS) and for producing market samples.
Other Metallurgical Developments
Metallurgical HPA testwork is progressing well, aimed at further refining the KRR process. Significantly, the current focus is to improve the HPA precursor product and simplify the final calcination stage.
KRR is also advancing the East Kimberley-based Speewah Specialty Metals Project. Testwork is underway to extract high purity vanadium and titanium products from the Speewah deposit. The extracted products would serve as suitable intermediate products for master alloy and battery applications.
Significant Drilling Results at Mt Remarkable Project
During the quarter, KRR received results from its 2020 drilling campaign at the Mt Remarkable Project (WA's Kimberley region). The campaign included 33 Reverse Circulation (RC) holes for more than 2,300m.
ALSO READ: King River Resources (ASX: KRR) strikes high-grade gold at new vein on Mt Remarkable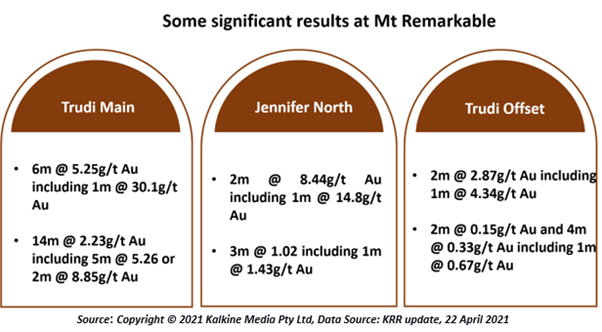 The intersections at Jennifer North, lying 3km from the main Trudi Vein, sit outside of the main project Area. The assays returned from KRR267 (Jennifer North) is the first +10g/t gold result outside of the Trudi Main prospect. It represents a pretty encouraging exploration potential for other veins at the main Mt remarkable project area and on other KRR exploration tenements in the region.
All targets at the Catherine/Grahame Vein intersection, Trudi West and Gemma Offset vein returned low-grade mineralisation.
ALSO READ: King River Resources (ASX:KRR) Shining in the Hale and Hearty Gold Market
Planned Exploration at Mt Remarkable
Testing of Trudi vein's known strike extent to the western and eastern side using even spaced fenced drilling (up to 100m depth)
Follow-up drilling would be undertaken on the Jeniffer Vein
Reconnaissance exploration to be conducted for tenement holdings at the regional Mt Remarkable
ALSO READ: More Golden Glory for King River Resources (ASX:KRR) at Mt Remarkable
Exploration at Tennant Creek
KRR reported robust gold, silver and copper rock assay results from 80 rock chip grab samples collected during reconnaissance exploration on the newly granted exploration licences in the Tennant Creek/Davenport region.
ALSO READ: King River Resources (ASX:KRR) Gets Cracking at Kurundi with High-Grade Rock-Chip Results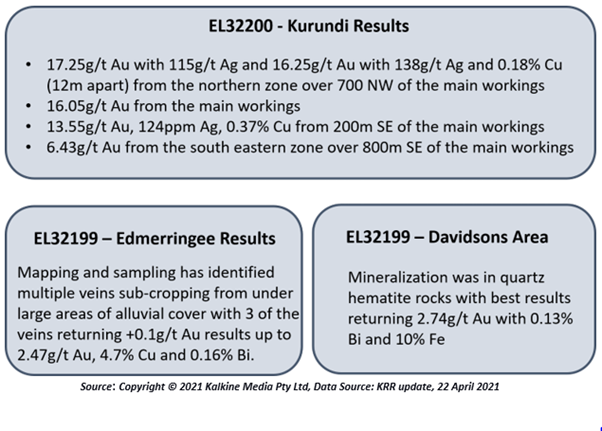 Exploration Plans in the Tennant Creek region
Reconnaissance at the Kurundi Project 2021 and surrounding tenements
Soil sampling in the areas around Edmirringee and Whistle Duck
Ground magnetics and gravity on EL31619
Further airborne magnetics in the East Tennant/Barkly region
KRR stock was trading at A$0.036 on 23 April 2021 (AEST 11:36 AM), up 5.882% from its last closing price.