Source:CHEN FANGXIANG,Shutterstock
Summary

King River Resources has received high-grade results from rock chip sampling undertaken at the Kurundi Project.
Samples were collected from newly granted exploration licences EL32199 and EL32200.
KRR intends to continue exploring the Tennant Creek region including Kurundi in a bid to support a drilling program later in 2021.
Gold exploration in the Tennant Creek/Davenport region is going from strength to strength for King River Resources Limited (ASX: KRR).
In an upbeat market update on 5 March 2021, the Company announced high-grade gold, silver and copper rock chip sample results from reconnaissance exploration undertaken at its Kurundi Project.
The explorer took a total of 80 grab samples from exploration licences EL32199 and EL32200 (newly granted) that delivered exceptionally promising outcomes. Multiple locations delivered high-grade gold results.
The latest high-grade rock chip results at Kurundi add to the momentum of KRR's smooth exploration journey in the Tennant Creek region. So far, the endeavours have churned out impressive results, with significant accomplishments including:
Discovery on a new Ironstone under shallow Cambrian cover at EL31619, situated over 10 kilometres east of Tennant Creek.
Being awarded a geophysical collaboration (2020 - Round 13) program with the NT government.
ALSO READ: King River Resources (ASX: KRR) strikes high-grade gold at new vein on Mt Remarkable
High-Grade Results from EL32200
Covering a part of the Kurundi Anticline, EL32200 incorporates the main Kurundi historic gold workings.
A NW-SE trend to the vein revealed from reconnaissance of the old workings are eclipsed by shallow cover with grab samples returning significant gold values along an interpreted two-kilometres strike.
Several positions along the vein returned high-grade results, with +5g/t Au results from three separate zones:
25g/t Au and 16.25g/t Au (12m apart) from the northern zone over 700 NW of the main workings
16.05g/t Au from the main workings
13.55g/t Au from 200 metres SE of the main workings
6.43g/t Au from the southeastern zone over 800 metres SE of the main workings
According to Results NTGS, a projected gold weighing 25-75kg was mined from historic workings in the Kurundi Gold field. Grab samples (T3,000,061 and T3,000,068) were from veins that were off the main trend, and both returned +0.5g/t Au indicating the presence of other mineralised vein trends in the area.
ALSO READ: King River Resources (ASX:KRR) Shining in the Hale and Hearty Gold Market
Edmerringee Results (EL32199)
The rock units covered by EL32199 are same as those at Kurundi within the Whistle Duck–Edmirringee trend.
Several veins sub-cropping have been identified, via mapping and sampling, from under substantial areas of alluvial cover, and three veins have returned above 0.1g/t gold results with the highest grade being 2.47g/t Au, 4.7% Cu and 0.16% Bi.
Mapping indicated that the main Whistle Duck prospect is positioned on a broad North-West trending vein with 0.1g/t Au results, returned along a strike of 155 metres.
Also, the prospect has not witnessed any other historic exploration with the exception of rock chip sampling at the main historic digging.
Davidsons Area (EL32199)
Warramunga Formation rocks are covered under the northern part of EL32199, comprising the Davidson Gold prospect.
Mineralisation at the Davidson area was in quartz hematite rocks and has the best results of 2.74g/t Au with 0.13% Bi and 10% Fe. The elevated Fe, Cu and Bi values indicate potential resemblances to iron oxide copper-gold mineralisation at the main Tennant Creek.
There has been neither historical systematic exploration nor drilling in the area.
ALSO READ: King River Resources (ASX: KRR) Ticks Off Key Milestones in December Quarter
Other Plans for Tennant Creek Exploration
The exploration tenants (16 covering 7900km2) held by King River Resources in the Tennant Creek Region cover four main project areas – Kurundi, Rover East, Tennant East/Barkley and Tennant Creek East.
KRR expects to make a significant gold discovery by carrying out systematic exploration along with new and advanced geophysical techniques to target drilling.
Exploration in the project areas focuses on IOCG (iron oxide copper-gold) style mineralisation, characterised by the mineralisation of gold and copper, linked with ironstone bodies, likely of the Tennant Creek Style.
The Company intends to forge ahead with exploration in the Tennant Creek region during the first half of 2021, setting the stage for drilling of best targets later in the year.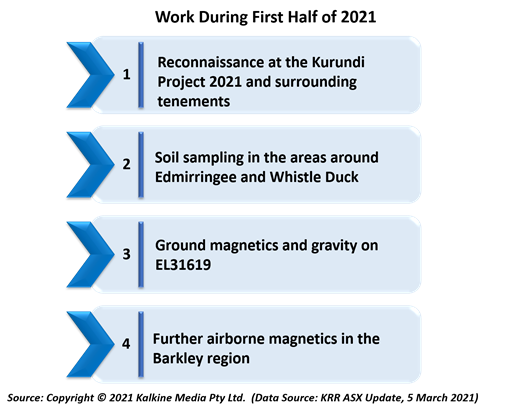 KRR traded at AUD 0.025 on 5 March 2021.