Highlights

Platina Resources' (ASX:PGM) highly prospective Xanadu project has a widespread gold mineralisation.
Xanadu holds an immense appeal on the back of a large number of economic-grade gold intercepts.
The company is undertaking preparatory work for heritage surveying and other approvals to allow drilling.
Platina Resources Limited (ASX:PGM) has been going full steam ahead to advance its portfolio of gold projects in the tier 1 mining jurisdiction of Western Australia. Currently, the exploration company holds two gold projects in the region, namely Xanadu and Challa.
Xanadu is a highly prospective gold project in the Ashburton Basin, covering seven prospecting licences and five exploration licences spread over 498 sq km.
The Ashburton Basin region hosts a number of major gold projects including the Mt Olympus gold project (1.65 Mozs) and the Karlawinda gold project (2.1 Mozs).
The historical journey of Xanadu Project
Historically, gold mineralisation at Xanadu was discovered by BP Minerals in 1985. Geological studies at the project identified a gold association with fine-grained pyrite and arsenopyrite, and sericite and argillic hydrothermal alteration with carbonate alteration and silicification.
The project saw little exploration between 1989 and 1992 as RTZ Corp acquired BP Minerals Australia and renamed it Riomin Australian Gold.
Later, the project saw various exploration programs by companies including Nugold Hill Mines, Newcrest Mining, and MRG Metals.
Data Source: Company Announcement (13 April 2021)
ALSO READ: Platina Resources' gold projects in full swing amid Australia's strong gold outlook
Recent activities at Xanadu project
Back in 2021, Platina Resources acquired the Xanadu Gold Project, which holds an immense appeal, owing to a number of significant economic-grade gold drill intercepts.
In the second half of 2021, the company commenced an Induced Polarisation (IP) geophysics program, covering a 7km target zone identified as a high priority target during geological mapping.
ALSO READ: Five factors powering Platina Resources (ASX:PGM) towards an exciting future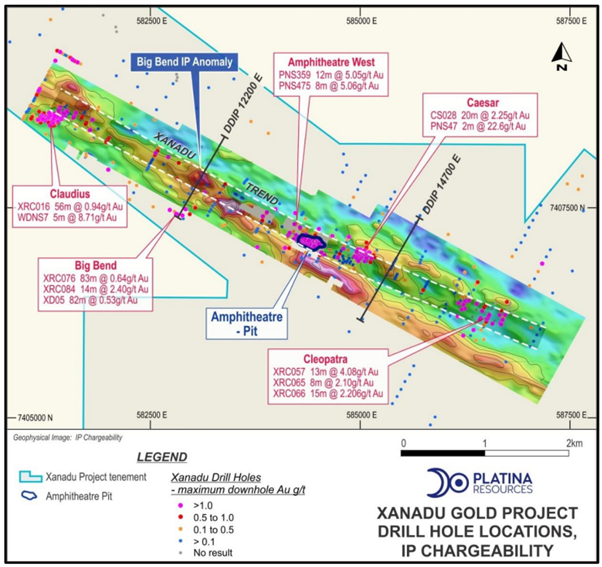 Source: Company Announcement (10 February 2022)
ALSO READ: Platina Resources (ASX:PGM) tapping opportunities in buoyant Australian gold space
Later, the geophysics program identified various anomalies for drill testing. Additionally, the IP data also identified a linear zone, defined by the margin of conductive and resistive features, which maps out a target zone of 6km strike length.
Furthermore, a follow-up dipole-dipole IP surveying has delivered more detailed confirmation of chargeable targets along with this linear target zone.
Meanwhile, the company has also commenced preparatory work for heritage surveying and other statutory requirements to enable drilling including:
Data Source: Company Announcement (29 April 2022)
PGM shares traded at AU$0.031 on 20 June 2022.