Highlights

Allup's Sparkler Silica Project currently holds 73Mt of mineral resources.
The project area has a well-developed industrial infrastructure and well-connected access to ports.
The Sparkler Project comprises three licences, and the Company has finished a drilling program on one of them with assay results pending.
Latest metallurgical results suggest potential for a high-quality silica sand product.
Allup Silica Limited (ASX:APS) aims to position itself as a significant player in the vibrant silica sand market. The ASX-listed mineral explorer is committed to developing its projects located in Western Australia.
The current strategy is to focus on the development of the Sparkler Project, part of the South-West Silica Exploration Project. The Company aims to continue exploration across Sparkler to boost mineral resource estimate and upgrade to higher JORC compliance levels.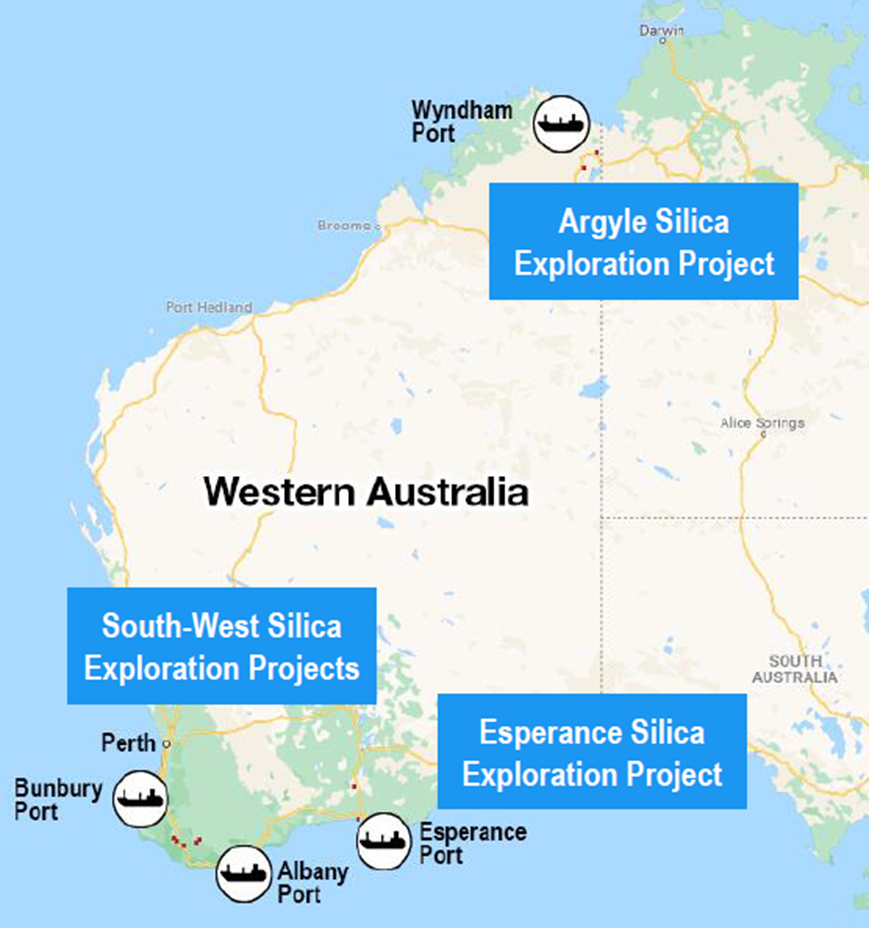 Project portfolio of Allup (Image source: Company update, 2 May 2022)
Sparkler Project in tier-1 mining jurisdiction
The South-West Silica Exploration Project is located approximately 300km south of Perth. The easternmost location is called Sparkler, while the western location is called Antwalker/Pipeclay Tree.
Related read: Eye on hot silica sand market, Allup Silica charged up to advance WA assets
The region has a history of exploration, even in areas within the scope of the project. No large-scale mining has taken place to date within the tenement package. However, there are several other active mining projects and primary industries in these areas, due to which mining, agriculture, and community infrastructure have been fully developed.
Allup's sites in the region are accessible by high-quality all-weather highways and arterial roads. The projects also have access to the major highways needed to store, process, and transport resources to transportation facilities.
The Sparkler Project covers three exploration licences, E70/5447, E70/5527, and E70/5920. The tenement is right next to the Muirs Highway. The project is relatively unimpeded by these areas, but the underlying land is generally freehold land and requires consent to conduct on-site exploration activities.
The Company has land access and compensation agreements with landowners for exploration areas within the project area.
Sparkler Project location (Image source: Company update, 2 May 2022)
What is Allup's exploration strategy for Sparkler?
The Sparkler Project is located on a poorly drained plain with undulating low hills and rises, lakes and low dunes. The sediments in this area are part of the Wellylup Formation, dotted with fine to coarse-grained silica sands or thick beds of carbonaceous clay through to carbonaceous sandy silts.
The distribution of sediments is not well understood due to the extensive coverage of Ferricrete, Alluvian, and Colluvian. There is a sharp bed contact between the quartz sand and the underlying clay or clay silt. Quartz sand is classified as coarse to medium sand, fine to coarse, and the grains are angular.
The Sparkler Project currently holds inferred mineral resource of 73Mt @ 96.6% SiO2. Allup completed a drilling campaign over E70/5527 in March 2022. The assay results from the drilling campaign are pending.
The Company intends to launch a drilling campaign over the E70/5920 licence with the next available onsite opportunity.
A recently conducted metallurgical testwork on the project confirmed that it has the potential to produce high-quality silica sand products.
Know more: Allup Silica's (ASX:APS) Sparkler project on fast track with positive metallurgical results
Shares of APS traded at AU$0.093 on 23 June 2022 with a market cap of AU$8.36 million.