Source: Roman Bodnarchuk, Shutterstock
Summary

Horizon completed trial mining and trial milling at the Boorara gold mine, with the final milling campaign generating revenue of AUD 2.8 million.
The Company's 50,000 metres resource definition and discovery exploration program has advanced well.
Horizon acquired 50 per cent interest in Penny's Find gold project during the March Quarter.
Horizon Minerals Limited (ASX: HRZ) continues to remain in the limelight due to a plethora of activities undertaken on its extensive project portfolio. March Quarter 2021 was no different, with the diverse range of operations conducted to further advance the Company to become a mid-tier producer.
Horizon currently has AUD 12.9 million cash on hand, and its listed investment total AUD 5.3 million.
Let us look at significant undertakings that lead to an action-packed March quarter for Horizon.
ALSO READ: Horizon Minerals shares soar upon Penny's Find gold project Acquisition
How Mine Development and Operations Progressed?
During the first quarter of 2021, the Company concluded its fourth and final toll milling campaign at the Lakewood plan. The campaign extending over 17 days, processed 32kt mine.
The calculated gold recovery of 93.4 per cent was above the modelled recoveries of 91 per cent, thereby exceeding the Company's overall expectations. Furthermore, a total of 1,183oz gold was produced from the final campaign that generated a revenue of AUD 2.8 million at an average gold price of AUD 2,356/oz.
ALSO READ: Final milling campaign at Boorara fetches Horizon Minerals (ASX:HRZ) AUD 1.2M net cash
The Company is currently integrating all geology, mining and processing trial information into an independent open-pit geological model for Boorara.
What was the focus of Exploration and Evaluation Developments?
As part of the 50k metres resource definition and new discovery exploration program, drilling of more than 16,000 metres was completed across the Company's entire asset portfolio of 890 square kilometres.
Boorara
The activities at Boorara included the review and validation of all recent grade control drilling, pit mapping and toll milling trial data. It was incorporated into the drilling database to enable compiling an updated independent open pit Mineral Resource Estimate.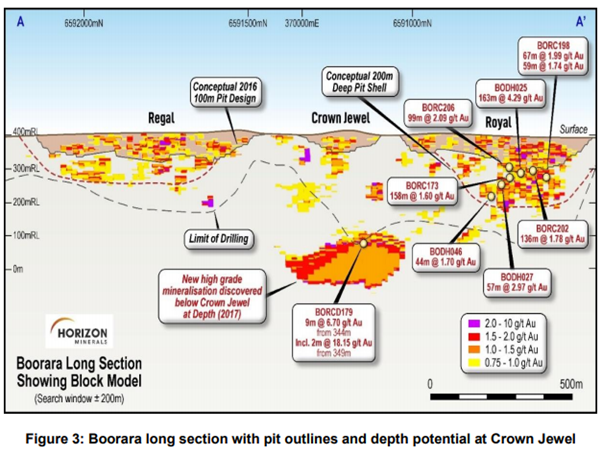 Source: HRZ ASX Update, dated 15 April 2021
Binduli gold project area
Excellent results were achieved from exploration and resource drilling at Crake along strike. The Company concluded follow-up step-out drilling that has demonstrated continuous mineralisation across a strike length of 600 metres. Outcomes from RC drilling indicate shallow and high-grade results.
ALSO READ: Horizon Minerals' (ASX:HRZ) golden run continue at Crake with the latest results
Teal gold project area
At the Teal Project area, reserve conversion drilling was aimed at the oxide and transitional ore at Jacques Find and Peyes Farm, with both returning excellent results.
READ MORE: Horizon Minerals' (ASX:HRZ) golden run continues with high-grade results at Peyes Farm
Rose Hill
The Company advanced mine optimisation and design work at its Rose Hill project. Furthermore, open pit and underground evaluation, geotechnical logging and confirmatory metallurgical test work are currently ongoing. It would pave the way for maiden Ore Reserve generation using the updated MRE.
Kalpini gold project
A detailed geological review along with RC and diamond drilling was completed with the aim to test known mineralisation extension and infill several areas for the compilation of MRE. Assays are pending and anticipated in the June Quarter.
How is New discovery drilling Advanced?
As part of the 50K exploration program, drilling was kickstarted at the Windanya prospect area, located north of Kalgoorlie-Boulder. The drilling focus was to test high priority new discovery targets between the Company's wholly-owned Capricorn prospect and the Eureka mine.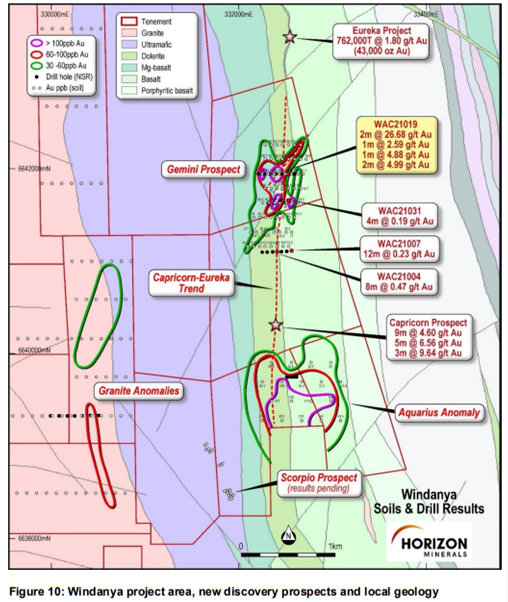 Source: HRZ ASX Update, dated 15 April 2021
DETAILED DISCUSSION AT: Horizon Minerals (ASX: HRZ) Buoyed up with Splendid Drilling Results at Windanya Gold Project
Exploration drilling was also wrapped up at the Honeyeater as well as Kestrel prospects, part of the Binduli project area, with assays expected in the current quarter. Moreover, within the Boorara project area, Horizon commenced RC drilling for testing new targets to the south of Golden Ridge and Boora deposit's north. Assays are in the June quarter this year.
Acquisition and Divestments during the Quarter
Horizon, during the quarter, completed the acquisition for 50 per cent interest in the high-grade Penny's Find gold project from Orminex Limited (ASX: ONX) for a total cash consideration of AUD 1.5 million.
Furthermore, following the review Nimbus silver-zinc project, the Company has to retain and advance it.
The Company executed a Sale Agreement for divesting two royalties for AUD 7 million. During the quarter, the Company made full repayment of debt facility and interest, and thus Horizon is now debt-free.
READ MORE: Royalty divestments bolster Horizon Mineral's cash reserves by AUD 7 million
Apart from the recent strategic and exploration progress, Horizon's joint venture partner, RVT, has now kickstarted the stage two expenditure commitment of AUD 5 million to March 2021 on the Richmond - Julia Creek Vanadium Project, inclusive of a Feasibility Study.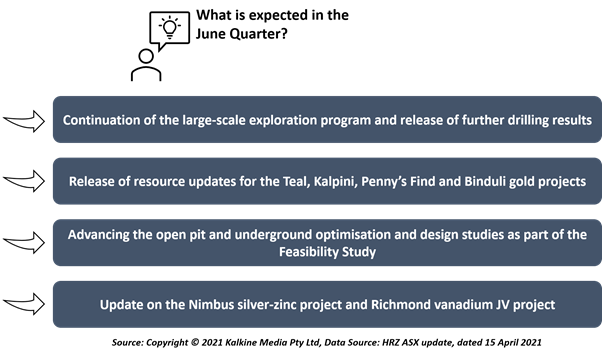 HRZ shares traded at AUD 0.12 on 16 April 2021.