Highlights

Jindalee Resources Limited (ASX:JRL) achieved a range of milestones in the March quarter.
The Company primarily progressed with the development of its McDermitt Project during the quarter.
The mineral exploration company remains well funded, with cash and securities worth A$13.3 million as of 31 March 2022.
Mineral explorer Jindalee Resources Limited (ASX:JRL) has recently released its quarterly activities and cash flow report for the three-month period ended 31 March 2022. The report incorporates the key developments announced by the Company during the last quarter with respect to its high-quality projects based in Australia and the US.
During the quarter, Jindalee continued its strategy of divesting non-core projects to spread exploration risk and increase working capital whilst maintaining a focus on key assets with the potential to transform the Company. As of 31 March 2022, the Company holds cash and securities worth A$13.3 million. The strong cash balance provides a robust base for developing projects currently held by the Company and leveraging into fresh opportunities.
Let us now look at the key developments that shaped a notable March quarter for the Company:
McDermitt Project
During the March 2022 quarter, Jindalee announced excellent results from all holes drilled at its McDermitt project in late 2021. A total of 12 holes were drilled from an approved 39-hole program at McDermitt last year. Assay results from all these 12 holes have now been received.
The results highlighted multiple significant intercepts of lithium mineralisation over broad widths, as shown in the figure below: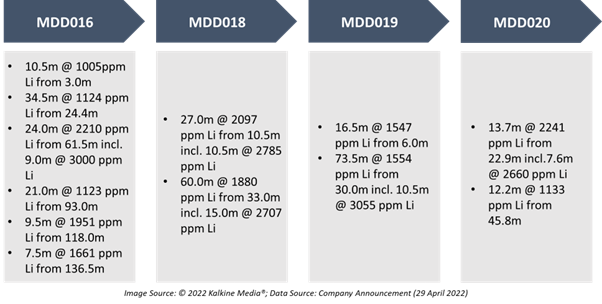 Moreover, the drilling confirmed significant mineralisation near surface, over large thicknesses and with excellent grade continuity. These diamond drill holes have further encountered multiple higher-grade zones (over 3000ppm lithium) within the Mineral Resource, reinforcing the potential scalability of the Project.
Related Article: Strong market response to Jindalee Resources' latest assay results at McDermitt
Jindalee will use the new drill data to update the MRE (Mineral Resource Estimate), which is expected to be completed in the June quarter.
Planning for the next stage of drilling this year is also well-advanced, with all necessary drill permits in hand. The rest of the drilling is planned to be mainly RC (reverse circulation) and will mainly focus on investigating the untested mineral potential across the western tenure. The drilling is likely to be completed in the September quarter in accordance with permitting conditions.
Widgiemooltha Project
In February 2022, Jindalee provided an update on nickel sulphide target generation at its wholly owned Widgiemooltha Project. The Company announced that it has progressed nickel sulphide targets at its Widgiemooltha Project and outlined five priority nickel-sulphide targets. These targets have been generated from the application of the Kambalda nickel sulphide ore deposit model.
Read More at Jindalee's shares shine after a crucial update on Widgiemooltha Project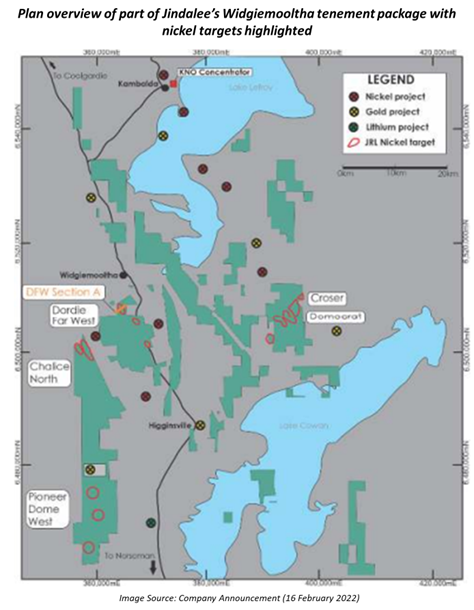 Last year in December, Jindalee also completed a total of 41 air core holes at the Chalice North prospect, situated 20km south-west of Widgiemooltha townsite. The drilling tested the continuity of gold anomalism associated with a shear zone orientated sub parallel to a graniteultramafic contact established in historic RAB and aircore drilling.
The Company received modest gold results from the drilling program, which has led it to prioritise other gold targets within the broader Chalice Project area. These gold targets comprise about 40km of greenstone belt that hosts the historic open pit and underground Chalice Gold Mine currently owned by Karora Resources.
Prospect Ridge
During the quarter, Jindalee sold a 70 per cent interest in Prospect Ridge to GWR Resources (ASX: GWR) for A$1 million, comprising A$0.25 million cash and A$0.75 million in GWR shares. Now, Jindalee's 30 per cent interest is free carried to Decision to Mine and GWR is required to spend a minimum of A$2 million and finalise a Scoping Study within 5 years or GWR's 70 per cent interest in the Project will revert to Jindalee.
Good Read: Jindalee sells 70% stake in Prospect Ridge Project to GWR
Other Developments
In the March quarter, there were many significant announcements from both sides of US politics expressing support for domestic production of critical minerals (including lithium) to decrease the current dependence of the US on foreign sources of these minerals.
To know more about these announcements, click Here
Subsequent to the quarter, Jindalee announced that it proposes to demerge its Australian assets to create a new ASX listed explorer, NewCo. The demerger aims to reposition the Company as a pure-play US lithium developer.
Related Read: Jindalee Resources (ASX:JRL) gears up to become a pure-play, US lithium developer
Moreover, the Company's wholly owned subsidiary HiTech Minerals Inc. appointed Mr Brett Marsh as Vice President, Exploration and Development, commencing 2 May 2022.
Jindalee shares are trading at A$4.15 as of 11:05 AM AEST.