Summary

Greenland Minerals Limited (ASX:GGG) has unveiled its Q4, 2020 activities and cash flow report.
The Company is inching closer to an exploitation license issuance for the world-class Kvanefjeld rare earths Project.
The core focus areas in 2021 remain project permitting, technical work programs and commercial engagement specifically with the European industry.
Partaking in the ongoing reporting season of ASX-listed companies, Greenland Minerals Limited (ASX:GGG) has reported its progressive Q4, 2020 activities report. The milestones depict that the Company finished 2020 in a strong position.
On financial level, cash and cash equivalents at the end of the period amounted to $ 36.44 million.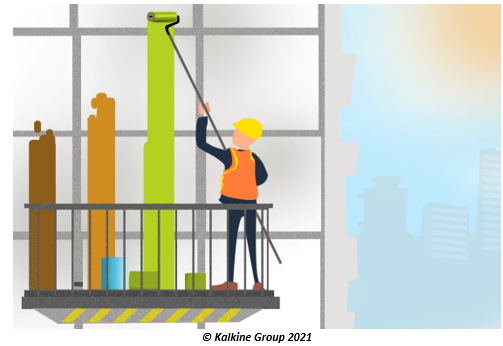 Operating in Greenland, Greenland Minerals' focus has been on the Kvanefjeld rare earth project. Kvanefjeld is amongst the world's most important emerging rare earths project. Once developed, it is anticipated to make Greenland a globally significant supplier of materials crucial to an environmentally sustainable and energy-efficient future.
Notably, rare earth demand is increasing, magnet metals' prices are rising, and the sector's interest is building.
GOOD READ: Greenland Minerals (ASX:GGG) Building An Integrated Global Rare Earth Supply Business
Commenced: Kvanefjeld public consultation phase
In December 2020, the Greenland Government approved the start of Kvanefjeld's EIA (Environmental Impact Assessment) and SIA (Social Impact Assessment) statutory public hearing. This marked an important milestone in the Greenlandic Government's formal decision-making process concerning the issuance of an exploitation license for Kvanefjeld.
The public consultation started on 18 December 2020 and will run for 12 weeks. Public meetings will be conducted in South Greenland, attended by representatives of the Greenlandic Government, officials from the Ministries of Mineral Resources and Environment, independent scientific experts as well as Greenland Minerals' representatives.
ALSO READ: Greenland Minerals (ASX:GGG) Eyeing Statutory Public Hearing Of Kvanefjeld Rare Earth Project
Accepted: Kvanefjeld EIA
In September 2020, Greenland's EAMRA advised that the independent scientific review of the Kvanefjeld EIA along with supporting studies was finalised. The EIA was assessed and met all requirements of the EIA Guidelines for public consultation. EAMRA mentioned that the process was very satisfactory and conducted with a high degree of mutual flexibility and cooperation.
This marked a major Company milestone, the climax of several years of in-depth studies conducted by an array of independent experts.
Completed: Successful capital raising
In November 2020, Greenland Minerals launched a capital raising through an institutional share placement followed by an SPP. $ 30 million was raised from North American, European, and Australian funds via the placement. Besides, $ 34 million was raised via the SPP.
According to the company, funds are likely to help in finalising licencing and permitting, converting the optimised feasibility study to a DFS, advancing offtake and project funding discussion, expanding organisational capacity and catering to general working capital purposes.
RELATED READS:
Greenland Minerals (ASX:GGG) SPP Closes Oversubscribed
Greenland Minerals (ASX:GGG) Completes $30 Million Placement
Key observation: Metallurgical development
During the December 2020 - January 2021 period, more than 50kg of flotation concentrate assaying over 20 % TREO was generated by Nagrom. The concentrate will be processed in Q121. Besides, three rare earth products will be produced.
This marked an important step in discovering the optimal intermediate product for downstream processing, along with the development of value chain integration. Greenland Minerals aims to conduct a pilot plant for the Kvanefjeld refinery process in 1H21 to provide design information and risk reduction to the refinery design. Notably, planning for this pilot plant work has begun.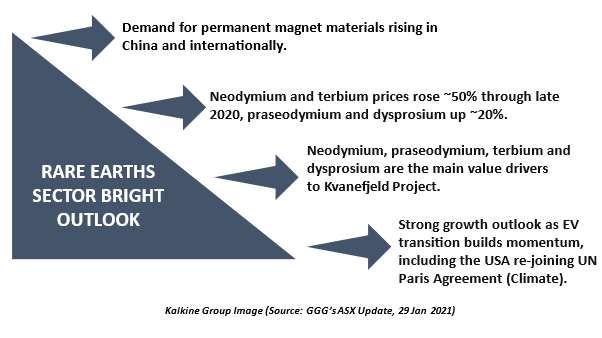 Participation: Commercial and technical conferences
Across Q420, Greenland Minerals participated in several rare earth focused commercial and technical conferences. Virtual presentations were given for ERES 2020 and the ALTA 2020 conference. The Company also presented in CLSA's rare earth deep dive forum and the New World Metals conference.
Way forward
In 2021, Greenland Minerals aims to work on following aspects-
Advance project permitting.
Focus on technical work programs to convert all aspects of Kvanefjeld to DFS level.
Tap commercial engagements with a strong focus on European industry.
RELATED READ: Here's what may lead to Greenland Minerals' (ASX:GGG) progress in 2021
Planning remains underway for an active field season in Greenland. Backed by its largest stakeholder Shenghe's leading technical expertise, preparation is advanced for pilot plants operations to establish comprehensive engineering design work parameters.
Besides, at the end of the public consultation hearing period, Greenland Minerals A/S will address the hearing comments in a White Paper. The Greenlandic Government is expected to then process Kvanefjeld's application formally for an exploitation permit.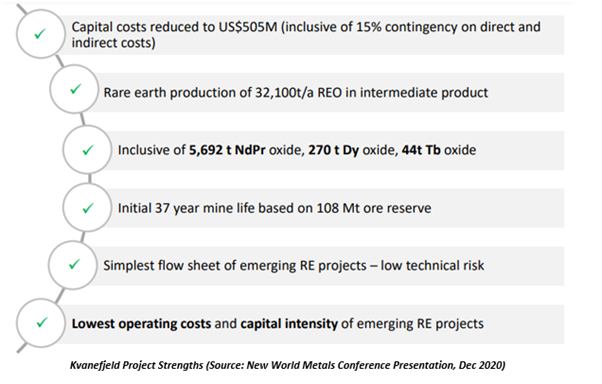 GGG traded at $ 0.285 on 29 January 2021,
GOOD READ: What's In Store For Greenland Minerals (ASX:GGG) in 2021?