Highlights

Fiducian Group (ASX:FID) has reported strong growth across FY22 despite various macro headwinds impacting global investment markets.
Fiducian has delivered 10% growth in full-year dividend over the comparable period and outpaced All Ordinaries by 874%.
Fiducian is on the lookout for growth opportunities in the future via suitable acquisitions.
Fiducian remains optimistic for future growth, given its resilient business model and the experienced management and dedicated staff.
Fiducian Group Limited (ASX:FID) has reported strong performance for the financial year ended 30 June 2022 (FY22). Fiducian continues to leverage its key revenue earning segments, including Platform Administration, Funds Management and Financial Planning, backed by the company's Fintech capability.
Over the year, Fiducian had focused on innovation and boosting productivity through in-house proprietary technology and software systems. These have ultimately helped in generating profits for its shareholders.
Strong growth across FY22
Fiducian's gross revenue increased 18% to AU$69.5 million, and the Underlying Net Profit After Tax (UNPAT) increased 11% to AU$15.7 million.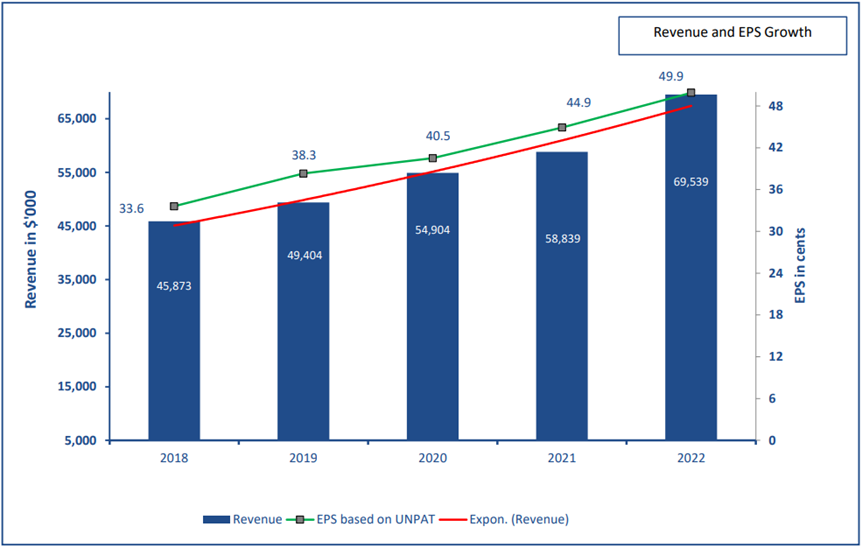 Source: FID Presentation
Investment markets across the globe were significantly impacted by the Russian military attack on Ukraine. However, the resilience of FID's business model has supported the delivery of a double-digit underlying EPS growth for its shareholders.
Fiducian's underlying earnings per share (EPS) increased 11.1% to 49.9 cents in the current year (FY2021: 44.9 cents). Moreover, the full-year dividend per share increased by 10% to 29.70 cents during 2022 (including a fully franked final dividend of 14.90 cents per share), representing 70% of the statutory NPAT for FY22.
Notably, FID stock has outclassed the All Ordinaries index by 874% (including dividend) since Jun 2012.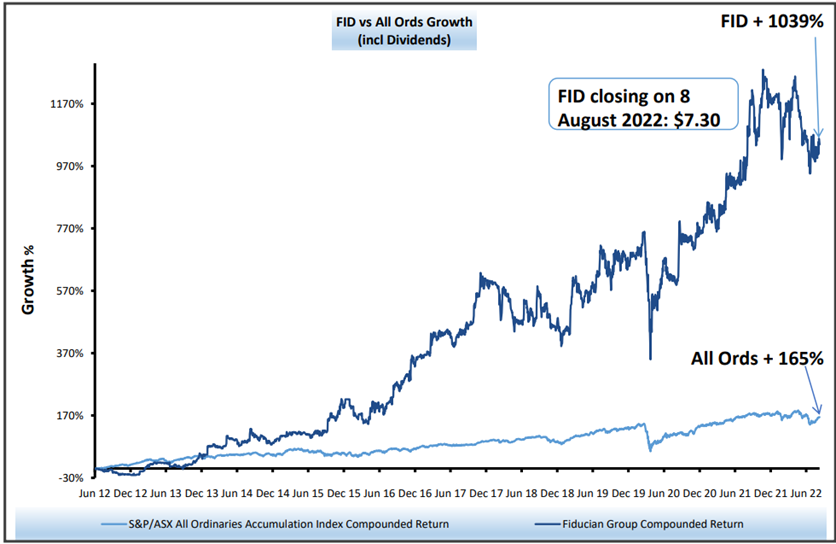 Source: FID Presentation
The company believes that further recovery in financial markets will result in more revenue growth in the coming years.
Growth in FUMAA via acquisition of client base
During FY22, Fiducian also acquired the financial planning business of People's Choice Credit Union (PCCU). This acquisition and integration into the Fiducian network absorbed a significant number of its management resources for induction, training days and consoildating revenue from clients.
Subsequent to the acquisition of client bases and navigating recent volatility in the share market, the combined Funds Under Management, Advice and Administration (FUMAA) grew 5% to AU$10.9 billion.
Growth in FUMAA (Source: FID Annual Report)
During the year, Fiducian witnessed its highest ever net inflows of AU$309 million despite the adverse impact on its FUMAA from the sharp declines in share and bond markets over the last four months.
Fiducian's loyal and experienced management and dedicated staff have helped in delivering a great client experience .
FID remains debt free
Fiducian has continued to maintain a clean balance sheet with zero debt and a positive working capital and cash flow position. However, going forward, the company remains open to raising capital via equity or debt in case appropriate acquisitions or business growth opportunities arise.
During FY22 Fiducian invested AU$9.7 million in growth opportunities via the acquisition and funding of salaried and franchisee offices. FID closed FY22 with cash of AU$17.5 million.
Fiducian remains optimistic for its future growth as the company believes that there are numerous growth opportunities across platform business as well as funds business.
Future stance
Fiducian is optimistic about further growth and anticipates delivering funds flows more than its latest record-breaking year through its expanded network of financial advisers.
Fiducian is actively engaged in activities related to the distribution of new products and services. The company continues to pursue further acquisitions of client bases that can deliver increased earnings per share.
Fiducian intends to benefit from the expected strong share market growth in the coming years and deliver notable returns to its shareholders.
FID stock traded at AU$7.595 on 16 August 2022.