Summary

Empire Resources Limited has been engaged in exploration across both prospective projects, Yuinmery and Penny's projects.
In the past 12 months, ERL has successfully capitalised the business and identified numerous investment opportunities.
The Company looks forward to exciting times in the current year with an opportunity to build fresh momentum.
Australian explorer and resource investor Empire Resources Limited (ASX:ERL) had witnessed an exciting journey throughout 2020, although times have been tough for companies around the globe due to various restrictions on movement.
During the past year, ERL has identified several investment opportunities and has successfully exploited its business. Moreover, ERL has capitalised over strengthening investment portfolio and organic exploration activities to add value as well as strengthen its business.
Yuinmery Copper-Gold Project Prospects and Drill Hole Locations (Source: ASX Announcement 29 October 2020)
INTERESTING READ: 3 Key Elements of Empire Resources Lucrative Investment Portfolio
Continued Exploration Activities Across Projects
The Company undertook several direct exploration activities to enhance its understanding of the project portfolio. Based on the knowledge base and strengthened balance sheet over 2020, ERL anticipates continuing successful exploration throughout its prospective exploration assets in 2021.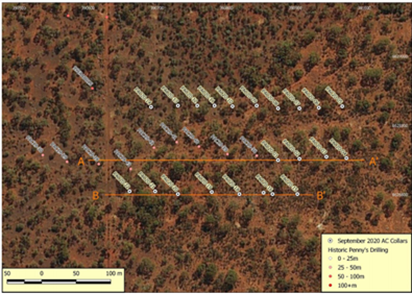 PF09 Aircore Drillhole Locations (Source: ASX Announcement 29 October 2020)
INTERESTING READ: Empire Resources Limited Calls the Tune in Its Significant Landholdings, A Walk Through Its Project Portfolio
The Company had rationalised its cost base, improvised cash management and implemented prudent investment activities, which resulted in an after-tax profit of $422,038 for the year ended 30 June 2020 vs the previous corresponding period.
INTERESTING READ: ASX:ERL tides over the rough patches, moves ahead with Fresh Momentum
Investment in NTM Grows Significantly
As announced by ERL on 4 November 2020, ERL's investment portfolio includes 6.73% holding in NTM Gold Limited (ASX:NTM), which is an aggressive ASX listed explorer in a significant gold corridor.
RELATED: Empire Resources' Financials Reflect Green Shoots; Exploration Expenditure Increases By 436%
ERL invested $1.5 million in July 2019 in NTM, which has now grown to around $4.45 million. This sprawling growth in the share price of NTM offers a lucrative opportunity for an evolving gold explorer. ERL anticipates drawing further benefits from its investment in NTM through NTM's success.
SEPTEMBER QUARTER UPDATE: Empire Resources Limited's (ASX:ERL) Progressive Exploration In September Quarter Stems Plans for Further Drilling
Suitable Funding Facilitates Exploration
ERL has remained suitably funded to continue exploration across its both on our Yuinmery as well as Penny's projects. This has been possible through the Company's $1.3 million worth of capital raising through a strongly supported placement along with effective cash management strategies.
All in all, ERL looks forward to an exciting year ahead based on the excellent gold and base metal prices. This optimism is also backed by an opportunity to establish fresh energy for ERL. In addition to this, ERL boasts an experienced exploration team and competent development professionals and financial experts.
RELATED: Empire Resources Reports Significant Results from Drilling Campaigns, Stock Zooms by ~7%
ERL, as an overall organisation, is committed to building a sustainable and valuable mineral company. In 2021, the Company remains focused on identifying value generating investment opportunities and direct exploration across its projects.
INTERESTING READ: How Is Empire Resources' Investment In NTM Gold Placed Amid Market Volatility?
ERL last traded on 15 January 2021 and closed at $0.013 per share with a market capitalisation of $11.81 million.
*All financials are in AUD, unless specified.