Summary

Empire Resources owns two very prospective projects and has been making consistent exploration efforts.
ERL had encountered major discoveries across its Yuinmery project and has indicated the potential for major discoveries.
ERL looks to continue its exploration programs and has planned various activities in the coming times to test geochemical and geophysical targets across prospects.
Gold and copper focussed mineral explorer Empire Resources Limited (ASX:ERL) has two highly prolific projects and is backed by a team of highly experienced professionals that specialise in exploration, development as well as finance.
ERL has made notable progress at its Yuinmery Copper-Gold Project with various activities undertaken throughout the year 2020.
INTERESTING READ: Empire Resources (ASX:ERL) Looking To Strengthen Its Investment Portfolio
Reconnaissance Air-core Drilling Returns Impressive Results
The year 2020 kick-started with strongly anomalous copper-gold mineralisation returned from the reconnaissance air-core drilling. These results were reported across several prospects located at its Yuinmery project.
A new prospective horizon was highlighted by drilling, and the results indicated the likeliness to host several fresh zones of gold mineralisation.
DID YOU READ: Empire Resources Ready to Go Hammer and Tongs for Continued Exploration Success
Yuinmery Copper-Gold Project Prospects (Source: ASX Announcement 24 January 2020)
At this point of time, ERL had added numerous prospective targets to its portfolio and had secured a significant level of information concerning the copper sulphide mineralisation. Further, historic high copper assays were confirmed at Marcus prospect.
INTERESTING READ: 3 Key Elements of Empire Resources Lucrative Investment Portfolio
Fresh Cu-Au & Cu-Ni Prospects
In March 2020, an eleven (11) hole reverse circulation drill program tested five prospects and the Smith Well prospect's northern extension at the Yuinmery Project.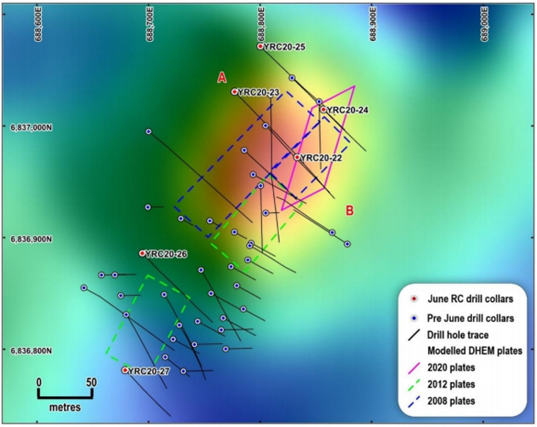 Smith Well Drillhole Locations (Source: ASX Announcement 29/10/2020)
Drilling intercepted broad zones of mineralisation and copper-gold mineralisation was confirmed in two holes at YT01 prospect and intercepts included the following:
8m @ 1.09% Cu & 0.37g/t Au from 44m within 28m @ 0.60% Cu & 0.20g/t Au from 32m (YRC20-03)
4m @ 0.89% Cu & 0.12g/t Au from 56m within 24m @ 0.54% Cu & 0.08g/t Au from 56m (YRC20-02)
INTERESTING READ: How Is Empire Resources' Investment In NTM Gold Placed Amid Market Volatility?
At the Smith Well, hole YRC20-10 returned 68m @ 0.37% Cu & 0.13% Ni from 50m, and some encouraging results included the following:
1m @ 1.26% Cu from 60m
3m @ 0.65% Cu & 0.15% Ni from 67m, including 1m @ 1.03% Cu & 0.23% Ni from 67m
22m @ 0.51% Cu & 0.19% Ni from 79m, including 2m @ 1.22% Cu from 91m
The RC drilling at Yuinmery had remained on track to deliver excellent results that supported ERL's belief in Yuinmery Project's potential to host several copper-gold and copper-nickel deposits. The Company's continued exploration efforts at the project indicated the potential for discovery of new copper-gold deposits.
Furthermore, Smith Well has also continued to highlight the prospectivity for more broad zones of sulphide mineralisation and the Company has been eager to advance further investigations.
INTERESTING READ: Empire Resources Limited Calls the Tune in Its Significant Landholdings, A Walk Through Its Project Portfolio
DHEM Survey Reveals Encouraging Results
During May 2020, ERL undertook Downhole electromagnetic (DHEM) geophysical surveys at both Smith Well and YT01 prospects to test off-hole sulphide mineralisation signatures. ERL surveyed seven RC holes and received very strong responses of up to 38,000S at Smith Well.
Yuinmery Copper-Gold Project Prospects (Source: ASX Announcement 03/06/2020)
The Company remained on track to systematically pursue identification and testing of copper-gold anomalism.
RELATED: Empire Resources' Financials Reflect Green Shoots; Exploration Expenditure Increases By 436%
Moreover, the results generated from the survey suggested the potential for detection of fresh copper-gold deposits.
Continued Encouraging Cu-Ni-PGM Mineralisation At Yuinmery
ERL continued its exploration efforts at the Yuinmery project and obtained excellent exploration results, including the occurrence of PGE not historically observed in high concentrations. Moreover, at the YT01 Prospect, ERL also identified the existence of a large zone of palladium and platinum metals that further provides an outstanding potential for the Company to make significant discoveries.
RC hole YRC20-28 at YT01 encountered broad zone of Cu-Ni-PGM mineralisation in June 2020 and returned best intercepts of 20m @ 0.39% Cu, 0.11% Ni, 0.02% Co, 0.21g/t Pd & 0.07g/t Pt from 143m. Overall results suggested the potential for substantial discovery of Cu-Ni-PGM mineralisation across YT01 prospect that remains majorly untested.
INTERESTING READ: ASX:ERL tides over the rough patches, moves ahead with Fresh Momentum
Subsequent and Planned Activities
In September 2020, ERL had collected additional 126 soil samples over the YT01 area, and results are awaited for the same. The Company had also planned an air-core drilling in the YT01 area to test geochemical and geophysical targets for the December quarter. Moreover, ERL has planned a follow-up RC drilling to be undertaken at the YT01 Prospect as soon as an appropriate RC drill rig is available.
December Quarter Update: Empire Resources poised for more glory after Busy December Quarter
At the Smith Well Prospect, ERL believes that there is a need for additional exploration for a definitive assessment.
On 12 February 2021, ERL share price quoted at $0.015 with a market capitalisation of $13.63 million.
*All financials are in AUD, unless specified.