Source: Have a nice day Photo, Shutterstock
Summary

Halucenex and Growing Together Research (GTR) have entered into an advisory agreement to explore genome sequencing of magic mushrooms.
The deal would help Halucenex generate an IP portfolio to maximise the active ingredients in different mushroom strains.
Halucenex will expand its product portfolio into additional psychedelic substances.
Creso Pharma highlighted that due diligence on the Halucenex acquisition is progressing smoothly.
Creso Pharma Limited (ASX:CPH, FRA:1X8) has updated the market with significant announcements related to its target acquisition company, Halucenex Life Sciences.
International cannabis player Creso Pharma is engaged in developing and selling cannabis-based products worldwide. The Company forms an essential cog in the wheel of the growing Australian cannabis industry with other players like Althea Group Holdings Limited (ASX:AGH), Bod Australia Limited (ASX:BDA), MGC Pharmaceuticals Ltd (ASX:MXC), and AusCann Group Holdings Ltd (ASX:AC8).
In the latest update, the company has zeroed in on the two crucial developments by Halucenex, as shown in the illustration below: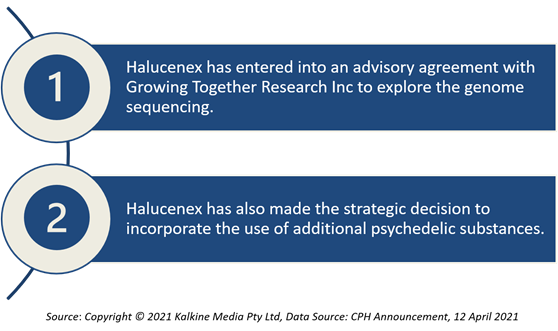 ALSO READ: Creso Pharma aims to make inroads in US cannabis space with latest appointment
Let us dive deeper and discuss the key achievements of Halucenex-
Advisory agreement with GTR
On 12 April 2021, Creso Pharma announced that Halucenex had signed an advisory agreement with US-based Growing Together Research (GTR). The deal would help Halucenex generate intellectual property (IP) portfolio to maximise the active ingredients in several strains of magic mushrooms.
Halucenex will also assess the efficacy of elements and conclude which are the best ones to treat certain conditions.
After receiving the Dealer Licence amendment, both parties will emphasise on sequencing and analysing the psychedelic mushrooms' genomes, primarily the Psilocybe cubensis strain.
Further, Halucenex will be engaged in generating an entire set of Psilocybe cubensis phenotypes, which will be tailored to specific use cases. The Company highlighted that this would include:
Extraction of compounds from a fungal biomass standpoint and,
A holistic organism to offer whole mushrooms to medical professionals to administer in a standardised format.
Initial data from sequencing is anticipated to assist Halucenex in the treatment development initiatives and generating higher yield from extraction and cultivation.
ALSO READ: Creso beefs up Canadian business as Mernova secures new POs, product launches
GTR in a nutshell:
Growing Together Research is a US-based biotechnology player that was founded in 2017.
GTR specialises in computational genomics and bioengineering.
The Company has focused on exploring the potential of the Cannabis sativa (hemp) organism.
GTR is made up of a leading, multi-disciplinary team of geneticists, computer scientists and bioinformatics specialists who will assist Halucenex with several objectives.
Halucenex to expand its R&D programs
The Company also advised that Halucenex will expand its research and development (R&D) initiatives and foray into additional psychedelic substances such as Ketamine, LSD, and MDMA.
This expansion will focus on using these substances to treat mental health conditions, including Post Traumatic Stress Disorder (PTSD), treatment-resistant depression and other mental health illnesses. This expansion will considerably widen the potential opportunities for Halucenex. The portfolio extension will occur after the receipt of the amended Dealer Licence of the Company.
The Company anticipates that this pleasing development will underpin future product development initiatives of Halucenex.
Additional initiatives related to the clinical trials will also add to the increasing evidence to use psychedelic compounds for specific mental health conditions.
Currently, Halucenex is exploring programs to utilise additional psychedelic substances at its treatment facility in Nova Scotia, Canada.
DID YOU KNOW: Creso Pharma rolls out new hemp tea products using revolutionary technology
Management Commentary
Adam Blumenthal, Non-executive Chairman of Creso Pharma, stated that Halucenex continues to achieve several key milestones, laying a robust foundation in its clinical trial schedule and future treatment development initiatives.
Mr Blumenthal further added: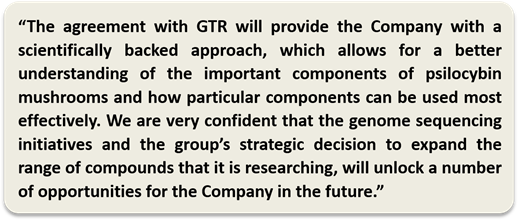 Adding to this, Bill Fleming, Founder & CEO of Halucenex, added-
He also added once it is known which strains work best for which disorder or addiction, these strains will be sequenced, and the Company would be able to optimise its growth to fulfil the rising demand for an alternative treatment.
Meanwhile, Creso Pharma also updated that the due diligence on the Halucenex acquisition is progressing positively.
On 14 April 2021, CPH shares were trading at AU$0.197 (at AEST 3:17 PM).