Highlights
Control Bionics witnessed 90% growth in North America unit sales in Q3 FY22.
The company is geared up to launch its NeuroNode technology into the Japanese market.
CBL made significant investments in March quarter across divisions, aiming high sales growth and productivity gains.
The Company had a cash balance of AU$6.9 million at March end.
One of the most popular medical device companies, Control Bionics (ASX:CBL) has marked another quarter of illustrious performance with 90% sales growth in North America in Q3 FY22.
The ASX-listed company has been able to nail down its sales and expansion targets, on the back of its evolving suite of AAC (augmentative and alternative communication) solutions with the changing needs of the users.
Control Bionics assists people with speech and movement disabilities, such as Motor Neurone Disease (MND) and Amyotrophic Lateral Sclerosis (ALS) to make life-changing connections with innovative communication devices. The company has expanded its footprints across Australia, North America, and Singapore. Japan will be added to the list soon after upcoming launch in the coming weeks.
Do read: How Control Bionics (ASX:CBL) can ease the lives of disabled patients
Remarkable spike in sales in Q3 FY22
In the third quarter ended 31 March 2022, CBL sales through North American operations were recorded at AU$0.95 million. In the North American market alone, the company marked striking growth of 90% year-on-year in unit sales.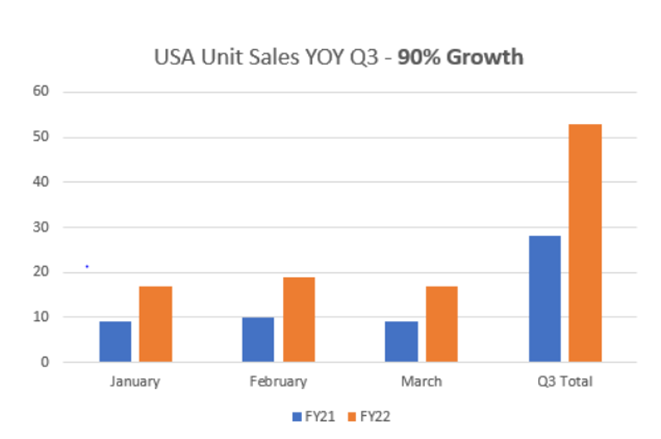 Image source: Company announcement
In Australia, the company achieved sales of about AU$0.26 million in Q3 FY22.
The rental plan strategy launched recently has been received warmly by therapists, particularly for some late-stage degenerative conditions, such as MND. The company expects to generate substantial revenue for the business from the growing interest of field experts in the new program.
Read More: Control Bionics' busy H1 paints bright outlook for FY22
Market expansion for innovative AAC solutions
Control Bionics is set for a mega launch at the upcoming KidsFesta in Tokyo with focus to achieve great success for its portfolio of products in the huge Japanese market. The company concluded customisation of its products during the March quarter to match the needs of the target patient population in Japan.
CBL aims to extend the benefits of its novel assistive technology to Japanese people who have medical conditions such as ALS, cerebral palsy, intellectual disability, stroke, and traumatic brain injuries.
The company has joined hands with Japanese distributor Double R&D Co Ltd to introduce its NeuroNode Trilogy technology and other products in the country.
Interesting Read: How Control Bionics is set to make a strong mark in assistive technology market
Enhancement of product portfolio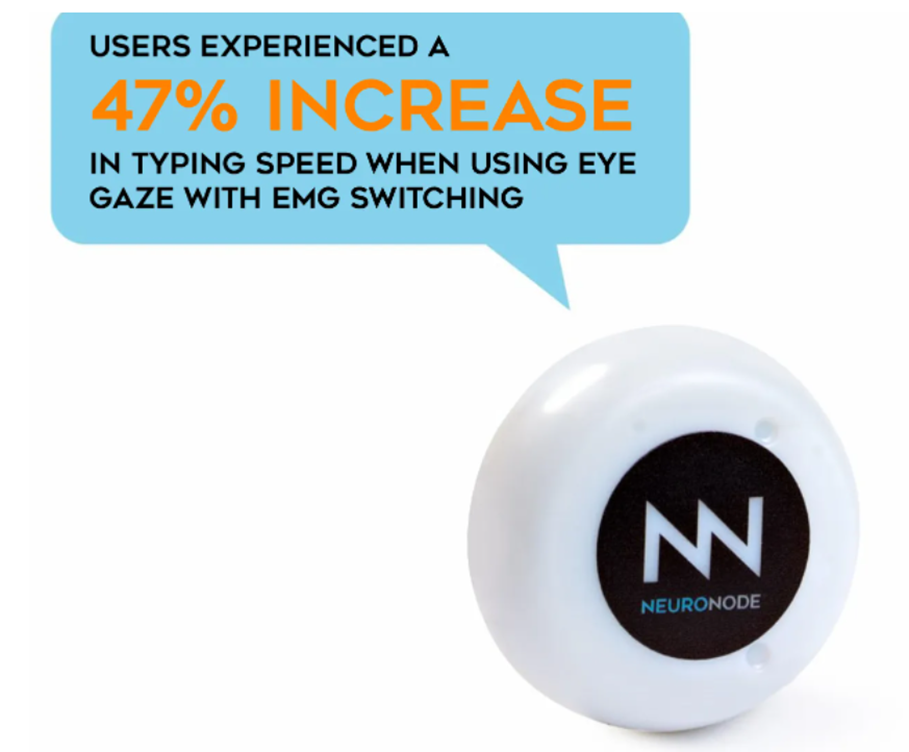 Image source: Company website
After receiving positive market feedback for its latest product, the UNO Touch system, the ASX-listed company is planning its roll out in Australia and North America.
The latest NeuroNode software application and firmware launched in February 2022 is expected to boost market penetration of NeuroNode Trilogy systems, particularly with users having cerebral palsy.
Also, CBL has begun market testing of its miniaturised NeuroNode platform for paediatric users as well as new medtech and consumer markets.
The company continues to develop its wheelchair self-drive system in collaboration with Deakin University. The process has reached its prototype stage and user trials are expected to begin soon.
Learn more: Control Bionics partners with Double R&D to launch NeuroNode Technology in Japanv
Major investments to support business growth
Control Bionics is steering ahead with a well-designed investment strategy to strengthen its business platform. The aim is to drive long-term sales goals for the NeuroNode technology in the Australia, North America and Japanese assistive technology markets.
In recent times, the company has made significant investments in growing and training its specialist sales teams and expanding across Australia, North America, Japan, and Singapore.
The company conducts constant Research and Development (R&D) projects to upscale its NeuroNode technology for new product case and range, such as COSMOS Connect and UNO Touch.
Related read: NeuroNode Trilogy: A powerful access method for communication challenges
Here' a remark by Control Bionics CEO Robert Wong on company's performance in Q3 FY22:
"After substantial investment in the right people, products, and distribution channels, we are very pleased to see sales growth in the USA and a successful launch in Japan. I am excited about the significant growth opportunities for our products in Japan. I am also delighted that our disability business in North America is showing promise with unit sales for the quarter up 90% over Q3 FY21."
Control Bionics is poised to make bigger strides in the market in the coming quarter as the total identified sales opportunity pipeline for the company now stands at around AU$9.2 million.
Stock information: CBL shares were trading at AU$0.360 on the Australian Securities Exchange (ASX) midday on 28 April 2022. The company has a market capitalisation of AU$31.28 million.
Also read: How Control Bionics is set to make a strong mark in assistive technology market