Image Source: CG1 Presentation (14 September 2020)
Summary

Industrial players keen on ensuring sustainable manufacturing are increasingly adopting pollutant-curbing solutions amid growing environmental concerns.
Carbonxt develops and manufactures non-brominated Activated Carbon products, including powdered activated carbon and pelletised activated carbon, that are non-corrosive.
The industrial sales of pellet edged up by more than 30% during the December 2020 quarter.
Carbonxt Group Limited (ASX:CG1) appears well-positioned amid the transition to a green economy, as its innovative solutions for controlling industrial pollution and emission continue to witness a strong demand trend in the US market. Significantly, the industrial emission standards have become stricter, and the growing focus on responsible manufacturing has led to an increased adoption rate of pollutant-eliminating solutions.
The Company develops and manufactures patented and non-brominated activated carbon products that are used for removing hazardous pollutants, including mercury from wastewater streams and industrial flue gas. Carbonxt specialises in producing – both the powdered and pelletised forms of activated carbon – and being non-brominated these products are armed with unique non-corrosive capabilities, which give them a strong competitive advantage over their rivals.
All in all, the booming market potential and Carbonxt's highly effective products put the Company at a vantage point to effectively turn the opportunities into a big success.
ALSO READ: Riding the green wave: How Carbonxt (ASX:CG1) is picking up steam in US market
Advancing Well with Powdered Activated Carbon Business
The Company has successfully developed revolutionary proprietary Powdered Activated Carbon (PAC), which serves as the foundation of Carbonxt business. Significantly, PAC products are injected into the flue gas of plant to adsorb mercury emitted from coal-fired power plants, thereby aiding in the achievement of emission compliance.
While the PAC products have a competitive market with long sales, lead time, the customers of PAC hailing from utility sector are typically large and stick for a prolonged duration (3-5 years) with long-term contracts.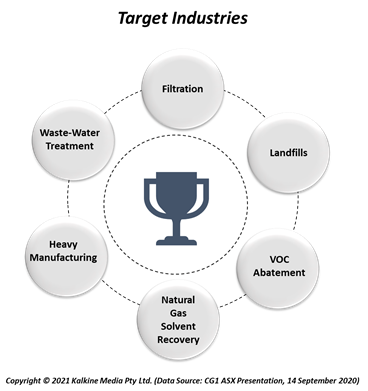 Carbonxt's Black Birch manufacturing facility in Georgia (USA) has the capacity of 10,000 tonnes per annum, with the Company continuing to grow business on the back of addition of new customers and incrementing business from existing customers.
Relishing Unpenetrated Market for Activated Carbon Pellet business
Being the only manufacturer of Activated Carbon Pellet (ACP) products in North America, it enjoys significant advantages in the largely underpenetrated and fast-growing market. The Company continues to witness an ever-increasing use of pellets across a range of industrial applications. The Company is developing new solutions for the industry, thereby utilising immediate and robust growth opportunities.
The industrial sales of pellets are up by more than 30% during the December 2020 quarter, and the Company continues to pursue its expansion policy. In this direction, the Company plans to investigate kiln infrastructure at its Black Birch facility this year for producing an extensive range of Kiln Activated Carbon Products.
It offers significant opportunity for winning international customers through the expanded range of both PAC and pellet products. Furthermore, it would help bring in-house manufacturing of some raw materials, having lengthy working capital cycles.
Industrial customers predominantly operating cement plants, coal-fired power stations and other industrial processes utilise powdered and pelletised activated carbon products produced by US-based manufacturing plants. The production is further backed by the Company's leading R&D capability to become a solutions-based company to develop customised products for specific industrial needs.
CG1 shares closed at AUD 0.200 on 23 February 2021.