Highlights

Beam Communications recorded a 52% jump in total sales in Q2.
ZOLEO's ANZ subscriber base grew by 627% on pcp.
Total available funding stood at AU$9.8 million, as at 31 December 2021.
The Company expects to post an increase in H1 FY22 revenue.
ZOLEO subscriber base is expected to grow further, backed by the latest partnership with Autobarn and new distribution agreements in the pipeline.
Beam Communications Holdings Ltd (ASX:BCC) has released a robust set of results for the three months to 31 December 2021. The results boast an excellent turnaround in total sales and cash position for Q2 FY22, highlighting that the Company is on track to deliver improved results for 1H FY22 compared to the year-ago period.
Beam has an immense expertise in the design, development, manufacture, and distribution of satellite, cellular and dual-mode equipment applications and services. The Company is committed to fast-paced developments in satellite communication devices and marking record sales of its innovative portable devices worldwide.
Do read: Unsure of cellular coverage? Meet ZOLEOTM, a device that can save your life
Total sales jump 52%, Strong performance of all divisions
Beam registered a 52% year-on-year increase in total sales to AU$6.8 million in December 2021 quarter.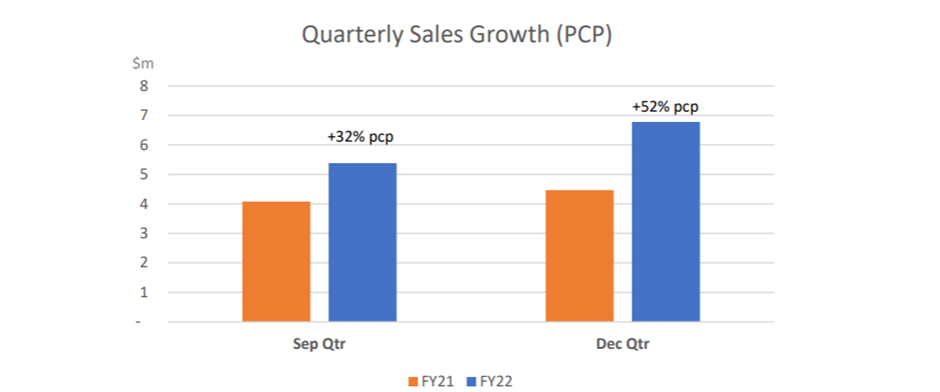 Image Source: BCC ASX Update, dated 27 January 2022
ZOLEO - The Company saw a boom in the number of ZOLEO subscribers in Australia and New Zealand. As of 31 December 2021, ANZ subscriber base surpassed 2,000, reflecting an increase of 627% over the pcp and 24% over the September 2021 quarter.
The subscriber base is expected to move further north, backed by the latest retail partnership with Bapcor Limited's (ASX: BAP) Autobarn. The Company is close to signing on other key distributors in the government and enterprise space.
Related Read: Beam Communications' ZOLEO to hit Bapcor's Autobarn outlets in February
Moreover, there has been a striking upsurge in orders and shipments of ZOLEO units to Beam's joint venture (JV) entity, ZOLEO Inc. The Company received the biggest order in any quarter for about 38,960 ZOLEO devices in December 2021 quarter, 212% higher over the same quarter in 2020. It shipped and invoiced around 16,000 units during the quarter, marking an increase of 66% on the previous quarter and 32% on the prior comparable period.
SatPhone Shop - Beam's SatPhone Shop business witnessed a jump of 51.9% in sales for the quarter when compared to the pcp.
Iridium GO! - Around 2,419 Iridium GO! units got shipped to Iridium Communications Inc. in 2Q FY2022, a 43.1% increase over the previous quarter.
Related Read: Factors paving the success path for Beam Communications (ASX:BCC)
Beam closes Dec quarter with strong cash position
At the end of the period, total cash position was recorded as AU$8.4 million, representing a surge of about 64.7% compared to the previous quarter. The increase was driven by a successfully closed new share placement of AU$5 million undertaken in November 2021.
Total available funding stood at AU$9.8 million, including cash holdings and AU$1.4 million in available, but undrawn, debt facilities, as at 31 December 2021.
Image Source: Image source: © 2022 Kalkine Media®
Also Read: Beam Communications (ASX:BCC) trading at 1X sales, is it a misunderstood stock?
The Company recorded an operating cash outflow of AU$0.3 million for the December quarter, majorly because of increased demand for its innovative devices resulting in increased working capital and the fact that it will only receive payment for the devices in the current quarter.
There was an increase of 25.7% and 73.4% year-on-year in customer receipts and Core Business sales (excluding ZOLEO), respectively.
Overall, Beam seems to be in a strong position with solid quarterly performance on the back of great contribution from all the divisions.
Stock information: BCC shares were trading at AU$0.375 in the early hours of 28 January 2022, with a market capitalisation of AU$32.84 million.
To know more about Beam Communications, click here.