Image Source: AKM ASX Update, dated 29 January 2021
Summary

Mongolian coal industry stands to benefit from the recent Chinese ban on Australian coal.
Aspire Mining is engaged in undertaking a series of activities to leverage market opportunities
The infrastructure and vehicle-related costs are being assessed to expedite project developments.
Aspire Mining Limited (ASX: AKM) holds metallurgical coal assets in Mongolia, a country that has shifted the anchor of economic dependence from agricultural and pastoral activities to a fast-growing mining industry. The shift in the focus has been supported by the vast mineral resources inventory in the country, attracting foreign investments.
In the first quarter of 2021, Mongolia exported 298.4K tons of copper concentrate, an uptick of 7.7 per cent from the previous year, as indicated by the Ministry of Mining and Heavy Industry figures.
S&P Global Report indicated that Mongolia coal supply to China constituted a large proportion of overall coking coal imported by China in 2020 as the leading coal importer restricted Australian cargoes. Mongolia's proximity to China gives Aspire's exploration objectives a leg up in the coking coal market.
ALSO READ: Aspire Mining Well Positioned to Tap Commercial Potential from Trilateral Corridor through Mongolia
Meanwhile, Mongolia is eyeing COVID-19 border relaxations that could further smoothen the road ahead for the country's mining industry.
Source: Copyright © 2021 Kalkine Media Pty Ltd.
All in all, the current scenario could prove to be a tailwind for growth prospects witnessed by Aspire Mining's coking coal project. Preparing in advance, Aspire Mining undertook series of activities that would ensure the adoption of effective operations in future, thereby expediting the project development. Let us look at some recent undertakings of Aspire in the same direction.
ALSO READ: How Aspire Mining (ASX:AKM) is Going from Strength to Strength with Ovoot Project Developments
Needle on assessment of mine trucks
The Company undertook a first-principles approach to determine and understand a trucking cost, highlighting the use of prime technologies and efficiencies to reduce operating costs and emission of greenhouse gas.
The Company has amassed data concerning road alignment and vehicle performance offered by suppliers of both OHTs as well as Extra Heavy Commercial Vehicles (CVs).
The objective was to model specific truck performance across the modelled road path, with an overall objective focused on accomplishing a turnaround time of 24 hours for each truck with maximum payload.
CVs have performed comparatively well in simulations and found to be well-matched to mine volume requirements, especially in the early stages of the mine development.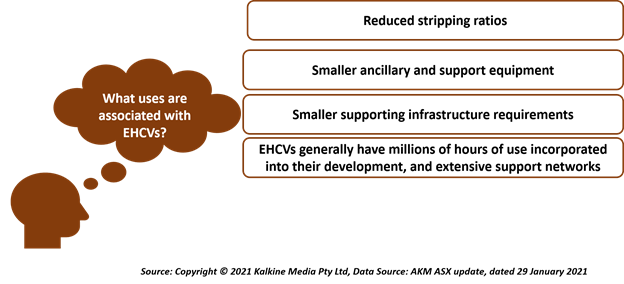 ALSO READ: Aspire Mining (ASX:AKM) continues to deliver, turns in a decent December quarter
Request for Proposal for Major Infrastructures
Aspire issued a Request for Proposal (RFP) to numerous engineering firms looking for proposals for designing and gauging cost associated with the construction of Coal Handling and Preparation Plant (CHPP) and Erdenet Rail Terminal (ERT). The CHPP should meet the coal quality and washability requirements at the Ovoot Coking Coal Project.
Further float/sink assessment was undertaken for bulk coal sample, typically indicating coal qualities anticipated over the initial 25 Mt slated to be mined. It would offer an additional dataset upon which to fine-tune CHPP designs.
Road Connectivity Endeavours to facilitate transportation
Aspire has also remained committed to revaluating the capital cost for constructing a road linking the OCCP and Erdenet based on revised road route and design assumptions. The aim was to facilitate the transportation of coal via trucks.
The work would underpin the Feasibility Study and Detailed Design finalisation to be approved by the Ministry of Road and Transport Development. It will be offered together with the safe and socially responsible transportation notion being fine-tuned by Company.
AKM shares are trading at AUD 0.093 on 19 April 2021 (AEST:12:22pm).