Summary

Renegade Exploration has delivered 340% returns to its shareholders in the last one year and has recorded significant progress.
RNX has agreed to acquire joint venture interest in Carpentaria JVA and has concluded its Yukon Base Metal Project's sale under different agreements.
The Company has also acquired a tenement in continuation with the present tenements at the Yandal Project.
Major discoveries were made regarding gold mineralisation at the Ward Prospect through RC drilling.
Minerals explorer and developer Renegade Exploration Limited (ASX:RNX) has been actively progressing across various fronts and has reported significant growth over the past year. In-line, with its strategy to deliver shareholder value, RNX stock has delivered 350% returns to its shareholders in the last one year till 22 January 2021.
The Company has moved into 2021 after a year of consolidation and development with notable exploration progress across its Yandal East Project as well as the acquisition of Carpanteria JV and unloading of the Yukon Base Metal project.
A Snapshot of Latest Major Developments
The Company has achieved several milestones during the past year that have helped in identifying the potential to grow the resource base at the Yukon Base Metal Project. On the other hand, the Company has also concluded the sale of its Yukon Base Metal Project and has acquired the Joint Venture Interest in the Carpentaria Joint Venture Agreement (JVA) that came into existence in 2001.
Interesting Read: Back to Back Acquisition Agreements Fuelling ASX:RNX's Evolution Into Mid-Tier Resource Company
Under the agreement to acquire the interest in JVA, RNX shall acquire the interest held by Sovereign Metals Limited (ASX:SVM). The other party to the JVA is Glencore plc's subsidiary, Mount Isa Mines Limited and the acquisition was dependent on obtaining required regulatory approvals.
As per another agreement, RNX shall further acquire a tenement continuous to its current tenement package at the Yandal Project. This marks the expansion of RNX in the area and enhances the chances for further exploration opportunities.
Important discussion at: ASX:RNX Executes Share Purchase Agreement For Sale of Yukon Project
Initial RC Drilling Program Identifies Thick Gold Mineralisation
During July and August, RNX concluded an initial RC drilling program undertaken at the Yandal East Project and successfully identified thick gold mineralisation at the Ward Prospect.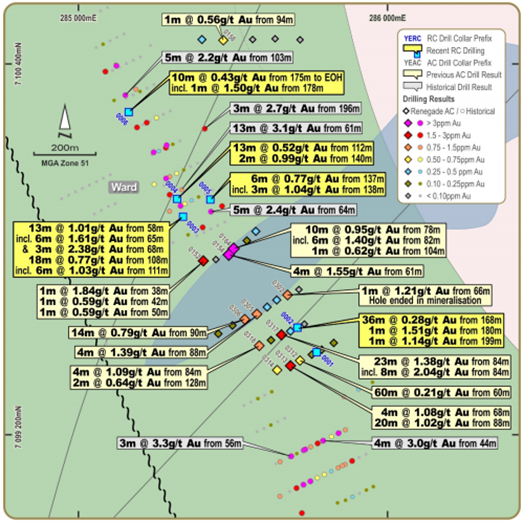 Location of drilling and significant intercepts at Ward Prospect (Source: ASX Announcement 10 September 2020)
Experienced geology consultants have been engaged to aid RNX with the gravity surveys as well as interpretation of results that shall be helpful in devising the upcoming drilling program. RNX looks dedicated to developing the knowledge base regarding geological technical and geological modelling for its Yandal East Project.
September Quarter Update: ASX:RNX Speeding up Exploration at Yandal East Project, Reports September Quarter Full of All Round Progress
Airborne Magnetic Survey Commenced at Yandal East
Over the gold and nickel prospects at its Yandal East Project, RNX has recently initiated an airborne magnetic survey that is being undertaken through the drone technology.
Company Tenements with Prospects (Source: ASX Announcement 14 December 2020)
RNX is optimistic that the program shall help to discover gold and nickel prospectivity at the Baxter/Andrews Prospects. Moreover, the Company also looks forward to undertaking some field sampling since there exists some outcrop in the area.
Key discussion at: ASX:RNX To Acquire ASX:SMV's Share in Attractive Carpentaria JVA
Previously, RNX had planned to undertake follow up geophysical programs in January or February over the same areas. The data from this program as well as recent gravity survey, sampling and historical drilling information shall be interpreted together.
Key Takeaway
The Company looks forward to another year of intensive Yandal Geophysical Work and modelling as well as drilling of old and new Yandal Gold and Nickel targets. Further, RNX plans to conclude the Carpentaria JV acquisition as well as a review of data.
In conclusion, the Company continues to evaluate and assess business opportunities, predominantly within the gold sector, while pursuing value addition for shareholders through acquisition or organic development. The Company expects to identify fresh targets for drilling in the current year to explore and develop its asset portfolio.
Did you read: ASX:RNX Unlocking Potential in Major Gold Province While Seeking Fresh Opportunities
On 22 January 2021, RNX stock settled at $0.09 with a $7.76 million market capitalisation.
Did you read: ASX:RNX On The Hunt For Drilling Targets At Yandal East, Begins A Drone Survey