Metals & mining sector company, Platina Resources Limited (ASX: PGM), exploring for and developing its portfolio of early-stage precious and specialty metal projects from feasibility to permitting, development and through to production, has announced to have further reduced its expenses under the response to COVID-19 pandemic to conserve cash and maintain liquidity in these unprecedented times.
Cost Control Initiatives: COVID-19
Platina Resources' Managing Director Corey Nolan highlighted that the Company had already implemented certain cost control measures in 2019 and into 2020, such as closing the Brisbane office and reducing the contract workforce at the Platina Scandium Project. Lately, Mr Nolan also agreed for a 25% reduction in his annual base salary to $ 240,000 including superannuation. Besides, his salary has been reduced to an annualised level of $ 120,000 including superannuation for April and May 2020.
The renumeration would be reassessed, subject to market conditions in June 2020. Furthermore, the termination period for both the Company and Mr Nolan has been brought down from six (6) to two (2) months.
At the same time, the Board fees of Non-executive directors and the Chairman would also be 70% & 50% less, respectively, effective for the June 2020 quarter. The deferred fees of the Directors may be satisfied by the issue of equity compensation based on their decision.
Mr Nolan added, "Despite the cost reduction initiatives, the short-term focus remains on corporate activities related to Platina's assets, including identifying offtake partners for the Plana Scandium Project and an investment partner for the Skaergaard project in Greenland".
March 2020 Quarterly Update

On 17 April 2020, Platina Resources released its Quarterly Activities Report for the three-month period to March 2020, providing various updates on different projects in its portfolio while payments for exploration and evaluation activities totalled $ 259,000.
i. Blue Moon Zinc-Copper-Gold Project - highest zinc interval intersected
As per the agreement signed for this US-based project, Platina Resources is earning up to 70% interest in the Blue Moon Project, which is a massive volcanogenic sulphide deposit with an existing Canadian NI43-101 mineral resource, open at depth and along strike having a favourable metallurgy.
The assay results reported from the initial 1,100-metre drilling program executed at Blue Moon included some exceptionally, high-grade base and precious metal intersections.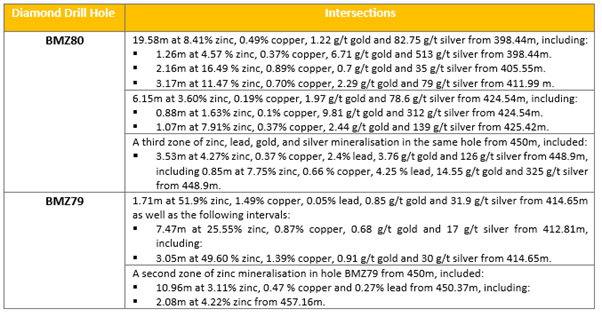 The mineralisation intercepted at BMZ80 confirmed a wide, high-grade zinc, gold, and silver mineralised zone, which is nearly 50m north of the second BMZ79 hole. Also, the results tabulated above demonstrate that diamond drill hole BMZ79 intersected the highest zinc interval at the project to date.
Presently, the Company is working to restructure its Blue Moon joint venture agreement signed with project owner Blue Moon Zinc corporation (TSX-V:MOON) in August 2019, given the impact being felt due to COVID-19 (CV19) pandemic. Only when the California border reopens and the field activities recommence, the Company will be able to finalise the restructure of the terms of the agreement.
ii. Platina Scandium Project - offtake marketing program underway
This New South Wales based project, being one of the world's highest-grade and largest scandium deposits, has the potential to emerge out as the first producer of scandium holding cobalt and nickel credits in Australia. The Company had completed a Definitive Feasibility Study (DFS) for the same in December 2018.
Currently, the Company's primary focus is to secure production offtake agreements, which will pave the way for pursuing project financing options to begin construction. A scandium offtake marketing program is currently ongoing in partnership with Traxys Europe S.A to assess scandium product and market development as well as target potential customers in the US, Europe, Asia and Australia.
Platina Resources is about to complete the VAT leaching test work program while the testing & assay program is scheduled for completion within the June 2020 quarter. Additionally, the Company is assessing the potential to blend high-grade nickel/cobalt ores with high-grade scandium ores for diversification of potential income streams from Platina Scandium Project.
iii. Skaergaard Gold & PGM Project – licence renewal awaited
No major exploration activities were undertaken at Skaergaard, one of the world's largest undeveloped gold and palladium resources, in Greenland. Although, Platina is currently assessing, with its advisors, several proposals of interest sent by a number of groups and awaiting the Greenland Government to renew its Skaergaard licence 2007/01.
iv. Munni Munni PGM & Gold Project – project equity value being reassessed
During the reporting period, no major exploration work was undertaken at Western Australia-based Munni Munni project, but the Company is currently reassessing the value of its equity in the project, given the significant recent increase in the price of palladium.
PGM will continue to conduct corporate activities associated with its asset portfolio despite the suspension of all on-site exploration activities and minimised expenditure amid the corona storm.
Stock Information: Platina Resources' market cap stood at ~ $ 4.57 million with ~ 326.28 million shares outstanding. The PGM stock closed the day's trade on 28 April 2020 at $ 0.015, inching upward by 7.143% from its previous close. The stock has delivered a positive one-month return of 16.67%.