Australia-based Platina Resources Limited (ASX: PGM) has reached a conditional agreement to fully acquire the Challa Gold Project located in-between the prolific Mt Magnet and Sandstone gold districts in Western Australia, 500km north-east of Perth. The Company is focused on advancing its portfolio of early-stage precious and speciality metal projects through permitting, feasibility, exploration and development.
Terms of Transaction – Details
PGM would acquire a 100% interest in the tenements from vendors, Corporate & Resource Consultants Pty Ltd and Bruce Legendre.
Transaction terms include
Payment of a $ 10,000 deposit on signing of the Sale and Purchase agreement;
Cash payment of $ 20,000 and issue of 10 million Platina shares to the Vendors once the tenements are granted;
A milestone payment of $ 100,000 on reporting of a JORC (2012) Mineral Resource of 50,000 oz of gold or a decision to mine; and
A gross gold royalty of 0.75% payable on any gold production from the tenements.
Challa Gold Project- Overview
Challa Gold Project, including two high-quality exploration licence applications (E58/552 and E58/553) covering 293km2, is located 50km east of the gold mining town of Mount Magnet and falls on Challa, Windimurra (owned by Challa), Meeline and Wynyangoo Pastoral Leases. The sealed Mt Magnet-Sandstone Road, which runs through the project area, provides excellent, all-weather access, and there is no Native Title Claim over the area.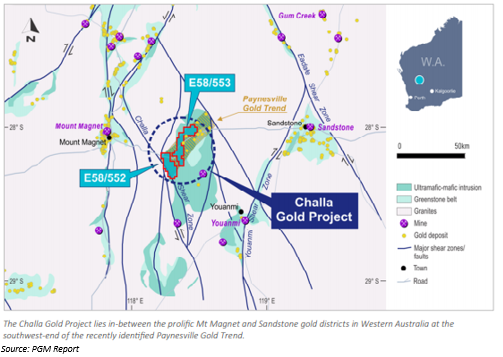 More than 1.3 million ounces of gold has been produced at the Sandstone province, using underground and open pit mining while at Mt Magnet, ~6 million ounces of gold production has been recorded since its discovery in 1891. Throughout its mining life, the nearby Youanmi Gold Mine has produced ~670,000 ounces of gold. Youanmi is also the current focus of new resource drilling of high-grade gold lodes.
Geology: Tenements E58/552 and E58/553 lie within the Murchison Domain of the Youanmi Terrane in the Yilgarn Craton and occupy some portion of the 2.81Ga Meeline Suite of the Windimurra Igneous Complex. Archaean mafic-ultramafic igneous intrusions and associated dykes and sills comprise about 40% of the greenstones in the northern Murchison Domain, and the largest of these layered intrusions is the predominantly gabbroic Windimurra Igneous Complex.
The Challa Shear runs along the western side of the Windimurra Igneous Complex, where gabbroic rocks are in faulted contact with granite and greenstone. It is a regional-scale structure forming part of the gold-controlling structural architecture of the Youanmi Terrain.
Within the Challa Gold Project area (less than 2% exposed in outcrop) is Archaean geology dominantly concealed beneath alluvium deposited in water courses that follow the principal regional structures such as the Challa Shear.
Historical Exploration: Back in 1997, Aarex Resources NL attempted to explore for gold beneath cover, whereby shallow (1 m - 6 m) auger holes (Landcruiser mounted auger) were drilled to collect soil samples on a 1000m by 200m grid from the interface between residual soil and alluvium. Through this work, a number of gold soil anomalies (3 to 7ppb Au) were identified but never followed-up, because of their apparent low gold tenor. However, these results are considered highly significant.
Recent Exploration Activities: Although broad areas of alluvium cover most of the Challa Gold Project area, a small number of rock samples have been collected for assay. At Max Bore, two samples of a 1m-wide gossanous quartz vein assayed 5.1ppm and 6.8ppm Au, and significantly, the mineralised structure that controls the mineralisation strikes NW under cover to where it intersects another major, NE-trending structure with the sample orientation as the Paynesville Gold Trend.
Other sparse outcrops of vein quartz located within the vicinity of the target structures have also assayed up to 115ppb Au and 44ppb Au, indicating that gold bearing fluids were active.
Management Commentary

Exploration Strategy: Gold systems that contain large (+1Moz. Au) gold orebodies have large, km-scale 100ppb Au footprints, and this feature can be utilised to swiftly and cost-effectively identify new gold systems hidden beneath the transported cover. The initial three primary target areas, include:
North- and NW-trending structures controlling high-grade gold mineralisation at the Elsie Gold Mine and Max Bore Prospect intersect an interpreted NE-trending master structure that run parallel to the NE-trending a drainage system (having same orientation as the Paynesville Gold Trend). In the seismic data within E58/553, rare internal granitoid outcrops only 2 km to the NE (potential heat source) were interpreted. Besides, a proterozoic dyke, located immediately to the north, are often spatially associated with large gold deposits in the Murchison and Eastern Goldfields. Evidence of magnetite destruction (hydrothermal activity) has also been evident in the aeromagnetics.
Complex fault array coincident with gold anomalous Aarex interface soil geochemistry. Sharp magnetic low that could represent magnetite destruction. Area intersected by the same interpreted NE-trending master structure (Paynesville Gold Trend orientation) as Target Area 1. Complex structural target with potential for vein array development; and
Complex fault arrays and major structural truncation. Deep penetrating structures identified in the seismic profiles. Stand-out sharp magnetic anomaly indicates potential for investigation.
Road Ahead
Platina Resources is excited to gain exposure to a world-class gold province at a very low entry cost after selling its Skaergaard palladium and gold project in Greenland in early June 2020.
After the exploration licence applications are granted at Challa, the Company plans to mobilise on-site through an all-weather access road and begin field activities like a low-cost Rotary Air Blast (RAB) drilling program for testing the primary targets mentioned above.
PGM stock last traded on 11 June 2020 at AU$ 0.24, with a market capitalisation of AU$ 7.83 million.
Do Read: Platina Resources' Business Continuity Plan Amid COVID-19 Headwinds