Fund Management is the management of collective capital pooled into funds by the investors, which is managed by a professional company and regulated by the Australian Securities & Investments Commission (ASIC). Fund Management and Investment Management are frequently used interchangeably. In this article, we would discuss two fund management companies from Australia. These two companies have recently released the latest quarter reports ended in June 2019.
Let us have a look at these two companies:
Netwealth Group Limited (ASX: NWL)
Founded in 1999, Netwealth Group Limited (ASX: NWL) is an Australian diversified financial company. It provides investors and wealth professionals to invest, manage and protect their current and future wealth through its award-winning platforms.
On 11 July 2019, Netwealth Group reported its Quarterly business update for the period ended 30 June 2019. Accordingly, the company has re-positioned itself as the leading platform provider in the industry and received 'Advised Product of the Year' award consecutively for the second time. Also, the Momentum Media SMSF awards recognised the group as SMSF platform provider of the year and more.
Products
Reportedly, the company launched Challenger annuities on its platform during June 2019. Also, it could be applied & accessed through the platform while providing services like administering, reporting on annuities. Besides, it provides an option to consolidate with other platform accounts.
On 1 July 2019, the company launched Netwealth Managed Account Service (NMA) to tap the substantial opportunities through its managed account capability. In addition, the newly launched service enhances client and advisor experience and provides scope to improve the service by Netwealth.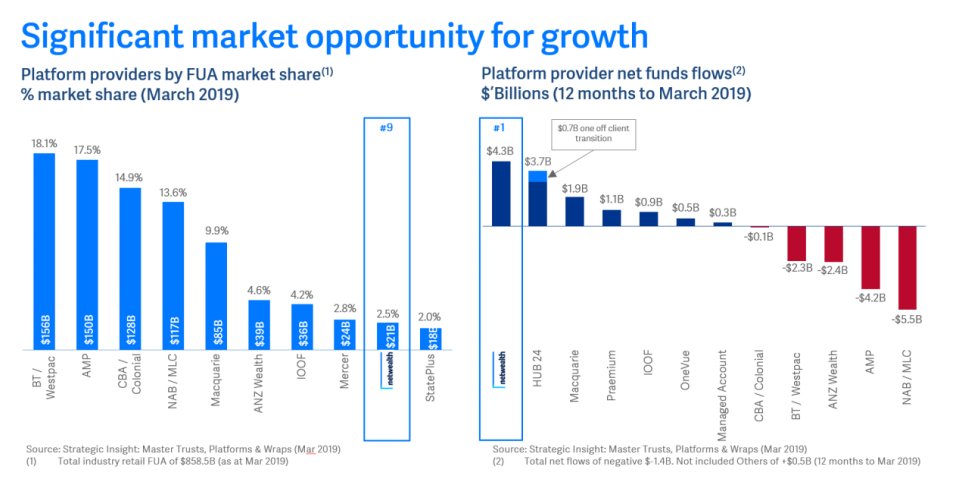 Market Share (Source: Company's Announcement)
Performance
As per the release, Netwealth had $23.3 billion in Funds Under Administration (FUA) as on 30 June 2019; this represents an increase of 10.8% or $2.3 billion in the FUA for the June Quarter, and an increase of 29.9% over the prior corresponding period. In addition, the $2.3 billion consists of fresh inflow at $1.5 billion and an increase of $0.8 billion in market movement.
Meanwhile, the company's Funds Under Management (FUM) including managed account stood at $3.9 billion, an increase of 38.7% in FY2019. Also, an increase of 50.4% in FY2019 was recorded in the Managed Accounts as on 30 June 2019.
Upcoming Focus
Netwealth intends to improve the platform and service through a range of initiatives. Reportedly, cash management and transactional capabilities would be enhanced to provide more options to manage cash. Also, it would improve the reporting metrics for on-platform and off-platform assets through enhancement in reports, new detailed summary reports, individual report customisation and account consolidation.
Besides, the KYC verification and authentication would be automated by the new online application process. Meanwhile, the company would expand Retail and Private Label Managed Accounts Service through new models, strategies and functionality. More Importantly, the users would be able to execute single trade, rebalances and switch for all available platform assets through the new multi-class transaction feature; this would also include international and domestic equities, managed account models, cash and managed funds. Additionally, the new multi-class transaction feature would underpin the multiple advise workflow processes along with a feature to generate electronic Records of Advice.
Summary & Outlook
As pe the release, Netwealth added 9,327 members to the member accounts, which is an increase of 15% over the prior corresponding period. Also, the fee-paying FUA was at 61% by the end of June quarter. Besides, the company remains optimistic of prolonged FUA growth and has a strong pipeline of new business during FY2020 and beyond.
Growth (Source: Company's Announcement)
The company asserted that the level of new business is being supported by its market-leading platform, and the business continues to attract funds and achieve net positive funds flow from Industry Funds compared to other platforms. Further, Netwealth has acknowledged that the pricing pressures persists; however, it has increased market share while maintaining sustainable margins.
On 11 July 2019, NWL last traded at A$7.640, up by 3.664% from the previous close. In the year-to-date period, the return of the stock has been -3.03%. The market capitalisation of the stock is currently at ~1.75 billion, with approximately 237.68 million shares outstanding.
Pendal Group Limited (ASX: PDL)
Pendal Group Limited (ASX: PDL) is also a diversified financial company. It operates in the global investment management business, and its multi-boutique style offers a wide range of investment strategies across the global spectrum. J O Hambro Capital Management (JOHCM) is a wholly owned subsidiary of Pendal Group with a global presence specialising in active equity management.
On 11 July 2019, Pendal Group updated on Funds Under Management (FUM) during the June Quarter. Accordingly, the group's FUM rose by $0.4 billion during the quarter ended 30 June 2019.
Funds Under Management (Source: Company's Announcement)
Reportedly, the group saw net outflows reaching $2 billion due to the previously notified Westpac Banking Corporation (ASX: WBC) redemption of $1.5 billion; this includes an outflow of $2.1 billion from the legacy book along with an inflow of $0.6 billion into Westpac Other books. Also, the company won +$0.2 billion via institutional channel led by lower margin cash inflows of +$0.3 billion.
Meanwhile, JOHM witnessed net outflows of $0.4 billion for the quarter; this include outflow of $0.5 billion in European OEICs while $0.4 billion of outflow was seen in emerging market strategies in the institutional channel. Further, these outflows had been offset by the inflows attracted in US pooled funds along with UK equities in the OEICs.
As per the release, an annualised fee income's decrease of $10.9 million would be the outcome of net flows during the June quarter. Also, the foreign exchange exposure wiped out $0.4 billion of the FUM; this had been marked by 1.1% fall in Australian Dollar against the United States Dollar, and 2% rise in Australian Dollar against British Pound.

Currency Rate Movements (Source: Company's Announcement)
On 11 July 2019, PDL's stock closed at A$7.5, up by 0.536% or $0.040 from the previous close. The performance of the stock in the past one year has been -21.97%. Over the past three months and one month, the return of the stock has been -20.21% and +6.42%, respectively. The market capitalisation of the stock is currently at ~A$2.37 billion, and its annual dividend yield stands at 6.7%.
---
Disclaimer
This website is a service of Kalkine Media Pty. Ltd. A.C.N. 629 651 672. The website has been prepared for informational purposes only and is not intended to be used as a complete source of information on any particular company. Kalkine Media does not in any way endorse or recommend individuals, products or services that may be discussed on this site. Our publications are NOT a solicitation or recommendation to buy, sell or hold. We are neither licensed nor qualified to provide investment advice.