Summary

Australian consumer players Retail Food and Freedom Food came up with significant announcements today, attracting the attention of the market participants.
Retail Food Group entered an agreement with Fonterra for the sale of Dairy Country.
Following the announcement, Retail Food's share price rose and closed the session ~5% higher.
NSW-headquartered Freedom Foods Group secured the ongoing assistance of its majority shareholder and principal lenders regarding financing facilities; Group shares will remain on a voluntary suspension for ASX trading until 30 October 2020.
Two ASX listed consumer shares gained attention today following substantial announcements. Retail Food Group Limited (ASX:RFG) announced an agreement for the sale of Dairy Country to Fonterra Brands. Following this announcement share price of RFG rose by 6.25%.
Another consumer player Food Group Limited (ASX:FNP) secured the ongoing assistance of its majority shareholder and principal lenders for financial facilities.
Let us delve deep and discuss these announcements in detail.
Retail Food Group Enters into an Agreement with Fonterra for Dairy Country Sale
Queensland headquartered, global food and beverage company Retail Food Group Limited is the largest multi-brand retail food & beverage franchise. Retail Food Group also roasts and supplies high-quality coffee products. The core focus of the Group remains in providing support to its franchise partners to become more successful and attain more profitability.
On 11 September 2020, Retail Food Group's share price rose by 4.688% to A$0.067 after the Group announced the sale of Dairy Country business. The market capitalisation of RFG stood at A$135.69 million with 2.12 billion shares trading on the ASX.
Retail Food, today, announced a Business Sale Agreement (BSA) with Fonterra Brands Pty Ltd. With this agreement, Retail Food Group would dispose of its business and assets of Dairy Country Pty Ltd, a subsidiary of Retail Food Group.
The Group specified that the transaction offers several benefits, while Fonterra, which is a key Dairy Country business partner, was a natural buyer for the business.
Retail Food Group stated that the net proceeds from the sale should be applied to the extinguishment of the working capital facility of Dairy Country (c.A$13.7 million) and an additional paydown of debt.
RFG Executive Chairman Peter George stated-
The sale price as per the BSA is A$19.23 million, subject to net working capital adjustments. Moreover, the offer remains subject to various conditions, including approval of FIRB. The lenders of the Group have agreed to the transaction, and settlement is expected by October 2020.
On 28 August 2020, Retail Food Group updated reported its results for the financial year 2020 (year ended 30 June 2020). The highlights include:
The Company reported underlying EBITDA of A$35.5 million, surpassing guidance provided in June 2020.
During the period, underlying net profit after tax (NPAT) stood at A$14.1 million.
Retail Food Group raised A$193.5 million gross equity proceeds during FY20.
The Group reported a statutory net loss after tax of approximately A$4.0 million during the financial year 2020.
During the period, the Group completed restructure of Di Bella Coffee, realising annualised savings of nearly A$6.0 million per annum.
During FY2020, RFG made considerable progress in connection with the several turnaround programs employed to stabilise business performance. The Group also established a firm platform for a return to forthcoming profitability & growth.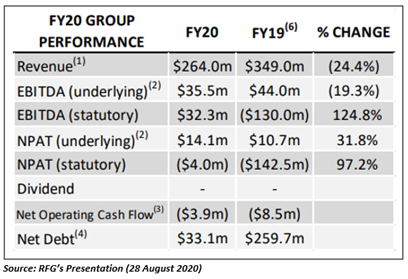 ALSO READ: Lens on Small-Cap Stocks - Superloop, Next Science, Retail Food Group
Freedom Foods Group Obtains Deal with Lenders Regarding Financing Facilities
ASX listed food and beverages business Freedom Food Group Limited (ASX:FNP) is engaged in the manufacturing, marketing as well as the distribution of canned seafood, dairy products, cereal snacks, and plant-based beverages.
Freedom Foods Group disclosed that it had secured the ongoing assistance of its majority shareholder and principal lenders. The deal ensures access to the financial services while the Group undertakes a proposed recapitalisation.
The Group has agreed on a Standstill Deed with main lenders, National Australia Bank (ASX:NAB) and HSBC for financing facilities with those lenders. FNP stated that this standstill is effective until 30 November 2020. Moreover, it is subject to meeting certain milestones of the Company relating to the development of the recapitalisation plan.
With the support of a guarantee from an entity related to Arrovest Pty Limited the majority shareholder of FNP- HSBC & NAB have also decided to continue to ensure liquidity facilities available to FNP during the standstill period.
Freedom Foods Group Interim CEO Mr Michael Perich stated-

Freedom Foods revealed that its shares should remain in voluntary suspension for trading on the ASX until 30 October 2020. Moreover, the Group would continue to keep investors informed of material developments in accordance with its constant disclosure needs.
INTERESTING READ: Collins Foods, Retail Food Group and Freedom Foods – All That You Need to Know