Source: janews, Shutterstock
Summary

ASX-listed cannabis player Botanix Pharmaceuticals has obtained ethics approval for BTX 1702 Phase 1b trial.
Oncology player PharmAust PharmAust provided an update on its Phase IIb trial evaluating the effects of monepantel in dogs.
Two ASX-listed healthcare shares provided an update on their respective clinical trials today, gaining considerable traction. Botanix Pharmaceuticals Limited (ASX:BOT) announced approval from ethics for its Phase 1b trial of BTX 1702 to treat rosacea. PharmAust Limited (ASX:PAA) updated that so far, five dogs have completed trial assessment in the Phase 2b clinical trial of monepantel (MPL).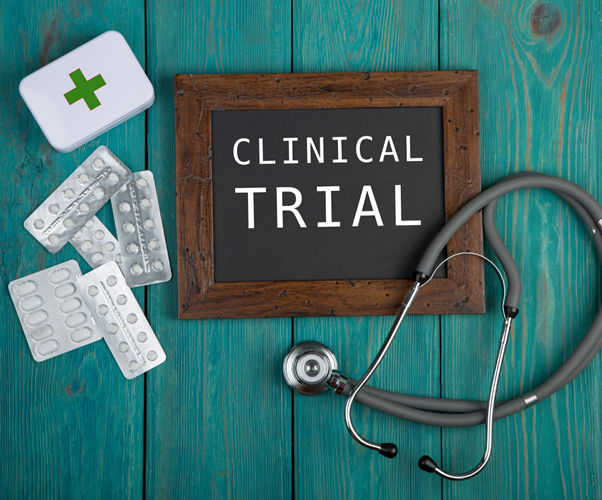 © Nastyazhi | Megapixl.com
Let us dive deeper and discuss the clinical trial details-
Botanix obtains approval for BTX 1702 Phase 1b trial
On 30 March 2021, Botanix Pharmaceuticals announced the receipt of ethics approval for its BTX 1702 Phase 1b clinical trial and an expansion of the study design. The study is for treating papulopustular rosacea. BTX 1702 leverages the Company's proprietary drug delivery system PermetrexTM with synthetic cannabidiol in a new formulation.
The Phase 1b study will now be a double-blind, randomised, vehicle-controlled study in patients having moderate to severe papulopustular rosacea.
In this trial, the Company will enrol ~120 patients across 11 dermatology clinic sites in Australia and New Zealand.
New BTX 1702 program
The Company stated that the new BTX 1702 program is being started following the recent successful Phase 2a BTX 1801 antimicrobial study. The new program leverages the mechanistic data the Company previously generated.
The data demonstrated that synthetic cannabidiol (CBG) exerts potent anti-inflammatory and antimicrobial effect in the skin; these two key activities are essential for the successful treatment of rosacea.
These studies indicate that synthetic CBD delivered using the PermetrexTM skin delivery technology could represent a safe as well as an effective new option for rosacea patients
Vince Ippolito, President and Executive Chairman of Botanix, stated-
At AEDT 12:54 PM, BOT shares were trading at A$0.100, in line with the previous close.
PharmAust's update on its Phase 2b monepantel trial
A clinical-stage oncology company, PharmAust, provided an update on its Phase 2b trial evaluating the effects of monepantel (MPL) in dogs with treatment-naïve B cell lymphoma.
The Company stated that six dogs with stage 4 to 5 B-cell lymphoma have completed assessment across the five participating trial sites so far. In one dog, the treatment was not in compliance with the dosing instructions (MPL after meal), and that dog was withdrawn from the study.
Some mild and occasional inappetence was reported in some dogs. However, this appears insignificant and difficult to attribute exclusively to monepantel.
Notably, the side-effect levels were below those of other conventional anticancer treatment. On day 28, all participating dogs were found to be in good spirits and well within themselves.
Interim analysis of MPL and MPLS
The Company will perform an interim analysis of MPL and MPLS blood levels being achieved in this trial. Determination of these levels will provide a conservative baseline threshold for the very satisfactory side-effect profile observed.
The levels will also provide invaluable information for establishing future stand-alone and/or combination treatment regimens for Phase 3 trials in dogs.
Furthermore, the Company stated that the pharmacokinetic data extracted will give valuable information for the upcoming clinical trials in humans.
Dr Richard Mollard, Chief Scientific Officer of PharmAust, commented-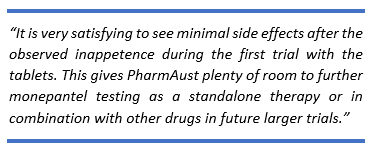 PharmAust further added that the Phase 2b trial is still in progress and recruiting, and the principal investigator of the trial is evaluating findings. The trial data release will take place when clear and meaningful findings become apparent.
At AEDT 12:54 PM, PAA shares were trading 4.999% higher at A$0.105.
ALSO READ: PharmAust (ASX:PAA) begins research on Monepantel COVID-19 testing