Summary

2020 was a roller coaster ride for the retail sector bringing about significant changes in the space going into 2021.
RPM Automotive Group delivered a record Q3 FY2021 and reported 49% growth in gross profit.
Murray Cod Australia reported a 205% growth in the sales receipt.
Lark Distilling noted a jump of 159% in its net sales.
The year 2020 was a turbulent year for the Australian retail sector due to COVID-19, bringing about considerable changes in the space to tackle the pandemic-related challenges.
While COVID-19 heavily impacted the retail players, the initiatives taken by the government helped protect the players. Most consumers started saving cash while retailers switched to online mode to offer services to the customers.
A report published by the Australian Bureau of Statistics (ABS) on 01 April 2021 showed a drop of 0.8% month-on-month on the seasonally adjusted estimate for retail trade (For February). The retail turnover improved by 9.1% compared to the previous corresponding period (pcp).
This article will take you through three players in the retail space that are going from strength to strength in 2021 – RPM Automotive, Murray Cod Australia, and Lark Distilling.
Some of the other companies from the retail sector performing well this year include TPC Consolidated Limited (ASX:TPC), Eagers Automotive Limited (ASX:APE), and Baby Bunting Group Limited (ASX:BBN).
RPM Automotive Group Limited (ASX:RPM)
RPM Automotive Group Limited, the leading player in the Australian Automotive Aftermarket, delivered a record Q3 FY2021 (period ended 31 March 2021) across all its divisions. The Company was able to position itself well as the economy continues to recover from the challenges generated by COVID-19.
Q3 Highlights
RPM generated record revenue during the quarter. It improved by 59% to AU$14.5 million. The revenue from the Roadside & Repairs division increased by 131% and Motorsport division by 34% compared to Q3 FY2020.
Gross profit improved by 49% to AU$34 million.
EBITDA increased by 87% to AU$1.275 million on pcp.
To support the Wheels and Tyres Divisional growth, the Company acquired Traralgon Tyre Service during the period.
The balance sheet remained strong, with net cash at bank of AU$4.45 million.
RPM hit record revenue in the March quarter (Source: © Mehsumov| Mehsumov.com)
ALSO READ: Four Retail Penny Stocks Making A Buzz
Outlook
Seeing the Q3 FY2021 performance, RPM is confident to deliver strong results in Q4 FY2021. The Company will continue its acquisition strategy to grow and focus more on the area where there seems opportunity. These areas include Tyres & Wheels and Repairs & Roadside divisions.
Recent Acquisitions
On 21 April 2021, the Company announced the acquisition of Elite Tyre Group, VIC (ETG), and Kealba. RPM also purchased Ravenhall, Super Tyre Mart, and VIC (STM).
Murray Cod Australia Limited (ASX:MCA)
Murray Cod Australia Limited released its Q3 results on 30 April 2021. The key highlights are mentioned below:
The Company reported a 205% growth in sales receipt compared to March 2020 quarter.
Aquna Sustainable Murray Cod was chosen as a State Champion at this year's delicious Harvey Norman Produce Awards.
Aquna Sustainable Murray Cod will be available in May in select Woolworths (ASX:WOW) stores' chilled seafood cabinet section.
As a component of the Company's focus on distribution within Australia, MCA signed a supplier agreement with PFD food services. Through this agreement, the Company expanded the distribution immensely in regional areas, especially where freight and logistics earlier made it hard to access the product.
The average sale weight for Q3 FY2021 was 1.85 Kg per fish.
Outlook
MCA's management is quite pleased with the results delivered and its progress during the quarter and would update its shareholders related to any development.
Do READ: Attractive ASX stocks trading below 30 cents
Lark Distilling Co. Ltd (ASX:LRK)
Lark Distilling Co. Ltd, the manufacturer and distributor of Whisky and Gin, performed strongly in Q3 FY2021, driven by the continued growth of its Limited Release program, supported by the achievements of Legacy and Para100. The development of national key accounts added to the sales volumes. Online revenue was in line with Q2 FY2021 figures. Below are the key highlights from the quarter:
Gross Sales improved by 175% to AU$ 3,991,091 on pcp.
Net Sales grew by 159% to AU$3,151,654 as compared to Q3 FY2020.
Gross profit improved by 210% to AU$2,281,198.
The net cash outflow from the operating activities was AU$505K, which got offset by a boost in inflows obtained from customers due to elevated product demand & sales volumes.
LRK received AU$187k from the exercise of options.
Net cash at March 2021 quarter-end was AU$11.622 million.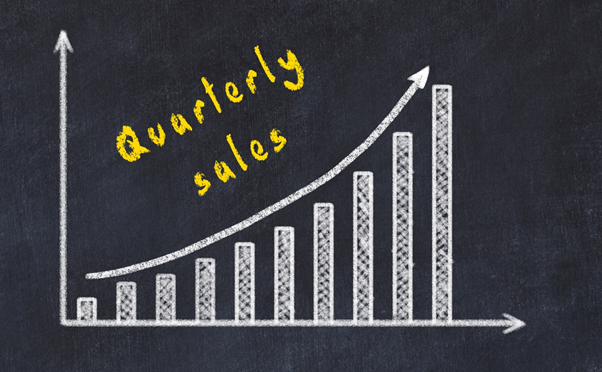 LRK recorded a 175% jump in gross sales (Source: © Iushakovsky | Mehsumov.com)
INTERESTING READ: Three stocks to grab for a quick move
Stock Performance (at 2:57 PM AEST)