Summary

Snapping three session gaining streak, ASX200 was trading lower on Thursday.
The benchmark index was down 31 points to trade at 7064, retreating from its 52-week high.
9 of 11 sectors were trading in red, while information technology was the worst performer.
Snapping three session gaining streak, the benchmark index ASX 200 was trading lower by afternoon, retreating from its 52-week high, led by decline in technology and real estate stocks. The index was down 31 points or 0.44% to trade at 7064 amid broad-based selling. Ten of 11 sectors were trading in red, while information technology was the worst performing sector, down 2.5%. Other sectors that were reeling under selling pressure include A-REIT, Utilities, Telecommunications Services, Consumer Discretionary, Energy, Financial, and Consumer Staples. Meanwhile, Material sector continued its strong performance for the second straight session, rising over 1.5%.
The market opened lower on Thursday amid weakness in information technology and A-REIT shares. On Wednesday the market closed with a solid gain, with ASX200 rising 0.4% to 7,095.8 points.
Investors will keep an eye on Reserve Bank of Australia's (RBA) Deputy Governor Guy Debelle's speech and quarterly Statement on Monetary Policy (SoMP). Debelle will speak on 'Monetary Policy during Covid' today at the Shann Memorial Lecture, Perth, at 5 pm AWST (7 pm AEST), while the RBA will release its quarterly Monetary Policy statement on Friday.
Gainers and Losers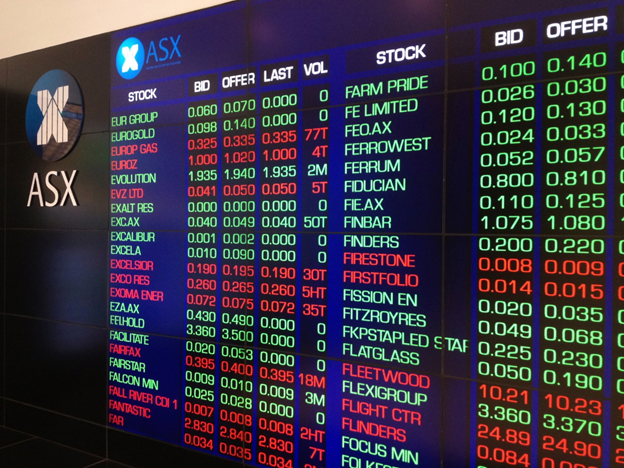 Source: © Sadeq68 | Megapixl.com
Aerial technology company Nearmap Ltd. (ASX:NEA) is top loser on ASX, falling over 14% after it said in an exchange filing that a complaint has been filed against its subsidiary, Nearmap US, Inc. in the United States District Court. The case pertains to patent infringement relating to the plaintiffs' roof-estimation technology. On Wednesday, the stock had rallied over 14% after it raised its FY21 Annual Contract Value (ACV) guidance on the back of strong H1 FY21 performance.
Some of the other worst performing shares are Appen Limited (ASX:APX), Kogan.com Ltd. (ASX:KGN), HUB24 Limited (ASX:HUB) and Afterpay Limited (ASX:APT).
The top performing shares on ASX are QBE Insurance Group (ASX:QBE), South32 (ASX:S32), OZ Minerals (ASX:OZL), BHP Group (ASX:BHP) and Polynovo (ASX:PNV).
Shares in News
Shares of National Australia Bank Limited (ASX:NAB) fell over 3% to AU$26.50 after the lender reported weak earnings for March quarter. The bank has posted a statutory net profit of AUD3,208 million for 1H21 while its cash earnings surged 94.8% to AUD3,343 million as compared to previous corresponding period.
Pharmaceutical company Nyrada Inc (ASX:NYR) provided an update on the development of its Cholesterol-Lowering Programme and declared two successful drug candidates - NYX-PCSK9i-211 and NYX-PCSK9i-212. The findings of an 'in vivo' high cholesterol mouse study have been extended to assess the efficacy of these potential drug candidates, and the results are due in mid-June.
Plenti Group Limited (ASX:PLT) has announced it has doubled up the funding capacity of its renewable energy and personal lending warehouse facility. Funders include an Australian 'big four' bank approving a limit increase of AUD 200 million from AUD 100 million.
Strategic Elements Limited (ASX:SOR) shared on Thursday that its Autonomous Security Vehicle (ASV) has successfully passed Site Acceptance Testing at the Eastern Goldfields Regional Prison. Riding high on the announcement, the share price of the stock was quoting at AUD 0.330 per share.
Octanex Limited (ASX:OXX) shared that it has successfully completed a placement of 15,000,000 ordinary fully-paid shares at AUD 0.05 per share to raise AUD 750,000.
Strike Energy Limited (ASX:STX) provided a solid update on its proposed urea development, Project Haber based in Geraldton, W.A. As per the company, this project is likely to reduce Australia's urea fertiliser CO2 footprint by 50-60% from a 2019 base, equivalent to 650-795,000 tonnes of CO2 per annum.
Energy infrastructure firm APA Group (ASX:APA) has informed exchange that it had reached a Final Investment Decision (FID) to start expansion of transportation capacity on its East Coast Grid, liking Queensland with southern markets, by approximately 25%. The company also shared it has signed a new East Coast Grid gas transportation agreement (GTA) with Origin Energy Limited (ASX:ORG).
Eclipx Group Limited (ASX:ECX) has said in an ASX filing that the company is on track to outperform in the first half of FY21 with a 77% growth in its Net Profit After Tax & Amortisation on pcp. Moreover, EBITDA of AUD66.5 million during the period indicated a like for like growth rate of 43% compared to pcp.
Mercury NZ Limited (ASX:MCY) has appointed Craig Neustroski to the role of General Manager Customer, wherein he shall be reporting to the Chief Executive Vince Hawksworth.
Ardent Leisure Group Limited (ASX:ALG) said in an ASX announcement that it is entering into a non-binding agreement with Evolution Group to develop the Dreamworld Resort. As per the release, future dreamworld guests will be able to stay and play, with plans underway for a new AUD 75 million Dreamworld Resort including a resort-style hotel and tourist park.
IOUpay Limited (ASX:IOU) rose as much as 9.3% to AUD 0.410 on Wednesday. The digital payments service provider will be partnering with RMS Reloads for a bill payment service deal, giving it access to the Malaysian firm's national network of merchants and physical presence in the country.
The share price of the digital customer credit company MoneyMe Limited (ASX:MME) gained as much as 11.1% to AUD 1.50. The Company stated it now expects gross customer receivables to exceed AUD 300 million for FY21 compared with its initial expectation of them exceeding AUD 265 million.
Global Market Update
Overseas, the Asia-Pacific markets witnessed thin trade as three major markets – China, Japan and Thailand – remained closed on account of respective national holidays.
Commodity Market Update
Gold prices edged higher during mid-morning trade in Asia May 5 as softening of the US dollar and retreat in US Treasury yield helped yellow metal to rack up some gains. Spot gold was up 0.56% to US$1,788.72 an ounce. US gold futures gained 0.4% to US$1,783.90 an ounce in New York.
Gold miners such as De Grey Mining Limited (ASX:DEG), Newcrest Mining Limited (ASX:NCM) and Silver Lake Resources Limited (ASX:SLR) remained in focus today.
Crude oil futures were up amid bullish outlook by American Petroleum Institute, and rise in demand following reopening of Europe. In the overnight trade, the Brent crude dropped 0.3% to US$68.67 a barrel, while the West Texas Intermediate (WTI) crude was down 0.6% and settled at US$65.29.