Summary

Retailers are getting substantial amounts from JobKeeper wage subsidy and thus, are earning high profits, and paying substantial amounts through dividends to shareholders.
ABS Household survey showed that about 33.3% of people received stimulus by the government in May and used it for multiple purposes.
Major companies like Nick Scali, Adairs, Lendlease, Mirvac, Qantas, and AP Eagers receive huge amount of money through JobKeeper scheme to sustain their businesses amid coronavirus crisis.
Retailers are getting a large amount of dollars in national government wage sponsorships from the JobKeeper program and are gaining higher profits and paying increased dividends to investors. Government stimulus and superannuation withdrawals are additionally propping up consumer spending – increasing retailer benefits and investor returns.
As per the ABS' latest Household survey data released on 10 August, 1 in every 3 Australians got Federal government stimulus payment in May, adding to saving and household expenses.
The stimulus payments were used for multiple purposes with majority of people receiving stimulus using it to pay household bills, on savings and spending on purchasing food, office supplies, and non-alcoholic beverages, as per the survey.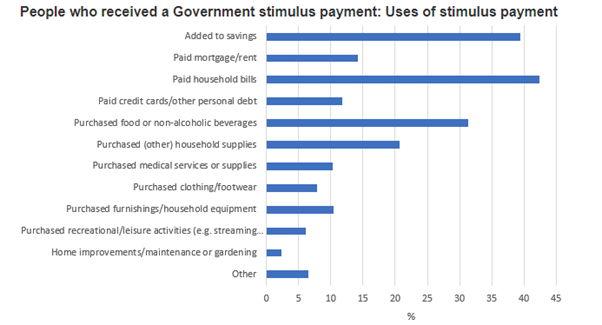 Source: ABS
However, Australian Labor Party argued that the increased dividend paid to shareholders and receiving millions from JobKeeper could weaken public confidence in the wage subsidy as it was formed to help companies in retaining workers and not to boost dividends.
Let's have a look at some stocks that obtains benefit from JobKeeper subsidy.
Nick Scali Limited
Nick Scali Limited (ASX:NCK), furniture retailer, shares have risen by 16.34% since last week, from $7.16 (on 3 August) to $8.33 (on 10 August).
As per its update on 6 August, NCK increased its final dividend from 20 cents per share in FY19 to 22.5 cents per share in FY20, up by 12.5%.
The Company declared an anticipation of earnings to leap amid 50-60% in the first half of 2021. However, the furniture industry has boomed amid pandemic as consumers spent on new lounge sets and dining tables throughout June and July, but NCK reported a subdued financial result because of short-term shutdown of physical stores in Australia for majority of April, and until middle of May in New Zealand.
The Company reported net profit after tax of $42.8 million and a drop in sales revenue of 2% to $262.5 million for the year ended 30 June 2020.
On 11 August, NCK last traded at $8.28, declining by 0.6% from its last close.
AP Eagers Limited
Shares of AP Eagers Limited (ASX:APE) have risen by 16.5% since last week, from $7.56 (on 3 August) to $8.81 (on 10 August).
The automotive retail Group in an address to its shareholders during its recently held AGM on 29 July stated that the Company had faced a challenging environment, but commended the federal government on JobKeeper initiative, which gave it a much-needed support to its workforce, saved many jobs and has kept APE connected with employees helping it to sustain a faster recovery.
On 11 August, APE last traded at $8.67, decreasing by 1.58% from its last close.
Adairs Limited
Shares of Adairs Limited (ASX:ADH) have risen 27% in the last week, from $2.4 (on 3 August) to $3.05 (on 10 August).
The omnichannel homewares retail group published an unaudited FY20 report ended 28 June 2020. ADH posted a 12.9% rise in group sales to $388.9 million for FY20, achieved even after closure of stores and nationwide lockdown in April/May.
The Group also declared the acquisition of Mocka in December 2019, which witnessed sales growth of 50.2%. The net debt of Adairs was reduced to $1 million, and a dividend of 11 cents per share was announced, which shows 72% of the underlying NPAT for 2H FY20.
On 11 August, ADH last traded at $3.12, up by 2.295% from its last close.
Qantas Airways Limited
Shares of Qantas Airways Limited (ASX:QAN) have risen 7.1% in the past week from $3.2 (on 3 August) to $3.43 (on 10 August).
The Group completed its Share purchase plan (SPP) of nearly $71.7 million on 10 August. The SPP ended on 5 August and QAN obtained authentic applications adding up to $71.7 million from 8,660 entitled stakeholders.
Last month, Qantas executives had stated that the government support for aviation industry might be required even after March 2021 (the point where the new JobKeeper wage subsidy ends) in a hearing with the Senate Select Committee on COVID-19 on 21 July.
A Qantas executive also stated that the decision to continue JobKeeper until March gives Qantas time to assess the state of the economy and border restrictions.
On 11 August, QAN last traded at $3.56, up by 3.79% from its last close.
Lendlease Group
Lendlease Group (ASX:LLC) shares have fallen 1.6% in the last week, from $11 (on 3 August) to $11.18 (on 10 August).
As per its FY20 unaudited report in July, LLC announced that the core profit after tax is likely to be between $50 million-$150 million showing the impact of coronavirus, while total unaudited statutory loss is anticipated to be between $230 to $340 million after-tax due to the impact of coronavirus on its development, construction and investment segments.
The Group withdrew its forward-looking statement included in the HY20 results and gave new estimates in July.
LLC expects to enter FY21 in a solid financial position with gearing likely to be under 10% at 30 June 2020 and total liquidity above $5 billion. The Group also receives JobKeeper subsidy.
On 11 August, LLC last traded at $11.44, up by 2.326% from its last close.
Mirvac Group
The share price of Mirvac Group (ASX:MGR) has fallen 0.9% in the last week, from $2.1 (on 3 August) to $2.08 (on 10 August).
In June, Mirvac declared the distribution for the year ended 30 June 2020 standing at 9.1 cents per stapled security. The Group's distribution for the half-year ending 30 June was 3 cents per stapled security and is likely to be paid on 14 September 2020.
On 5 August, Mirvac Group declared its plan to launch the next stage of $1 billion Waterfront Newstead community in Brisbane in early 2021 once it receives development approval for its new Sky Precinct from Brisbane City Council.
Also, the Group announced that it would conduct its 2020 AGM on 19 November.
Mirvac is also claiming JobKeeper subsidy for supporting its employees, while the Company witnessed a substantial drop in its normal operations.
On 11 August, MGR last traded at $2.13, up by 2.404% from its last close.