Source: Shutterstock
Summary

Despite the challenging pandemic environment, Field Solutions delivered impressive results across key financial measures in H1.
The company plans to attract further government and enterprise customers.
It is focused on growing its regional network revenues and wholesale business.
Field Solutions Holdings Limited (ASX:FSG) has delivered record performance for the six-month period to 31 December 2020. The company is engaged in delivering connectivity solutions to rural, regional, and remote communities across Australia.
FSG Maintains Growth Trajectory amid Pandemic Challenges
The telecommunications company maintained its growth trajectory during 2020. It is on track to deploy new network of more than 91,000 square kilometres by 30 June 2021, according to FSG CEO Andrew Roberts.
H1 highlights
Revenue was AUD 7.4 million, representing an increase of 33% from AUD 5.3 million in the half-year FY20.
NPAT stood at AUD 0.28 million, compared with a loss of AUD 0.35 million in the same period a year ago.
EBITDA surged by 20% on PCP. In 1H FY21, it was AUD 0.52 million vs AUD 0.43 million during PCP.
Cash flow generated from operations stood at AUD 1.67 million, skyrocketing 124% on PCP when it was reported to be AUD 0.74 million.
FSG Wins New Contracts
FSG secured AUD 10.4 million in new contracts comprising more than AUD 210K in new monthly recurring revenue.
The recently launched enterprise and government teams have delivered contract wins of more than AUD 4.2 million. Moreover, these wins and construction activities resulted in backlog growth to AUD 13.25 million. Most of this revenue flow is expected to commence in the second half of FY21.
Pandemic-Induced Challenges
The Australian society and community were under the spell of the pandemic impacts in the second half of FY20 and H1 FY21. On one side, FSG was experiencing increased demand for fast and reliable internet connectivity, while on the other side, governments restrictions to curb the spread of the virus impacted project delivery. The company's largest and most significant projects were delayed in this period.
H2 Outlook Remains Strong
Field Solutions Holdings is well-positioned to continue the growth path in H2. The company aims to become Australia's leading telecom infrastructure owner and operator, catering to the needs of remote, rural, and regional communities across the country.
For H2, FSG is targeting: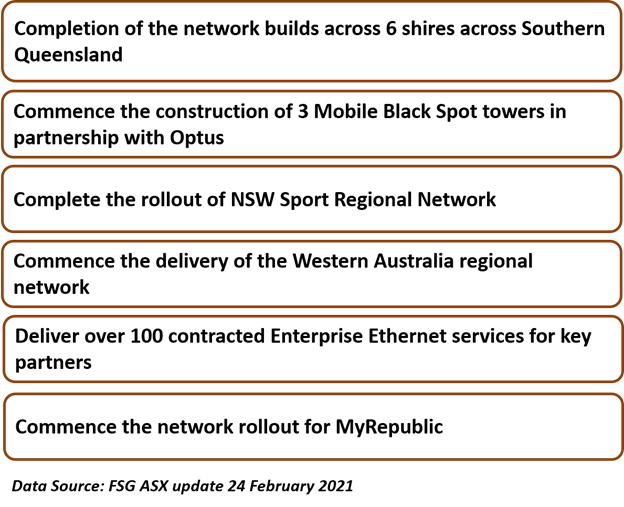 On 25 February 2021, at AEDT: 11:52 PM, FSG was trading at AUD 0.070, up by 2.941% from its closing price.
Also read: Why are FSG shares higher today?