Source:Pixels Hunter, Shutterstock
Summary

Alcidion Group and Netccentric Limited have drawn market participants' attention driven by their recent ASX announcements.
Alcidion Group was selected as a preferred provider for the Department of Defence contract. The Company also completed the acquisition of ExtraMed.
Netccentric delivered robust Q1 CY2021 results with a 71% YoY revenue growth.
The shares of Alcidion Group and Netccentric Limited witnessed a strong rally following the release of important announcements. Alcidion Group updated about its selection as the preferred provider for the Department of Defence contract. It also acquired ExtraMed.
Netccentric, on the other hand, reported a solid quarterly performance for Q1 CY2021 with impressive growth in its top line. The Company was also chosen as the preferred partner by Omnicom Media Group.
The two companies have made significant progress in the last three years, delivering more than 950% growth. 2021 has started well for them with a YTD return of over 100% for both the players (as of 15 April 2021).
The benchmark index was marginally up in the morning session. Players including Perseus Mining Limited (ASX:PRU), Silver Lake Resources Limited (ASX:SLR), Altium Limited (ASX:ALU), Northern Star Resources Ltd (ASX:NST), Gold Road Resources Limited (ASX:GOR), opened in the green zone and were the top ASX200 performers (at AEST 10:39 AM).
DO READ: Top five ASX winners of the day
With this backdrop, let us look at the recent announcements made by these two companies.
Alcidion Group Limited (ASX:ALC)
Provider of intelligent informatics software for high-performance healthcare, Alcidion Group Limited made two significant announcements leading to an impressive surge in its share price.
Alcidion Group Selected As The Preferred Provider For Department Of Defence Contract
Alcidion announced that a member of the consortium selected it as an ideal provider for an enterprise Healthcare Knowledge Management (HKM) System for the Department of Defence of the Australian Government (Defence).
Defence's HKM project seeks to provide a system that records, stores, collects, and evaluates health information for the Defence population. The HKM system would capture and handle health data and information throughout Defence's healthcare continuum. It would also combine multidisciplinary primary and occupational care with emergency and hospital care in garrison as well as deployed domains. Thus, it would support improved clinical decision making at the point of care to encourage a true joint health effect.
Alcidion would give the Longitudinal Health Record through its Miya Precision product. It would combine the Consortium partners' data and other systems in the Defence environment to aid the HKM solution.
The value of Alcidion's contract for Stage 1 and 2 of the project is around AU$21 million for 68 months. The phase would include implementation along with a subscription to the Miya Precision platform.
Once the prime contract discussion with the Consortium lead and the Commonwealth of Australia gets finalised, Alcidion's sub-contract would also get finalised.
The project is scheduled to begin Q4 2021 and would depend on final government approval.
Acquisition of ExtraMed
Other than the above update, the Company also announced the acquisition of leading UK NHS provider, ExtraMed for AU$9.6 million via cash. ExtraMed has more than 20 years of experience providing patient flow management software that supports the frontline staff make informed decisions as per real-time visibility of patient flow.
Through this acquisition, the Company would help it become the UK market for patient flow, including 9 NHS Trust. The acquisition would increase the Company's presence to 27 NHS Trusts, representing nearly 19% of the NHS acute care market's share.
INTERESTING READ: Three ASX Penny Stocks you wouldn't want to miss this month
Netccentric Limited (ASX:NCL)
Social commerce platform provider Netccentric Limited, along with its subsidiaries, reported solid financial, operational, and strategic progress within its Nuffnang business unit in Q3 FY2021.
The result during the period was driven by significant growth in expenses from clients, which include Procter & Gamble (NYSE:PG), Danone (EPA:BN), KFC [part of Yum Brands (NYSE: YUM)] and Mamee. The Company also won multiple during the quarter, up 150% compared to the previous corresponding period. In Q1 CY2021, the Company secured 130 deals.
Netccentric's wholly owned Malaysian subsidiary, Nuffnang Sdn Bhd, reported a growth of 71% in its YoY revenue during the March quarter. Out of the total revenue generated during the quarter, 83% was recurring in nature. The revenue generated by Nuffnang contributed 43% of Group revenue in CY2020.
INTERESTING READ: Netccentric (ASX:NCL) Jumps on Nuffnang Live Commerce-Shopify Integration Update
Preferred Partnership with Omnicom
The Company also highlighted that it ensured a preferred partnership with Omnicom Media Group (part of Omnicom Group). Omnicom Media Group appointed Netccentric as its preferred Malaysian Influencer Marketing partner. Under the alliance, Omnicom would efficiently outsource to Netccentric the influencer part of its marketing programs with various important clients.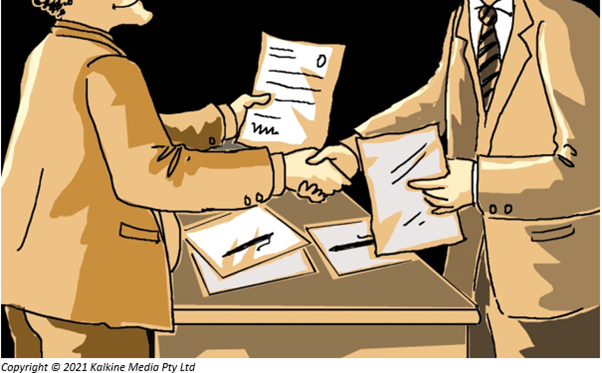 The parties' initial move has been to build and release the first-ever 'influencer playbook' of Malaysia. This influencer playbook is designed to give brand marketers a solid base to decide their strategic objectives and propose influencer marketing plans.
Stock Information (As of 15 April 2021)