Summary

RWC reported varied sales performances in different regions for FY20, with strong performance in Americas and minimal impact of the COVID-19 pandemic in the Australian market.
Reported earnings impacted by restructuring and impairment charges – reported NPAT down by 33 per cent and reported EBITDA declined by 10 per cent.
John Guest synergies totalled AUD 13.8 million for FY20 with successful integration completed.
Balance sheet further strengthened with net leverage of 1.39x and a reduction of AUD 124.4 million in net debt since 30 June 2019. Strong cash performance in FY20 with cash from operations up by 56 per cent
Reliance Worldwide Corporation Limited (ASX: RWC), an ASX200 company, is a powerful family of brands, serving the plumbing and heating, smart homes and specialist industries, globally. On 24 August, the Company released its FY20 performance report for the period ended 30 June 2020. RWC highlighted that the results reflected resilience of the US and Australian markets along with strong operational performance.
Good Read: Why Investors are Looking at ALQ, VRL, RWC, SRG on ASX?
Net Sales Up by 5 per cent
The company reported an increase of 5 per cent in net sales to AUD 1,162.4 million on PCP, backed by strong second half Americas sales growth partly offset by lower sales in EMEA due to the pandemic. In the second half, sales trends were heavily impacted due to the COVID-19 pandemic with sales performance varying as per the region, reflecting different market responses to the crisis.
Net sales for Americas segment registered a year-on-year increase of 13 per cent to AUD 739.1 million. The segment reported robust performance with outstanding operational execution enabling the company to meet increasing demand in retail and hardware channels in the US.
The Australian market reflected minimal COVID-19 impacts and performed was in line with the expectations.
Asia-Pacific sales dipped by 2 per cent with external sales up by 2 per cent despite additional reductions in residential construction activity in Australia, while inter?company sales were lower.
Sales in the UK and European region were adversely impacted by the pandemic. EMEA sales down by 10 per cent for FY20. In the second half, EMEA sales declined by 20 per cent due to government restrictions to curb the spread of the deadly virus.
Earnings Impacted by Restructuring and Impairment Charges
RWC reported a net profit after tax of AUD 89.4 million for the 12-month period to June 2020, down by 33 per cent year-on-year.
The company registered a decline of 18 per cent in adjusted net profit after tax to AUD 130.3 million, reflecting adjustments made in respect of the following items:
AUD 8.4 million of restructuring costs incurred in the US and Europe
AUD 17.3 million of impairment charges for certain new product initiatives in the US. These have been scaled back or discontinued, and Reliance Worldwide's pipe manufacturing fixed assets in Spain.
Moreover, amortisation of certain intangibles for taxation purposes under longstanding US tax rules.
AUD 4.9 million in additional net tax expense item concerning a reassessment of certain tax items for previous years.
Certain tax relief provisions under the US "CARES" Act, which decreased tax amount by AUD 6.6 million.
For FY20, reported earnings per share (EPS) stood at 11.4 cents, representing a decline of 33 per cent on the previous year, while adjusted EPS went down by 18 per cent to 16.6 cents. EBITDA stood at AUD 217.9 million and adjusted EBITDA was AUD 251.3 million, down by 10 per cent and 9 per cent on the prior year, respectively.
Additional significant highlights of FY20:
Despite a surge in demand and global supply chain and logistics disruptions due to COVID-19 pandemic, robust service delivery performance recorded in the US.
John Guest: Successful integration completed, and synergies achieved. John Guest capabilities have proven to be world-class (design, tooling, injection molding, etc.). John Guest synergies totalled AUD 13.8 million for FY20. Total synergy realisation since the acquisition was AUD 31.3 million on an annual run-rate basis at the end of FY20.
Cash Performance: Focus on tight working capital management and cost control delivered powerful cash performance in FY20 - cash from operations of AUD 278.3 million up by 56 per cent; operating cash flow conversion of 128 per cent of EBITDA for FY20, up from 74 per cent on FY19.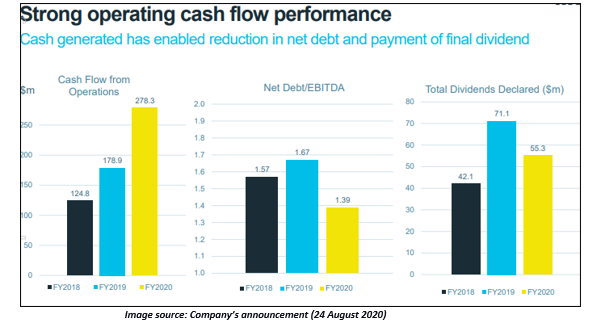 Syndicated bank debt facility of AUD 750 million with undrawn headroom of approx. AUD 450 million, including cash balances. The facility is in 3 tranches - Tranche A: AUD 250 million expires 30/9/21, Tranche B: AUD 250 million expires 30/9/22, Tranche C: AUD 250 million expires 30/9/23.
Working capital reduced by 14 per cent and shortened cash conversion cycle by 35 days from the prior year. Reductions in inventory as production was reduced in the first half of FY20 to match sales growth. Debtor collection strong – growth in US receivables offset by the reduction in EMEA. Increased payables reflect the timing of inventory purchases and accruals for restructuring.
Dividend:Final dividend of 2.5 cents per share totalling AUD 19.8 million due to be paid in October 2020, taking the full-year dividend for FY20 to AUD 55.3 million (7.0 cents per share).
Cost Reduction Initiatives
In the US, manufacturing facility in Tennessee was closed with production shifted to RWC's main US plant in Alabama. Also, restructuring of operations and administrative functions were completed.
In the UK, a restructure of manufacturing and support activities is currently being undertaken. These initiatives, along with procurement savings and other efficiency measures, are expected to deliver annual cost savings of AUD 25 million by the end of FY2021.
Post FY20 Performance
For FY20, its near-term focus remains on seeking cost savings and efficiencies, emphasising on greater operational, and balancing customer fill rates and inventory levels.
In July 2020, the company registered strong sales growth in the US, recording a 22 per cent year-on-year increase. In APAC, external sales are running slightly ahead of the same period a year ago. Moreover, on the back of strength of demand in the Americas, intercompany sales are also ahead. EMEA sales recovered to 96% of the same period a year ago.
August 2020 Sales for the First Three Weeks:
Continued strong sales growth over PCP in Americas but at a slower pace than July.
APAC flat to slightly ahead of PCP
EMEA has continued to see a recovery in sales and is ahead of the PCP last year.
Stock Performance: On 25 August 2020 (AEST 01:43 PM), RWC stock was trading at AUD 3.630, up by 7.396 per cent from its previous close. The company has a market cap of AUD 2.67 billion and annual dividend yield of 2.07 per cent. The stock price grew by more than 16 per cent in the last three months.
Good Read: An Annual Report a Day Keeps the Losses Away; Get the Most from Reading an AR