Highlights

The ASX 200 opened lower and dropped by 0.2% by mid-session on Monday.
Seven of the 11 sectors traded lower, while the tech, telecom and heathcare declined the most.
Health care companies Polynovo and Clinuvel Pharmaceuticals topped the losers' chart.
Gold mining stocks St Barbara, Evolution Mining and Regis Resources were among top performers.
On Wall Street, S&P 500 and the NASDAQ Composite notched their fresh closing for the seventh session in a row.
Australian shares continued to move in the negative terrain by the afternoon, with tech, telecom and health care stocks dragging the market lower. However, firms buying across the energy and mining space capped some of the losses. Travel stocks also witnessed a surge in buying as market sentiment was lifted by a mega deal to acquire Sydney Airport.
By the afternoon trade, the ASX 200 index was down 16.10 points or 0.22% at 7,440.80. Snapping a three-session gaining streak, the benchmark index opened marginally lower today, undermining firm cues from Wall Street.      
On the sectoral front, seven of the 11 sectoral indices were trading in the red zone, led by the telecom and tech space. The telecommunications services sector was down 1.4%, followed by over 1.3% loss in the information technology index. The health care sector also dropped 1.25% by mid-session. Among others, consumer staples, consumer discretionary, utilities, and financials were also reeling under selling pressure.
Why are ASX stocks trading lower at Midday?
Bucking the trend, the energy sector emerged as the best gainer, snapping a two-session losing streak. The energy sector gained over 2%, followed by a 1.1% gain in industrials. The materials sector also rose 0.8%, led by gold mining stocks such as St Barbara, Evolution Mining, and Regis Resources.
US stocks extend rally on string earnings, macro data
In the US market, all three major stocks ended at a record high on Friday as strong earnings and economic data boosted investors' sentiments. The S&P 500 and the NASDAQ Composite notched their fresh closing for the seventh session in a row, while the Dow Jones also settled at a record high.
The Dow Jones Industrial Average gained 0.56%, while the S&P 500 rose 0.37%. The tech-heavy NASDAQ closed the session 0.2% higher.
The market rally was driven by a rebound in jobs growth in the United States and positive data from Pfizer's experimental pill against COVID-19's treatment.
Top gainers and losers by mid-session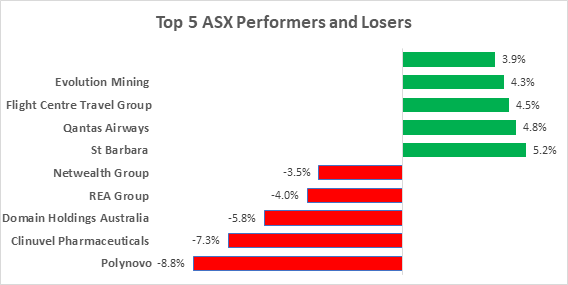 Image Description: Top 5 ASX Gainers and Losers (Data Source: ASX Website, as of 1:00 PM AEST)
The top loser on the ASX pack was health care equipment manufacturer Polynovo (ASX:PNV), which fell 8.8%. Some of the other top laggards were biotechnology firm Clinuvel Pharmaceuticals (ASX:CUV), media and entertainment business Domain Holdings Australia (ASX:DHG), media firm REA Group (ASX:REA), and financial services firm Netwealth Group (ASX:NWL).
On the gaining side, gold miner St Barbara (ASX:SBM) topped the chart by rising 5.2%. The other top performers were Qantas Airways (ASX:QAN), travel business Flight Centre (ASX:FLT), gold producer Evolution Mining (ASX:EVN), and oil producer Beach Energy (ASX:BPT).
Shares in news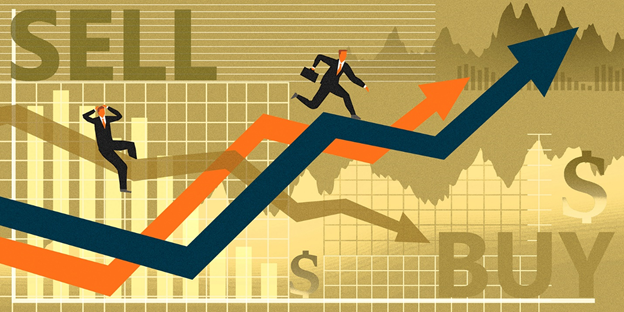 Image Source: Copyright © 2021 Kalkine Media
Shares of BHP Group (ASX: BHP) traded 1.5% higher after the blue-chip miner unveiled a plan to divest a stake in Mitsui Coal (BMC). The iron ore miner has signed a share sale and purchase agreement with Stanmore SMC Holdings to offload its 80% interest in Mitsui Coal, an operated metallurgical coal joint venture in Queensland.
Shares of Sydney Airport gained nearly 3% after it accepted a takeover bid from an infrastructure investor group, which is touted to be one of Australia's biggest buyout deals.
Shares of News Corporation (ASX: NWS) dropped nearly 2.5% on a disappointing annual earnings report. The media agency had reported a net loss after a tax of AU$60.7 million in last financial year.
Shares of Aristocrat Leisure (ASX: ALL) slipped nearly 2% after Aussie gambling machine manufacturer issued an update on its bid to acquire British gambling software developer Playtech Plc.
Shares of Incitec Pivot (ASX: IPL) fell 0.7% after fertilizer maker said it would stop manufacturing operations at its Gibson Island plant.