Summary

Amcor declared strong performance in nine months ended on 31 March 2021.
The company reported EBIT growth of 9% on a year-to-date basis at AU$ 1,144 million.
The company has raised FY21 guidance and expects adjusted constant currency EPS growth of nearly 14 to 15%.
A global leader in packaging, Amcor plc (ASX:AMC), reported its year-to-date results. The company has maintained growth momentum and delivered a strong performance.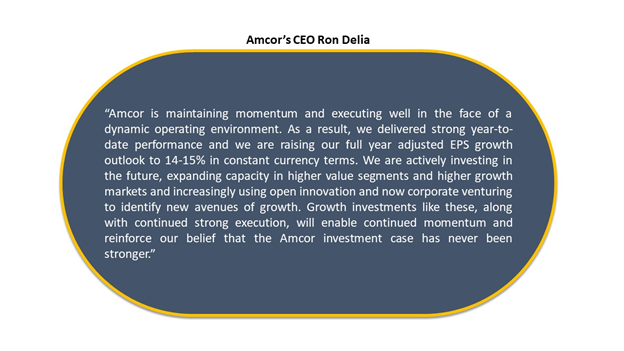 Image source: AMC announcement dated 5 May 5, 2021
Also read: Are these few rock-solid diversified conglomerates on ASX amid a market turmoil - Amcor, Telstra, Cochlear?
The organic growth continued to strengthen, and the company reported EBIT growth of 9% on a year-to-date basis at AU$ 1,144 million. Bemis acquisition progressed ahead of expectations. Amcor is now well-positioned to beat the initial target with at least AU$ 180 million of pre-tax benefits by the end of FY22.
The company repurchased 26.7 million shares at AU$ 308 million. Furthermore, it expects to complete the earlier approved CDIs and AU$350 million repurchase of ordinary shares in FY21.
Also read: Did You Check Results From Australia's Materials Space? Amcor, Orora and James Hardie in Discussion
Amcor's Free Cash Flow and net debt stood at AU$ 360 million, and AU$ 5,914 million respectively.
Dividend update
The Board of Directors announced a quarterly cash dividend of 11.75 cents per share. It will be paid in US dollars to the company's ordinary shares holders listed on the NYSE. Holders of CDIs trading on ASX will get an unfranked dividend of 15.12 Australian cents per share.
Dividend dates:
Ex-dividend date - 25 May 2021
Record date -26 May 2021, and
Payment date -15 June 2021
A look at Bemis cost synergies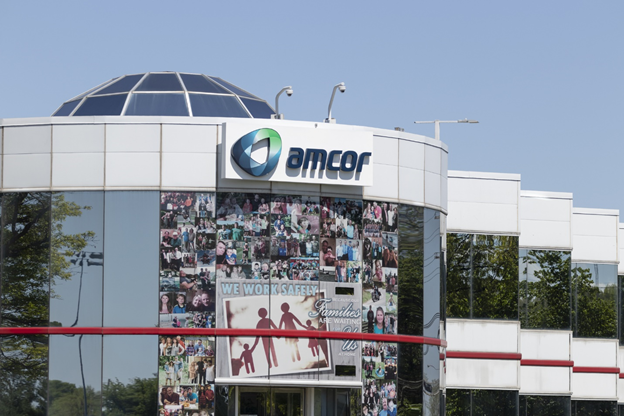 Image source: © Jetcityimage | Megapixl.com
Bemis was acquired in June 2019 through an all-stock transaction. Amcor has delivered nearly AU$ 55 million of incremental cost synergies year to date, nearly AU$ 45 million was recognised in the Flexible group and AU$ 10 million in others. The company has continued to execute well against procurement, overhead and footprint initiatives.
The company expects nearly AU$ 70 million of incremental cost synergy benefits in FY21.
Also read: Amcor Stands tall amid COVID-19 outbreak, Continues Business Securing Supplies for the Global Population
FY21 guidance
The company contemplated all aspects while freezing the guidance, which also included the impact of the pandemic. After carefully considering all factors, the Company anticipates:
Adjusted constant currency EPS growth of nearly 14 to 15%, including an unfavourable EPS impact from disposed businesses of nearly 1%, pre-tax benefits related to Bemis takeover nearly AU$ 70 million. The packaging company expects adjusted free cash flow of nearly AU$ 1.0 to AU$ 1.1 billion.
On 7 May 2021, at AEST:12:23 PM, AMC traded at AU$ 16.140, up by 2.02%
Good read: The Tale of Defensive Packaging Giant: Amcor