Source: giggsy25,Shutterstock
Summary

Australian telecommunication player 5G Networks reported impressive revenue growth in 1H FY2021 with a significant rise in EBITDA and operating cash flows.
However, there was an increase in loss following the acquisition of WCG during the period.
The Company believes the strategic acquisition would drive its future growth.
5G Networks Limited (ASX:5GN), a provider of data network and cloud services, has come up with its half-yearly results for FY2021. The Company reported robust improvement across crucial metrics, although the net loss after tax increased following the WCG acquisition.
Post the announcement, 5GN shares dropped and were trading 3.624% lower at A$1.330 (at AEDT 02:03 PM).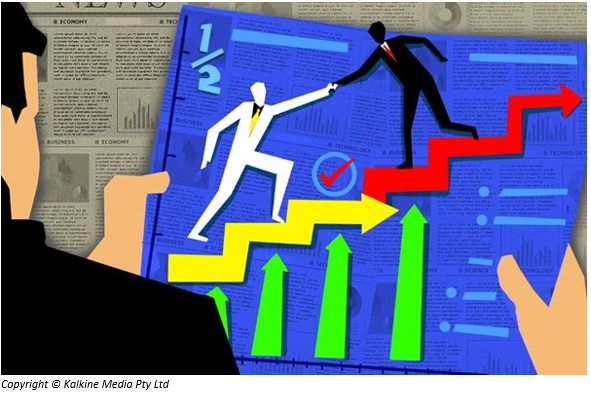 In this article, we would look at the results and see the development made during this period.
1H FY2021 Performance
5GN disclosed robust first half FY2021 results with strong top-line and EBITDA margin growth. However, there was an increase in loss due to the acquisition and transaction costs related to the WCG acquisition and other acquisitions worth A$2.56 million, along with the non-cash share-based payments expenditure of A$1.09 million.
It should also be noted here that the Company's results include the results of Webcentral Group Limited (WCG) since the time 5GN had control over the business. The newly acquired business provided revenue and other income of A$10.24 million and an operating loss of A$0.1 million for the period.
Let us now quickly look at the other financial numbers of 5GN.
First Half Financial Highlights
The 47% revenue growth was due to increased organic growth on recurring revenue, strong hardware sales, and WCG contribution.
EBITDA improved by 105% to A$6.2 million.
Operating cash flow grew by 45% to A$4.8 million.
EBITDA margin expanded by 39% to 16.7%.
Acquisitions and Investing Activities During 1H FY2021
Acquisition of ColoAu:
In July 2020, 5GN completed the acquisition of a leading wholesale provider of data centre services & hyper-speed data network, ColoAu, for A$2.9 million.
Acquisition of WCG:
On 28 October 2020, 5GN acquired 50.69% shares of WCG pursuant to the off-market takeover. The Company now has control over WCG along with its subsidiaries since the date of acquisition. In this process, the capital was raised via placement and share purchase plan.
Investing Activities:
The Company provided a secured loan of A$47.5 million to WCG to let it pay back its current debt providers in full. WCB returned A$500,000 to 5GN related to funding provided for a transaction break fee payable by WCG the next month. In December, WCG paid back A$5.3 million to 5GN.
In November 2020, 5GN signed a lease agreement for a data centre in Brisbane for A$1.1 million.
The Group started its fibre build to connect its data centres to over 80 additional data centres across Brisbane, Sydney, Melbourne, Adelaide, and Perth.
Growth Opportunities
Post WCG's acquisition, the Company seems confident concerning significant organic growth opportunities. The Company would be able to leverage WCG's 330k customers via their online sales channel and provide them with its suite of cloud, network, and managed services.