6.9% rise in net operating cash flows in 1H 2018: Spark Infrastructure Group's (ASX: SKI) stock fell 0.42% on August 27, 2018 though the company for 1H 2018 reported 5.7% increase in the total revenue to $563.5 million, 7.6% increase in EBITDA to $420.2 million and 6.9% rise in net operating cash flows to $130.3 million.
[optin-monster-shortcode id="wxhmli4jjedneglg1trq"]
The company is into an investment in Australia's utility infrastructure assets, with a focus on Australian electricity networks. The company has declared an interim distribution for 2018 of 8.0 cps, payable on 14 September 2018 and in line with distribution guidance. SKI expects DPS growth of 4.9% to 16.0 cps in FY 18. Meanwhile, SKI stock has risen 8.56% in three months as on August 24, 2018.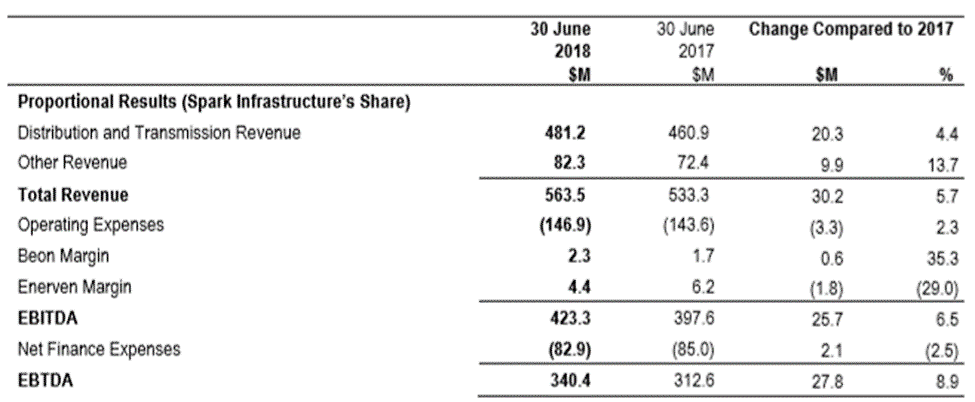 1H FY18 Financial Performance (Source: Company Reports)
The Income available from dividends remains attractive for many investors.
We take a look at the best yields on the market and assess what they say about a company's prospect.
One Thing is certain, though, Australia interest rates are still low, making income difficult to come by and keeping the focus for many investors on high yielding stocks. Kalkine's team of analysts bought you handpicked report for "Top 25 Dividend Stocks For 2018."
ASX-relevant Special Reports are published year-round to provide a detailed analysis into an investing opportunity or a potential risk to your portfolio.
Click here to get your free report.
---
Disclaimer
The advice given by Kalkine Pty Ltd and provided on this website is general information only and it does not take into account your investment objectives, financial situation or needs. You should therefore consider whether the advice is appropriate to your investment objectives, financial situation and needs before acting upon it. You should seek advice from a financial adviser, stockbroker or other professional (including taxation and legal advice) as necessary before acting on any advice. Not all investments are appropriate for all people. Kalkinemedia.com and associated websites are published by Kalkine Pty Ltd ABN 34 154 808 312 (Australian Financial Services License Number 425376). website), employees and/or associates of Kalkine Pty Ltd do not hold positions in any of the stocks covered on the website. These stocks can change any time and readers of the reports should not consider these stocks as advice or recommendations.