Australian pre-clinical pharmaceutical company, Nyrada Inc. (ASX: NYR) is advancing well with its drug development objectives, to cater to the large, underserved therapeutic needs of its targeted patient groups.
The newly-listed drug discoverer appears to be well funded to execute its clinical programs. Debuting on ASX with a fully subscribed $8.5 million IPO, Nyrada reported $6.1 million cash at the end of March 2020 quarter.
Also Read: Nyrada Quarterly Update Highlights Key Program Developments, Strong Cash Position
The pharmaceutical company hopes to be positioned to capitalise on the market opportunities backed by its commercial business model. Nyrada reports compelling proof-of-concept data and its lead optimisation is well advanced.
The Nyrada product portfolio is diverse, with significant therapeutic and commercial potential include two lead programs: Cholesterol-Lowering Program and Brain Injury Neuroprotectant Program. In addition, the company is also working on antinflammatory and autoimmunity discovery programs.
The Nyrada board is of international calibre, with individuals who have a proven track record in the foundation and the value realisation of biotech companies. In the meantime, the Scientific Advisory Board encompasses an international team of experts who have vast drug development experience.
Brain Injury Problem and Potential Effects
Around 2.8 million are estimated to sustain traumatic brain injury (TBI), and 0.8 million suffer a stroke each year in the US. With only one drug class that is suitable for less than 15% of the stroke patients and no existing treatments for TBI, neurology surgery or physical rehabilitation remain the only current therapies. It further leads to high mortality, life-long disability, and high ongoing healthcare cost.
As per Energias Market Research, global severe TBI treatment market growing with 5% CAGR is expected to be US$20 billion in 2024.
Brain Injury may lead to short- or long-term issues affecting:
Cognitive Function, further impacting attention and memory
Motor function in the form of extremity weakness, impaired coordination and balance
Sensation, further impacting hearing, vision, impaired perception and touch
Behavioural issues such as emotional regulation, depression, anxiety, aggression, impairments in behavioural control, personality changes
Nyrada's Unique Brain Injury Solution
Nyrada's neuroprotection program is centric to secondary brain injury treatment following TBI or stroke, with a key focus on:
Cell Death Prevention
Attenuating damaged brain volume
Improving survivability, limiting disability, improving quality of life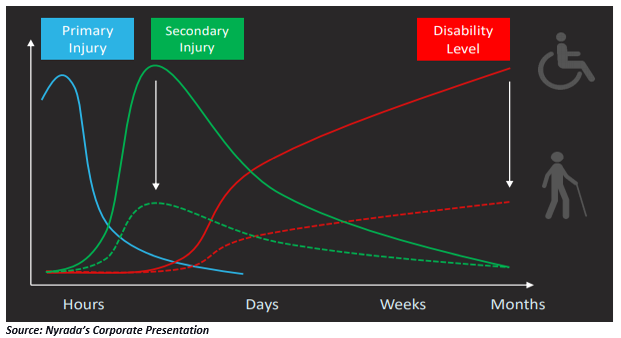 An exploratory pharmacokinetic study was carried for NYX-242, which is the current lead neuroprotectant candidate. The study indicated that NYX-242 readily crosses the blood-brain barrier and when administered via intravenous infusion demonstrate sufficiently long half-life in plasma.
Notably, Nyrada also developed new generation neuroprotectant compounds that have even higher potency than NYX-242, presently being optimised ahead of testing for efficacy in an animal model of brain injury. The comprehensive compound testing strategy is expected to aid Nyrada in selecting the best, fully optimized compound to take forward into clinical testing.
The company intends on lodging a provisional patent shortly, after which the market will be updated with details of the new family of compounds.
Must Read: Lens through Nyrada's Neuroprotection Program: Treatment for TBI & Stroke
Understanding Market Potential for Cholesterol-Lowering Program
Atherosclerotic plaque (LDL-cholesterol accumulation) leads to narrowing of the arteries, which potentially leads to stroke or heart attack when arterial blood flow is blocked. According to the 2019 report by the American Heart Association on heart disease and stroke statistics, approximately 1 in 4 (25%) of the deaths are attributed to cardiovascular diseases with high cholesterol as one of major contributors.
Cholesterol problem in the US is alarming with 62.6 million total US adults estimated to have elevated LDL-C and be at risk of cardiovascular disease. While over 27 million US Adults with high LDL-C take a statin, more than 19 million are unable to achieve their LDL-C target despite taking statin therapy.
The global Cholesterol-lowering market is estimated to be worth US$19 billion, which is expected to grow at a CAGR of 4.9% between 2017-2027, according to Visiongain Market Research.
Available Treatment Options versus Nyrada's Cardiovascular Solution
Nyrada aims to develop a small molecule drug to prevent cardiovascular disease by helping patients lower their LDL-cholesterol. The Nyrada cholesterol-lowering solution inhibits PCSK9 action on the cholesterol receptor. Statin use leads to an increase PCSK9 levels, further elevating LDL-C, and this acts as a "brake" on their effectiveness.
A longstanding challenge of an oral PCSK9 treatment seems to be overcome by small molecule PCSK9 inhibitor drug, paving the potential for Nyrada to develop the first oral PCSK9 inhibitor therapy, combined with a statin in a 'single pill' treatment.
The pre-clinical stage cholesterol-lowering program is unique as it offers single pill, convenient and cost-effective treatment for patients.
Way Ahead
Lead product candidate selection for cholesterol and neuroprotectant program in early H2 2020 and late H1 2021 respectively
Cholesterol-lowering program and Neuroprotection program to enter the clinic in late H2 2021 and mid-H1 2022
Further pre-clinical results and potential industry collaborations are ongoing.
By the end of the trading session on 4 May 2020, NYR stock closed at $0.170. Over the last one month, the stock has generated a positive return of 33.33% as on 1 May 2020.
ALSO READ: Recently Listed Nyrada is Improving Lives and Providing Hope Through Innovation in Drug Development