On November 19, 2020, S&P/ASX200 ended in green as there was a rise of 16.10 points or +0.25% to 6547.20. On the same day, academic & educational services sector rose by 2.88% and financials sector increased by 1.20%. However, healthcare sector fell by 0.85%.

Sector Summary (Source: Refinitiv (Thomson Reuters))
Movements on Wall Street: On November 18, 2020, Dow Jones Industrial Average declined by 1.15% to 29,438.42. Notably, NASDAQ Composite fell 0.82% to 11,801.60.
Top Movers: ALS Ltd (ASX: ALQ) (up by 7.89%) and Perpetual Ltd (ASX: PPT) (up by 7.62%). On the other hand, Elders Ltd (ASX: ELD) witnessed a decline of 4.52%.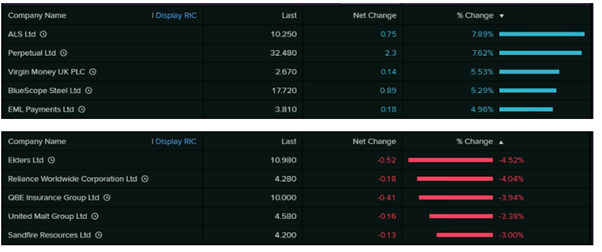 Top Movers (Source: Refinitiv (Thomson Reuters))