On 21st May 2021, ASX Indices manage to give positive closing thanks to rise in the US indices. Notably, ASX 20 surged by 0.12% to 3,997.30 and ASX 200 increased by 0.15% to 7030.30. Also, ASX 100 moved up by 0.16%.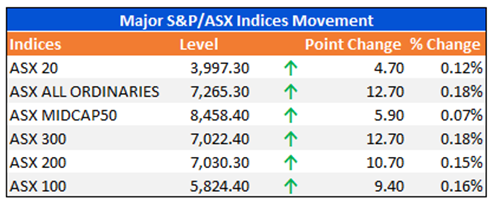 Data Source: ASX; Table Source: Copyright © 2021 Kalkine Media
ASX Midcap 50 Outperformed Rest of Indices:
ASX 200 Index managed to close at 7030.30, showing significant growth of ~26.66% in 1 year. Also, ASX Midcap 50 Index and ASX Small Ordinaries Index settled at the levels of 8,458.40 and 3,197.50 points, respectively. Hence, ASX Midcap 50 Index performed better than ASX 200 Index and ASX Small Ordinaries Index.
S&P/ASX 200 vs S&P/ASX Midcap 50 Index vs ASX Small Ordinaries Index – One Year Return

Source: Refinitiv, Thomson Reuters
Gainers and Losers:
Kogan.com Limited (ASX: KGN) provided the business update and stated that it anticipates underlying operating performance to continue to be challenged over the near-term. Notably, its adjusted EBITDA for FY 2021 could differ from the present range of the analyst forecasts. Its best projection for FY 2021 adjusted EBITDA is between $58 Mn- $63 Mn.
Perenti Global Limited (ASX: PRN) acknowledged the announcement made by AngloGold Ashanti and noted that the contractor mentioned in the release happens to be an employee of Underground Mining Alliance. UMA is the JV (70:30) between Perenti's subsidiary, African Underground Mining Services as well as Rocksure, which is the local Ghanaian contracting company.
AngloGold Ashanti stated that an employee of the mining contractor at the Obuasi Gold Mine in Ghana, is missing post the fall of the ground in one of the operation's mining stopes.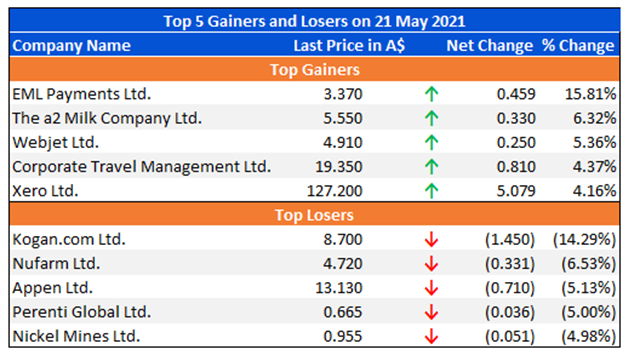 Data Source: ASX; Table Source: Copyright © 2021 Kalkine Media
Movements on Wall Street:
On 20th May 2021, NASDAQ Composite witnessed rose 1.77% to 13,535.74. However, Dow Jones Industrial Average witnessed an increase of 0.55% to 34,084.15.