On 21st June 2021, the broader Australian markets ended the session in red as market sentiments were impacted due to the expectations that the US Fed might hike the interest rates sooner than anticipated earlier. As a result, ASX 200 fell by 1.81% and ASX 300 declined by 1.82%.
Data Source: ASX; Table Source: Copyright © 2021 Kalkine Media
ASX Midcap 50 Outperformed Rest of Indices:
ASX 200 Index settled at 7,235.30, reflecting a growth of ~21.71% in 1 year. Also, ASX Midcap 50 Index and ASX Small Ordinaries Index settled at 8,776.70 and 3,320.20 points, respectively.
S&P/ASX 200 vs S&P/ASX Midcap 50 Index vs ASX Small Ordinaries Index – One Year Return

Source: REFINITIV
Gainers and Losers:
On 21st June 2021, Megaport Limited (ASX: MP1) released an update to its 2021 financial calendar. As per the release, full year results would be announced on 10th August 2021. It has also announced that Ms Glo Gordon would be appointed as the member of the remuneration & nomination committee effective from the appointment as the director on 1st July 2021.
Notably, Afterpay Limited (ASX: APT) rose by 2.456% to A$117.210 per share.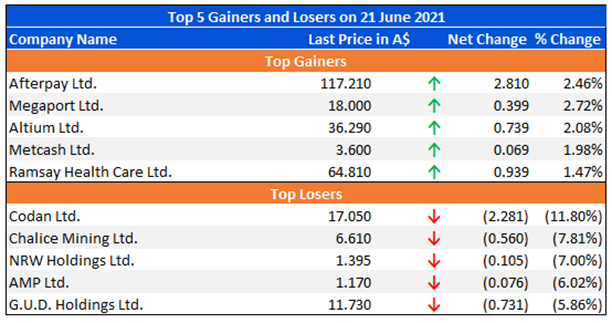 Data Source: ASX; Table Source: Copyright © 2021 Kalkine Media
Movement on Wall Street:
On 18th June 2021, NASDAQ Composite fell 0.92% to 14,030.38. Notably, Dow Jones Industrials Average declined 1.58% to 33,290.08.
Note: The reference data in this article has been partly sourced from REFINITIV