Investors have a lot to catch up in this reporting season! The diverse group of ASX-listed companies have released not only the exponential growth in revenue but also some important updates on mergers and acquisition, future outlook and debt arrangements. Let's discuss three such companies:
Wattle Health Australia Limited (ASX: WHA)
Wattle Health's plan to acquire a leading CNCA accredited manufacturing facility, Blend and Pack (B&P), gets shareholders' approval on Wednesday.
Acquisition of Blend and Pack (B&P)
In an announcement dated 1 August 2019, Wattle Health Australia Limited announced that the company has obtained shareholders approval for the acquisition of Blend and Pack (B&P) from Mason Holdings Pte Ltd in an Extraordinary General Meeting held yesterday, i.e., 31 July 2019.
The Australian organic dairy product suppliers, Wattle Health will now acquire 75% in Blend and Pack, which is a largest independent nutritional manufacturing facility by volume and was one of the first facilities to obtain CNCA accreditation from the relevant Chinese authorities.
Presently, WHA holds 5% interest in Blend & Pack (B&P) and has proposed for further 75% as mentioned above. The company is further seeking to acquire up to additional 13.5% interest from the original founding B&P shareholders, in order to take its total shareholding interest in Blend & Pack (B&P) to 93.5%.
With a strong track record of positive earnings, B&P manufactures and processes dried dairy products for major domestic and international nutritional dairy companies. China's CNCA accredited Blend & Pack (B&P) provides Wattle Health a distribution channel into a market where the demand for Australian nutritional dairy products are driven by the middle-class of the society that is growing at a rapid pace.
Both the parties to the transaction, WHA and Mason have agreed to further extend the completion date to 31st August 2019. Wattle explained that this extension will allow time for all parties involved in the acquisition to satisfy the pre-conditions and complete the required steps to give effect to the acquisition, involving multiple jurisdiction.
Together with this acquisition update, Wattle Health Australia Limited released its quarterly activities statement today. Its key highlights include:
Signed debt facility term sheet with Gramercy
On 9 May 2019, WHA secured a debt facility term sheet from Gramercy Funds Management LLC (Gramercy) for US$75 million. WHA has secured this debt facility term sheet to fund the acquisition from Gramercy.
On 21 June 2019, Gramercy updated this debt facility term sheet, increasing the loan amount to US$85 million.
Corio Bay Dairy Group (CBDG)
Corio Bay Dairy Group is a joint venture (JV) between The Organic Dairy Famers of Australia (ODFA), Niche Dairy (ND) and Wattle Health Australia (WHA). In a quarterly update, WHA informed that Corio Bay Dairy Group (CBDG) has continued the construction of Australia's first dedicated organic nutritional spray dryer based in Geelong, Victoria to process the largest pool of fresh organic milk. The construction of spray dryer is expected to be completed in 1H 2020, as planned, that would give the first right to WHA for the use of all certified organic nutritional powder.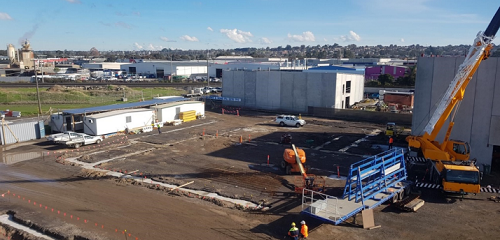 Constriction site of CBDG organic nutritional spray dryer (Source: Company Announcement)
Under the newly launched Uganic Brand, WHA will be distributing fresh organic milk and organic A2 fresh milk in Q1 2020. For this purpose, WHA secured an agreement with CBDG to distribute the only available commercial quantity of Organic A2 fresh milk across its nutritional dairy range and fresh milk sales.
WHA eyes the first delivery of organic A2 fresh milk to be received in Q1 2020, with volumes for full fiscal year 2020 expected to be ~2.5 million litres. It further expects the volume to increase to ~7.5 million litres in Fiscal 2021.
Remarkable Milk Company (RMCO)
During the quarter, WHA secured a 5% holding in Remarkable Milk Company (RMCO), a company which develops and manages a range of retail products for Asia Pacific customers, ensuring quality products with a focus on health, nutrition and provenance.
With this strategic investment in RMCO, Wattle Health will have access to bottle and distribute both fresh organic milk and organic A2 fresh milk in national and international market.
Cash and Stock Price
In the quarterly update, WHA reported that the cash outflows were significantly up due to the cost associated with Uganic's launch and proposed acquisition of B&P.
WHA stock price dropped 2.083% to trade at $0.470 on 1 August 2019 (2:19 PM AEST). Over the past 12 months, the stock has declined by 64.31% including a negative price change of 39.24% in the past three months.
Nufarm Limited (ASX: NUF)
Crop protection and seed technology company, Nufarm Limited has undertaken a placement of A$97.5 million preference securities to strategic business partner Sumitomo Chemical Company Limited and existing shareholders of the company.
The company told that these securities may be exchanged for Nufarm shares at Sumitomo's election any time after 24 months at an exchange price of A$5.85 per NUF share. Further, a quarterly distribution at a fixed rate of 6% would reportedly be paid to Sumitomo for the first 12 months and 10% thereafter.
Nufarm Managing Director and CEO, Greg Hunt stated that "Sumitomo has been a long-term supporter and business partner and today's agreement is a strong endorsement of the strength of Nufarm's relationship with Sumitomo.
Guidance Update
Nufarm downgraded its earnings guidance due to its financial performance getting impacted by adverse seasonal weather conditions and supply related impacts. The company now expects to report underlying EBITDA of around $420 million in FY2019 compared to the previously advised range of $440 million - $470 million.
Further, Nufarm expects to report ~$50 million of significant items, before tax, relating to unrecovered overheads associated with the continued drought conditions and Nufarm's Laverton manufacturing plant being materially below previous years. On the capital front, the company expects to report net working capital of around $1.6 billion for the year end.
However, Mr Hunt provided an optimistic outlook for FY2020 on the back of strong customer base in North America, the cost reduction and efficiency improvement programs in Australia, and the first commercial sales of Nufarm's proprietary omega-3 canola expected in Fiscal 2020, among other supporting reasons.
He also confirmed that Nufarm's Seed Technologies business has continued to see strong demand and the company expect this to continue into FY20, with additional upside if weather conditions in Australia revert to more normal patterns.
Stock Performance
NUF stock price edged up by 2.971% to trade at $5.025 on 1 August 2019 (2:52 PM AEST). Over the past 12 months, the stock has declined by 30.63% including a negative price change of 1.01% in the past three months.
Mesoblast Limited (ASX: MSB)
Healthcare company, Mesoblast reported exponential growth in revenue for the quarter ended 30 June 2019.
In a quarterly report dated 31 July 2019, Mesoblast posted 54% growth in revenue to US$1.7 million, derived from the royalty receipts on the sales of TEMCELL® in Japan for the treatment of acute graft versus host disease (aGVHD). Royalty income recognized as revenue for full fiscal year 2019 reached to US$5.0 million, reflecting 37% growth on Fiscal 2018.
Revenue from sales of TEMCELL® HS. Inj. in Japan reported in constant currency (Source: Company Announcement)
It is worth noting that FDA has granted Orphan Drug Designation for the use of rexlemestrocel-L (Revascor) and the company is in talks with FDA to get further clarity on the registration pathway for the use of Revascor in the treatment and prevention of post implantation mucosal bleeding in heart failure patients implanted with a left ventricular assist device (LVAD). In late July, Mesoblast indicated the optimism felt around the discussion with FDA while the formal minutes are expected in coming weeks.
As at 30 June 2019, Mesoblast's cash balance stood at US$50.4 million; The report read that Mesoblast may receive US$35.0 million under the existing arrangements with NovaQuest Capital Management, L.L.C. and Hercules Capital, Inc.
MSB stock price edged up by 1.017% to trade at $1.490 on 1 August 2019 (3:36 PM AEST).
---
Disclaimer
This website is a service of Kalkine Media Pty. Ltd. A.C.N. 629 651 672. The website has been prepared for informational purposes only and is not intended to be used as a complete source of information on any particular company. Kalkine Media does not in any way endorse or recommend individuals, products or services that may be discussed on this site. Our publications are NOT a solicitation or recommendation to buy, sell or hold. We are neither licensed nor qualified to provide investment advice.
There is no investor left unperturbed with the ongoing trade conflicts between US-China and the devastating bushfire in Australia.
Are you wondering if the year 2020 might not have taken the right start? Dividend stocks could be the answer to that question.
As interest rates in Australia are already at record low levels, find out which dividend stocks are viewed as the most attractive investment opportunity in the current scenario in our report.
CLICK HERE FOR YOUR FREE REPORT!