With the growth in demand for battery manufacturing and electric vehicles across the world, the demand for specialised spherical graphite product is increasing at an exponential rate. At present, China is the leading supplier of spherical battery graphite, which produces the product with a very toxic purification process employing hydrofluoric acid. Moreover, there is a robust demand for an alternative eco-friendly non-Chinese supply by anode manufacturers outside China.
Australia-based battery graphite producer, Kibaran Resources Limited (ASX: KNL) is catering to this market demand via its spherical graphite manufacturing project, EcoGraf. EcoGraf non- hydrofluoric method is both environmentally-sustainable and cost efficient relative to Chinese players in the space.
In addition, the company has a long life, highly profitable graphite project- the Epanko Graphite Project, located at about 370km from Tanzania's Dar es Salaam city.
The company has recently released a presentation on Annual General Meeting, incorporating details of its upstream and downstream businesses. To know more about the presentation, click here.
Kibaran intends to become a long-term partner in supplying environmentally benign spherical battery graphite and natural flake products to clients in both emerging and established global markets. Once established, the vertically integrated businesses will supply high grade Tanzanian natural flake graphite products to established markets in Asia and Europe via TanzGraphite and will provide a worldwide new supply of environmentally safe battery graphite for lithium-ion batteries via EcoGraf.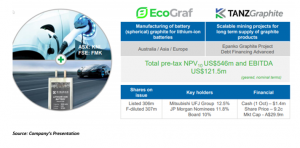 Turning Focus on EcoGraf Project
Kibaran's downstream business, EcoGraf intends to set up a processing plant in Kwinana, Western Australia (WA), to manufacture spherical graphite utilising a new eco-friendly process to sell it to lithium-ion battery producers directly. The company's plans to build the processing plant is contingent on feasibility and engineering studies concluded by WA Engineering group, GR Engineering Services.
Early in 2019, the company finalised the EcoGraf optimisation study in Germany that validated the successful implementation of its non-hydrofluoric acid purification process to natural flake graphite supplies, stemmed from Europe, the Americas, Africa and Asia.
The continuing test work has verified that the process could consistently manufacture graphite to the requirements of battery anode producers. The confirmation of the process indicates the company's ability to initiate operations without depending on graphite feedstock from its upstream business, the Epanko project.

Kwinana Development at EcoGraf
Before selecting Kwinana as a preferred option for the manufacturing facility, the company ensured completion of the engineering design and costing for development sites in Asia and Kwinana.
Kwinana was selected as a priority location due to the Australian government's support for battery minerals and increasing transparency for ethical raw materials. Australia's leading position as a consistent supplier of high-grade industrial products further supports the proposed location.
GR Engineering has estimated the following capital cost estimate for the construction of a new EcoGraf production facility in Kwinana:

Kibaran intends to commence commercial production of an initial 5,000 tonnes per annum in eleven months after the Final Investment Decision (FID) for Kwinana and expand to 20,000 tonnes per annum by 2022 to meet the expected growth in demand. The company has received strong support from European customers where major investment underway in battery manufacturing for electric vehicles.
The company is making speedy progress with the first EcoGraf development advancing towards a 'Final Investment Decision' and strong Government Support in Tanzania expected to result in financier approvals for Epanko.
Kibaran has achieved several significant milestones in 2019, including commencement of debt financing process with potential lenders, continuation of extensive customer product qualification program using new spheronising piloting equipment and receipt of WA state government support for Kwinana manufacturing facility.
The proposed development of a manufacturing facility is aligned to the Future Battery Industry Strategy of WA's government, that focusses on securing Australia as a developed place in the swiftly transforming global battery value chain.
Moreover, the potential economic contribution of the project to WA is considerable on a strategic and an economic front. During production, the project is likely to employ over 125 direct employees and more than 250 construction workers.
As per Western Australian Premier, Hon. Mark McGowan, EcoGraf project presents a remarkable move in diversifying WA's contribution to the global battery value chain and downstream processing activities.
Progress on Pre-Development Activities in Kwinana
The company is advancing the pre-development activities for the production of a battery graphite production facility in Kwinana. As a part of these activities, the company has recently updated on the ongoing confirmation testwork and benchmarking feedstock programme for the proposed manufacturing facility.
EcoGraf confirmation testwork: The company notified that the testwork results have confirmed the eco-friendly nature, provided no toxic emissions were recorded for solid, aqueous or gaseous residues. The results also provided the required information to finalise the detailed design of the process flow sheet comprising waste streams and equipment specific design data.
Benchmarking Feedstock Programme: The company also updated details on a benchmarking feedstock programme being completed under pre-development activities. The company mentioned that it is assessing product sources chosen from the successful 2018 programme. Thereafter, the production variables would be evaluated, results would be analysed and fed into a cost benefit analysis and eventually optimal feedstocks would be determined.
The company is likely to finalise the testwork soon and remains on schedule for a Final Investment Decision for Kwinana manufacturing facility in the first half of the year 2020. Its target is to complete pre-development activities and commence Kwinana construction in next year.
Forward Plans after Selection of Optimal Feedstocks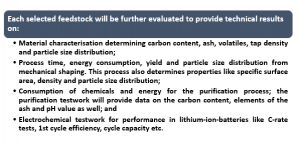 KNL closed the day's session by $0.095 on 29th November 2019, with a rise of 5.6 per cent relative to the last closed price.
---
Disclaimer
This website is a service of Kalkine Media Pty. Ltd. A.C.N. 629 651 672. The website has been prepared for informational purposes only and is not intended to be used as a complete source of information on any particular company. The above article is sponsored but NOT a solicitation or recommendation to buy, sell or hold the stock of the company (or companies) under discussion. We are neither licensed nor qualified to provide investment advice through this platform.