Highlights

The ASX 200 ended 1% higher amid a broad-based rally on Thursday.
Revolver Resources surged 17.5% on first day of trading.
Gold miner IRIS Metals closed 5% higher above its listing price.
Australian shares ended higher amid a broad-based rally on Thursday, with the benchmark ASX 200 index rising 1%. In a rare sight, all eleven sectoral indices ended in the green, led by tech, energy and utilities. On the initial public offering (IPO) front, resource companies Revolver Resources and IRIS Metals made strong debut on the Australian Securities Exchange (ASX) due to investors' demand and positive market sentiment.
Revolver Resources ends 17.5% above listing price
Exploration and mining company Revolver Resources (ASX:RRR) ended the first day of trade 17.5% above the listing price. The stock had a robust listing day, with shares gaining as much as 30% to hit a high of AU$0.26, against the listing price of AU$0.20. On the volume front, 5.2 million shares worth AU$1.25 million changed hands over the counter.
Image source: © Milslav78 | Megapixl.com
The homegrown copper explorer began trading on the domestic exchange today after successfully raising AU$12.7 million via IPO. The company issues 63.62 million shares at a price of AU$0.20 per share.
The company owns two advanced copper projects, Dianne and Osprey, in Queensland's premier polymetallic provinces. It intends to use the IPO proceeds to commence drilling programs at these two advanced copper projects in North Queensland.
Commenting on the ASX listing, Revolver's Managing Director, Pat Williams said: "The company's listing on the ASX today was a significant milestone for the management team and shareholders and benefits the overall growth plans as copper becomes an in-demand commodity due to the world's increasing electrification."
"World markets need new copper supply and demand is forecast to grow up to 600 per cent, so we have come to the market to fast-track the development of our copper projects in North Queensland," Williams added.
IRIS Metals surges 5% on IPO debut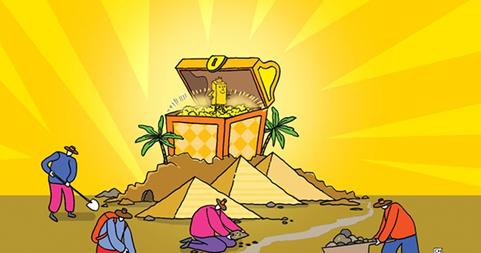 Image source: Copyright © 2021 Kalkine Media
Another mining exploration company that joined the ASX board today is IRIS Metals (ASX: IR1). The gold miner's share price closed the first day of trade at AU$0.21 apiece, up 5% from its IPO price of AU$0.20. During the day's trade, the stock gained as much as 17.5% to touch as intraday high of AU$0.235. IR1 shares received good response from investors as 2.6 million shares worth AU$567K changed hands over the counter.
The listing followed the successful completion of AU$7 million IPO, cornerstoned by an entity led by resource entrepreneur and investor, Levi Mochkin. The Australia-based resources company issued 35 million shares at an offer price of AU$0.20 apiece in its IPO.
The goldfields-focused explorer holds interest in high grade mining Kookynie and Leonora projects, located in Western Australia (WA). The projects are located in close proximity to highly successful regional neighbours, including Carnavale Resources (ASX:CAV), Genesis Minerals (ASX:GMD) and Metalicity (ASX:MCT) in Kookynie and Kin Mining NL (ASX:KIN) in Leonora.
Following the capital raise, the company is well financed to execute a systematic exploration program at our Kookynie and Leonora tenements.
"IRIS will initially focus on the Kookynie gold field, which has a history of bonanza-grade intersections. Recent exploration success by our neighbours has confirmed the belief that the 'old timers' have left many opportunities behind," said Simon Lill, Non- Executive Chairman.