Summary

By 12 June 2020, Zip shares rose by 45% since hitting its low price on 19 March due to the increasing interest of customers in BNPL space. However, the stock ended the market session, down by 3.522% (as on 12 June).
Zip recorded a strong trading month with monthly revenue of $15.6 million for May, a 78% rise compared to pcp.
About 65,000 customers joined the group in one month, with total customers now noted at 2.1 million.
Zip acquired US based QuadPay (BNPL company) and recently, raised $200 million from US-based SIG Group to accelerate its global expansion plans.
Substantial transaction volumes and outstanding repayment performance, along with wise credit tightening and repositioning of business in the last few months reflected strong resilience and preparedness of the Group.
Coronavirus proved to be a boon for BNPL stocks that have been surging up, as the current world increasingly shift towards digital technology giving a jolt to online lending, financing and banking services amid lockdown, and stay at home restrictions. BNPL stocks have been gaining traction recently amongst youngsters due to quick and easy access to credit facilities online.
Zip Co, a leading BNPL player, headquartered in Australia, is a point of sale credit and digital payment services provider and extends retail finance solutions to various businesses. It has brands like Zip Pay, Zip Money and Pocketbook, serving education, health, retail and travel industries in Australia.
Zip Co Limited (ASX:Z1P) share price has risen by about 45% to close the trading session at $6.30 on 12 June from a low of $1.175, as on 19 March. However, Zip's shares fell by 3.522% from its last close, on 12 June, settling at $6.30; though, it released a positive trading update for May.
Performance Highlights
Z1P reported another strong month with monthly revenue of $15.6 million for May, an increase of 78% compared to the previous corresponding period.
A few highlights from the period are as follows:
Monthly transaction volume rose by 63% year on year at $189.3 million.
Receivables balance stood at $1.2 billion at the end of the month, a rise of 85% compared to a year ago.
Customer numbers rose by 63% year on year to 2.1 million with an addition of 65,000 new customers in May, while the number of merchants increased by 46% to 23,600 in a year.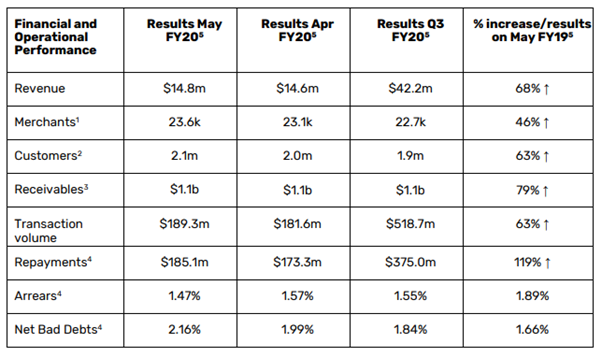 Source: Zip Co May trading update, ASX
Larry Diamond, MD and CEO of Zip stated that their product is highly differentiated and has helped millions of Australians in spending as per their need during the tough period of COVID-19. He also added that Zip continues to see a shift towards digital, contactless payments and e-commerce. The E-commerce penetration is expected to be at elevated levels even after coronavirus, as consumers have become more prone and comfortable to online shopping and with significant retail investment being made within the sector.
Credit and Repayment performance
Zip stated that its bad debts were as per expectations and substantially outperformed the market. Amount outstanding values every month which is a forward indicator of future losses reduced with management describing it as a great result.
For Zip:
Net bad debts stood at 2.16% in line with management expectations
Monthly arrears showed a decline from 1.57% in April to 1.47% in May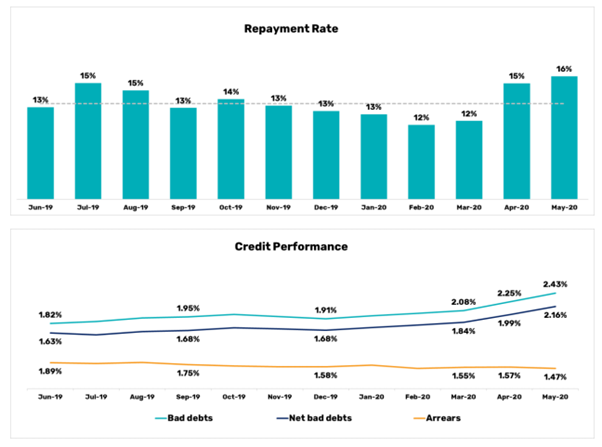 Source: Zip Co May Trading update, ASX
Further, the Company reported no material change in several requests for hardship assistance, which were at the top during March end with 0.08% of receivables. Similarly, customer repayment rates have remained at par or higher with the rates before coronavirus.
ALSO READ: 5 Favoured Fintech Stocks - Z1P, EML, TYR, SZL, SPT
Mr Diamond stated that the performance of the business in terms of both robust transaction volumes and arrears repayment reflects the resilience of Zip's business model.
Acquisition of US BNPL player and capital raise
On 2 June, Zip co accelerated its expansion plans by signing a $403 million agreement to acquire American BNPL player QuadPay. QuadPay was first one to market a virtual card solution in the BNPL space, in partnership with Stripe, and enabled customers to pay for their purchases in 4 interest-free instalments over 6 weeks. The US has been a crucial part of Zip's expansion strategy as merchants look for global payment solution.
ALSO READ: BNPL Stocks Flying High on ASX; OPY zooms up by ~41%, Z1P surges up by ~20%
Zip already owned 14% in QuadPay following the acquisition of PartPay Limited (headquartered in NZ) in 2019. The new joint unit will have businesses in Australia, the US, NZ, the UK and South Africa with total sales of $3 billion. After conclusion of the deal, Zip would have 3.5 million customers and ~26,000 merchants delivering annualised revenue of $250 million.
Zip also inked a deal with CVI Investments, an affiliate of Heights Capital Management which is an affiliate of Susquehanna International Group (SIG), one of the largest financial services firm that is privately held with more than 2000 employees in 6 countries, based in the US to raise up to $200 million by the issuance of convertible notes and exercise of warrants.
As per Larry Diamond, the Company is well-placed with the sensible strengthening of credit with repositioning of the business over the last few months. The Company is on track with $2.2 billion in annualised transaction volume to hit its FY20 target. There have been advancements in consumer confidence and signs of recovery in-store foot traffic.
Disclaimer: All the currencies mentioned are in AUD unless specified