Western Australia-based lithium player, Galan Lithium Limited (ASX: GLN), formerly known as Dempsey Minerals Limited, is primarily focussed on advancing its exploration activities at its 100%-owned lithium assets located within South America's Lithium Triangle on Salar De Hombre Muerto in Northern Argentina.
Location Map; Source: Presentation - Lithium Supply & Markets Conference (Chile)
The company holds a total of 13 granted exploitation concessions over six project areas, with these covering ~ 25,000 ha, of which at least 7,800 ha is considered prospective for brines. The initial tenements were acquired during mid-2018 via the 100% acquisition of Subiaco, Australia-based Blue Sky Lithium Pty Ltd, with its founder being Mr Juan Pablo "JP" Vargas de la Vega, the current Managing Director of Galan.
Hombre Muerto: Tier 1 Location Worldwide for Li Brines
Salar de Hombre Muerto is one of the significant basins in the world for production of lithium brines, since US-based Livent started operating the Fenix lithium operation in 1992, currently producing ~18,000 tpa LCE. Other companies with interests in Hombre Muerto include Galaxy Resources (ASX: GXY) which is planning to accelerate development at its 100%-owned Sal de Vida Project. Galaxy has recently sold a portion of its significant Sal de Vida Resource to POSCO at a cash consideration of USD 280 million; with the funds planned to be directed towards the development of Sal de Vida at Salar de Hombre Muerto.
Source: Presentation - Lithium Supply & Markets Conference (Chile)
Hombre Muerto is characterised by a rich brine hosted lithium (+- potash and boron) mineralisation and very low contaminant levels. The basin also has a conducive setting for lithium brine development and commercial production with hypothermal activity, ground waters sourcing volcanic rocks, arid climate and a faulted environment.
The following figure gives Lithium production (by world deposits) as of 2018.
Source: Company Reports
Although remotely located, Salar de Hombre Muerto is only 390 km from the city of Salta and moreover, there is also a 3 km long airstrip at the Fenix operation. In term of gas supply, Salar de Hombre Muerto is served by the 300,000 m3 per day multi-user Fenix Gas Pipeline, that was commissioned in 2015, and designed to facilitate and provide for the industrial operations in the region.
Candelas Project
Galan has been targeting areas, including Candelas, that are partially covered by younger sediments or volcanics, and were previously underestimated by other operators. Therefore, the company is accelerating works at the highly prospective Candelas lithium brine project located in the Catamarca province and encompasses the Los Patos channel (15 km by 3-4 km). Candelas is also the main inflow channel to the Salar.
Geophysics-The channel lies within a structurally controlled graben formed into basement Pre- Cambrian metamorphic rocks and extends for the length of the project, ~ 15 km. It is filled with Tertiary ignimbrites, sourced from the nearby Cerro Galan volcano, and more recent Pleistocene sediments (alluvial fan, channel and Salar sediments). Brine thickness of high-grade was encountered at a range from up to ~200 m+.
Drilling- So far, major headways have been reported by Galan for the Candelas Project,including reconnaissance sampling (during due diligence), gravity and CSAMT geophysical surveying, and drilling (ongoing).
Galan Lithium had set out to unlock potential of its new target in January 2019 after the receipt of permits in December 2018 from the Secretaria de Estado de Mineria – Gobierno de Catamarca, Argentina. The Stage 1 of the five-hole maiden diamond drilling campaign at Candelas commenced thereafter.
The results from the first four drill holes (C-01-19, C-02-19, C-03-19, C-04-19) far exceeded Galan's expectations. Recently, the initial assays from the fifth drillhole (C-05-19) were also disclosed marking the closure of Stage 1.
More on details of five holes drilling can be READ here.
Meanwhile, Galan Lithium had also obtained drilling permits for six new drillholes to kickstart Stage 2 drill programme at Candelas, whereby the sixth drillhole C-06-19 is now completed to a depth of 422 m after encountering basement at 419 m. Under Stage 2, the company is focussing on the northern section of Candelas and evidently expediting the exploration activities to define a Maiden Resource Estimate by the third quarter (Q3) of 2019.
Lithium- The Right Commodity and Outlook
Lithium is lightest of all the metals and finds application in several industries, with the most relevant being in the Lithium Ion Batteries (LIBs) or rechargeable batteries used in electric vehicles (EVs). The EV battery market is increasingly expanding with EVs on the verge of large-scale commercialisation across the globe as the world transition towards a low-carbon future and opting for sustainable energy sources.
According to the United States Geological Survey, LIBs accounted for ~39% of the annual demand of 175,000 t of lithium carbonate equivalent (LCE) in 2016. Although there are differing demand forecasts for lithium by different market experts, the fundamentals look strong over the medium to long term estimating an approximate +20% CAGR growth largely in EV battery market.
Galan seems to be well placed to capitalise on the opportunities offered by the EV battery market boom.
Western Projects within Salar de Hombre Muerto
The Company also holds five tenements on the edges of the western basin of Salar de Hombre Muerto. Of these, the Catalina and El Deceo tenements were included in the original acquisition with Candelas. The CSAMT surveying highlighted the brine potential over four new targets, supported by the results of surface brine sampling. One of these western projects, Santa Barbara, is adjacent to Livent's Fenix operation.
The drilling permits for Western tenements have been applied for and expected to be granted by Q3 2019.
Way Ahead
Continued drilling at Candelas is underway and a Pre-Feasibility Study (PFS) is being planned to evaluate the production of lithium carbonate and investigate new ion exchange processing alternatives in Q4 2019, with other studies in hydrology, environmental, logistics, marketing to follow. A pilot plant is also being planned to be operationalised by Q3 2020, targeting the production of LCE.
The company recently presented at the Lithium Supply & Markets Conference (Chile) and has a strong cash position (AUD 1.39 million as of 31 March 2019) to move forward.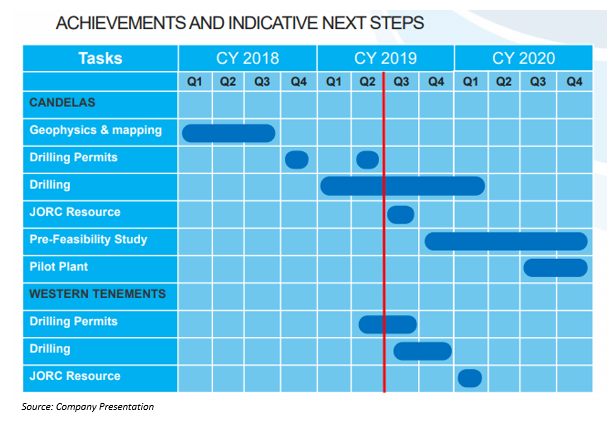 Stock Performance
With a market capitalisation of AUD 23.28 million with ~ 129.33 million outstanding shares, the GLN stock settled today's (27 June 2019) trading at AUD 0.190, edging up 5.56% by AUD 0.010 with around 130,223 shares traded.
---
Disclaimer
This website is a service of Kalkine Media Pty. Ltd. A.C.N. 629 651 672. The website has been prepared for informational purposes only and is not intended to be used as a complete source of information on any particular company. The above article is sponsored but NOT a solicitation or recommendation to buy, sell or hold the stock of the company (or companies) under discussion. We are neither licensed nor qualified to provide investment advice through this platform.