Highlights:

Empire Resources boasts an impressive project portfolio: 451sqkm granted tenements, plus a similar 451.4sqkm of tenement applications
The company has substantial tenement holdings in Western Australia that are prospective for gold, copper, and base metals
Empire Resources' previous 12 months of exploration:

2,923m of diamond drilling has been completed at the Yuinmery copper/nickel/gold project, coupled with many DHEM geophysical surveys
5,289m of AC drilling has been completed at Penny's Gold Project
Extensive exploration fieldwork has been completed at the Nanadie Copper-Gold Project
At the Barloweerie Project, field mapping has been completed
Empire Resources Limited (ASX:ERL) seems to be in a vantage position, provided its impressive list of projects, which continue to be explored actively, resulting in a continuous news flow. Let us explore how the gold and copper explorer and developer company has been faring with its projects and prospects.
Penny's Gold Project:
Just 45km from Kalgoorlie, Penny's Gold Project boasts 28sqkm of granted tenements. Limited drilling has taken place in this project thus far, although multiple targets remain drill ready. Interestingly, of the +20,000m of historical drilling, just 10% was below 75m.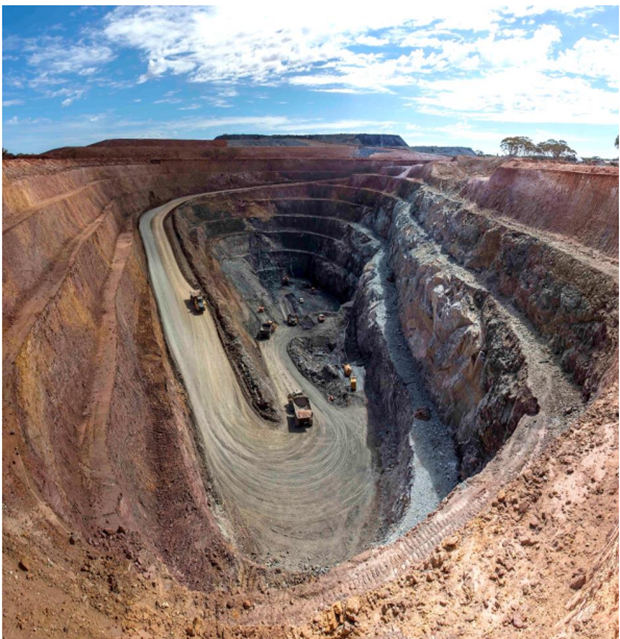 Source: Company update dated 11 Nov 2022
In September 2022, aircore (AC) drilling for 5,286m was completed. The final assay results have been reported with strong gold mineralisation.
The company has planned to continue to develop these exciting prospects in 2023.
Nanadie Project:
This Nanadie Project houses copper-gold mineralisation in Greenstones. On the exploration tenements front, a total of 127sqkm has been granted. This project has seen limited exploration in the past. Impressively, extensive anomalies related to copper and nickel have been found in the soils.
Detailed geological mapping was completed in September 2021
More than 1,500 soil samples were collected in October 2021
A total of 17 targets stand generated, thanks to a geophysical review
Other than this, an impressive correlation between chromium and nickel and copper has been found at the project.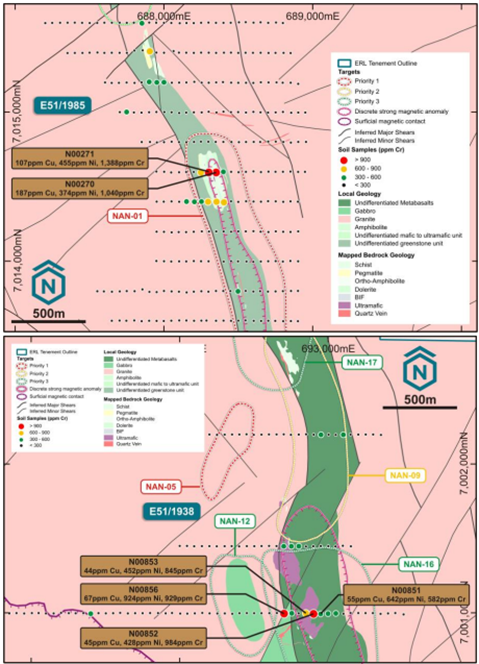 Source: Company update dated 11 Nov 2022
Knows that >600ppm chromium is regarded as highly anomalous, says the company. Let's have a look at the priority areas at Nanadie:
NAN-01:
Magnetic high overlying interpreted greenstone rocks
Peak soils: 107ppm Cu, 455ppm Ni and 1,388ppm Cr ()
Interpreted 'weak' bedrock conductors
NAN-16:
Greenstone rocks adjacent to a major shear zone flexure
Peak soils 67ppm Cu, 924ppm Ni & 929ppm Cr
Outcropping ultramafic rocks
Planning for field work is ongoing at the project.
Yuinmery Project
With granted exploration tenements of 107sqkm, the Yuinmery project boasts polymetallic base metals and orogenic gold. The project houses an immensely large synclinal structure. There are two deposits (one is JORC Resource), 26 prospects (six stand untested below 75m) and 18 defined targets (half of which are untested by drilling).
Historical drilling-wise, >2,000 holes for a total of +100,000m have been completed, of which only 10% have been below 75m. Anomalism has been seen by shallow drilling across multiple targets.
Worth mentioning prospects:
Smiths Well: This prospect, known for extensive Cu-Ni-Co mineralisation, is open down plunge. Broad zones of massive-to-disseminated sulphides pyrrhotite-chalcopyrite-pyrite have been found. Diamond drilling was completed in H1 2022, and the technical assessment is ongoing.
YT01: This newly identified target (2019) is known for impressive copper-gold mineralisation. Diamond drilling has been completed to visible pyrite and chalcopyrite. Further drilling is under planning to test the extents of the strike.
A Zone: This prospect is known for good copper mineralisation that has been intersected in the past and in the recent 2021 RC drilling.
Barloweerie Project
Located 150km west of Cue, this project has granted tenements covering 127sqkm with a whopping 406sqkm under application. The project is believed to hold the potential for base metals and gold mineralisation.
Drilling in the 1980s gave impressive mineralisation, particularly zinc, lead, silver, and copper. Limited exploration has been conducted since 1987.
To sum it
One can say that Empire Resources has an excellent package of immensely prospective exploration projects with multiple commodities: Au, Cu-Au, Cu-Ni-Co, PGM's and Zn-Pb-Ag-Cu-Au.
Source: Company update dated 11 Nov 2022
Active exploration across the projects translates into continuous news flow, says the company.
With a strong cash position and zero debt, the company enjoys a strong financial position. The exploration has been cost-efficient and effective via a systematic approach and is expected to develop as Empire Resources cements its understanding of the geological conditions. The icing on the cake is the experienced team, which boasts a history of corporate success, coupled with impressive skill sets - commercial and technical.
ERL shares traded at AU$0.006 on 7 December 2022.