Highlights

Viking Mines has received results from drilling conducted at the Kinks South target.
The assays have confirmed the presence of substantial zones of high-grade vanadium mineralisation in Vanadiferous Titanomagnetite at the target.
Drilling tested downdip from outcropping VTM and shallow cover meaning mineralisation is interpreted to extend to between 0-12m from surface.
Kinks South presents a substantial opportunity for VKA as the target does not form part of the current MRE.
Australian company Viking Mines Limited (ASX: VKA) has received results from drilling conducted at the Kinks South target within its Canegrass Battery Minerals project . The results have highlighted multiple and consistent, thick zones of vanadium mineralisation (reported as V2O5) along a 1.5km strike length.
It is important to note that the Kinks South target is not a part of the current MRE and presents a substantial opportunity for the Company to grow the mineral resource base, specifically targeting a high-grade component >30Mt >0.9% V2O5.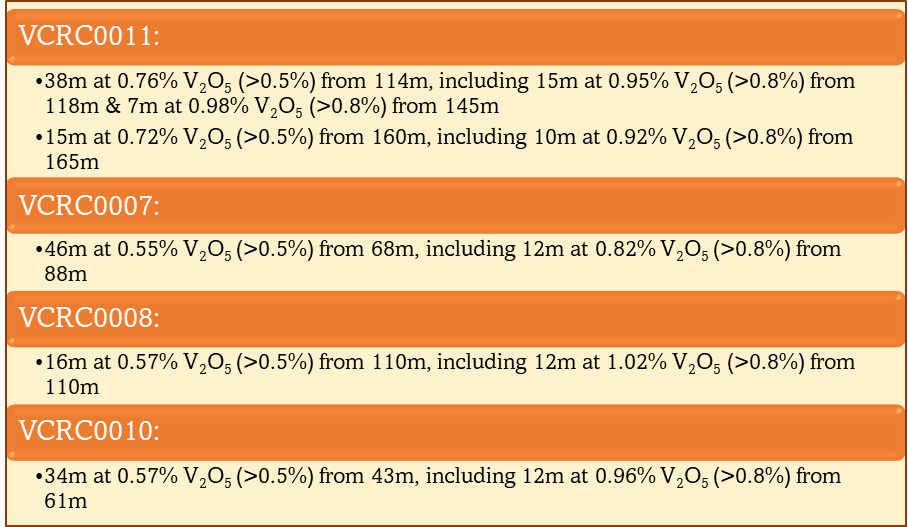 Significant V2O5 intercepts (Data source: company update)
An overview of Kinks South Target Area
Viking concluded a drill campaign recently with 17 holes over 2,730m, testing more than 1.5km strike of Vanadiferous Titanomagnetite (VTM) horizon detected in outcrop mapping and geophysics. So far, the Company has drilled 18 holes for around 2,892m into the Kinks South target.
The Exploration Target Estimate (ETE) of 23.1Mt to 30.8Mt at 0.46% to 1.04% V2O5 for 0.24 to 0.71 Billion Pounds of V2O5 has been completed for the target.
To date, multiple thick zones of mineralisation have been uncovered at the site. This brings in an opportunity to conduct a Mineral Resource Estimate (MRE) at Kinks South, which sits outside of the current JORC (2012) MRE of 79Mt at 0.64% V2O5, located between the Fold Nose and Kinks deposits.
Data source: Company update
"Further, the recently completed metallurgical testwork that delivered excellent Vanadium recoveries were on samples collected from Kinks South. This demonstrates the high-quality nature of the mineralisation and its amenability to conventional magnetic separation," added Woodcock.
The Company also highlighted intersections of elevated values of Cu, Ni and Co in several holes, supporting potential for additional credits at the Project with intercepts >0.06% Cu.
VCRC0010: 56m at 0.14% Cu, 640ppm Ni & 123ppm Co from 52m
VCRC0012: 37m at 0.10% Cu, 827ppm Ni & 162ppm Co from 99m
VCRC0018: 18m at 0.12% Cu, 812ppm Ni & 178ppm Co from 12m
However, further work is required to understand the significance of these results and association with the VTM mineralisation.
Data source: company update
VKA shares traded at AU$0.011 on 21 August 2023 with a market capitalisation of AU$11.27 million.