Highlights

Tempest Minerals will be investing AU$1 million in Lole Mining
The company has had a successful site visit at Tolukuma Mine as part of due diligence process.
Lole Mining is transitioning Tolukuma from administration and progressing projects
In the latest release, Tempest Minerals Limited (ASX:TEM) has shared an update on the status of the proposed acquisition of Lole Mining Ltd (Lole). The company has been making solid advancement in Lole's projects based in Papua New Guinea (PNG) in parallel to the ongoing due diligence process.
The Board considers the projects as high potential and has announced that the company will be moving forward with an investment of AU$1M in Lole to aid its acquisition.
TEM will become one of the numerous prominent firms, both public and private, taking initial positions in this exciting gold development.
Earlier, TEM had released an update related to the prospects about inking a conditional deal with Lole. At present, it is believed that the transformative acquisition would amalgamate with TEM in an equity-based transaction.
Key Developments at Lole Projects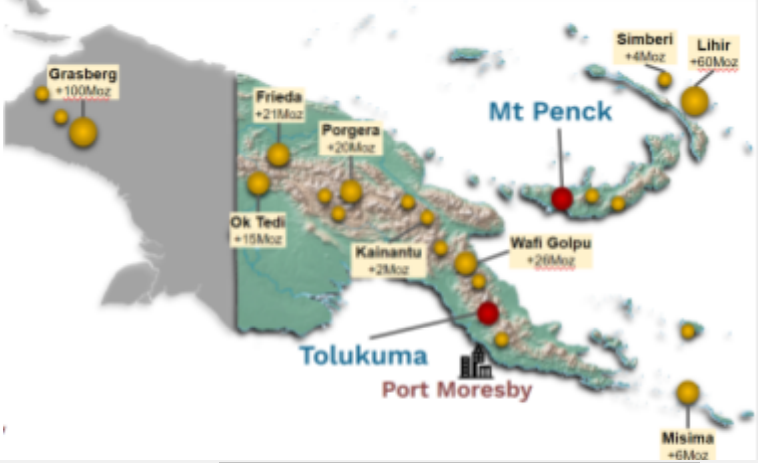 Image Source: Company Announcement
Tolukuma Mine
Located 100 km North of Port Moresby, the Tolukuma Mine historically produced high-grade gold and silver (around 1 Moz Au and 2.4 Moz Ag) from open pit and underground operations. Tolukuma Mine boasts an established infrastructure with a well-set power system, be it hydropower or diesel, along with a helipad facility and a mine camp.
The mine holds a large, legacy mineral resource estimate; however, it isn't in sync with international standards, including JORC. Therefore, a revised resource estimate is being finalized by AMC Consultants as per the current standards.
The mine lies within a highly prospective 2,000km2 exploration package with identified mineralisation and remarkable potential for resource upgrades as well as future discoveries.
Mt. Penck Project
Located within easy vehicle access of Kimbe in the Papua New Guinean West New Britain Province, The Mt. Penck Project has substantial mineralisation found to date such as trench values of 131m @ 2.4gpt and drilling results including 72m @1.8gpt, 43m @ 2.4gpt, 13m @3gpt and 2m @ 36.7 gpt.
Mineralisation has been categorised as high sulphidation epithermal gold with indications of underlying porphyries. These results are tabulated on account of a historical report submitted by a former owner of the project. There is possibility that the data is not as per JORC or other international standards. While the former owner's results are under review by TEM and consultants, the acquirer does not have any reason to question the reliability of the data.
Previously, it was announced that the intended staged acquisition was conditional, depending upon numerous administrative factors. TEM has begun the formal due diligence process.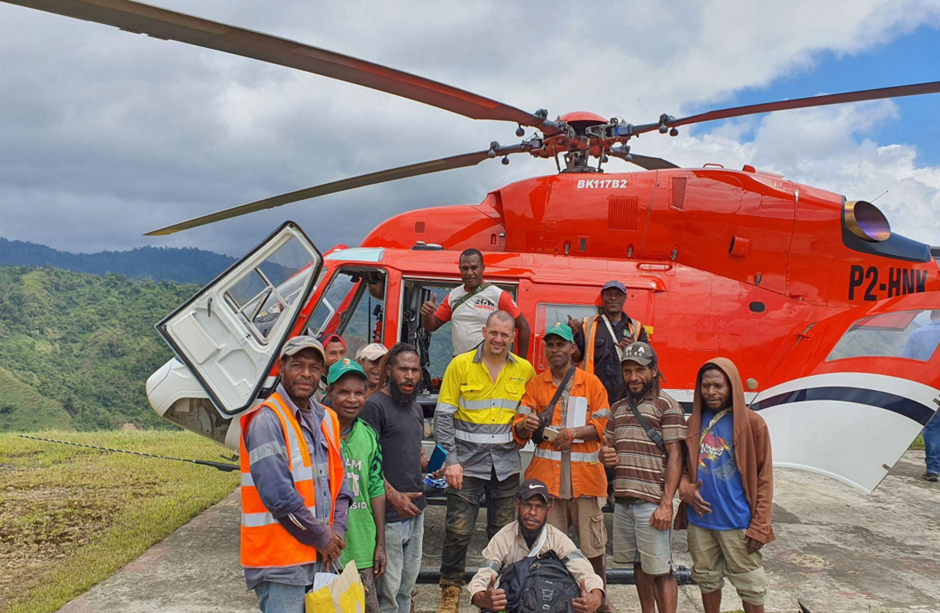 Image Source: Company Announcement
As of now, Lole is approaching close to significant milestones as well as towards completion of the official transfer of ownership from administration. It plans to steer forward development activities of the Papua New Guinea assets.
Also, an extension of 120 days has been granted to Tempest to finish the due diligence process with a right at the end of that period should Lole not have undertaken, either directly or indirectly, a stock exchange listing to elect to proceed with the acquisition.

Data source: Company Announcement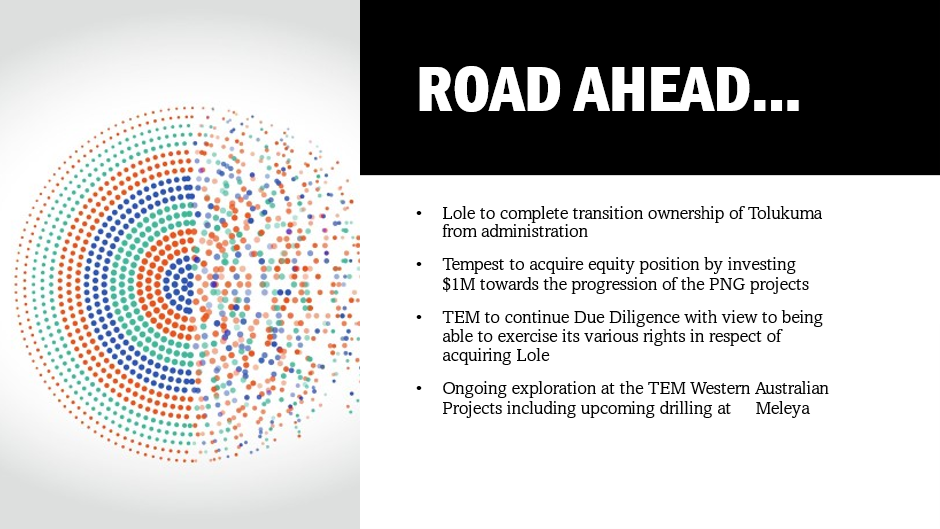 Data source: Company Announcement
TEM shares were trading at AU$0.039 apiece midday on 6 Sept 2022.