Highlights

IOUpay has appointed Chairman Isaac Chong Kwong Yang, with a background in finance and accounting, as the Executive Chairman
The company, with this move, aims to reduce costs, increase efficiencies, and achieve positive cashflow and advance toward profitability as quickly as possible
All current executives of the South East Asia's major fintech company would report to the new Executive Chairman
ASX-listed IOUpay Limited (ASX: IOU), a provider of financial technology (fintech) services in the lucrative market of South East Asia, has announced the appointment of Executive Chairman to lead the company toward profitability by reducing costs and increasing efficiencies.
Isaac Chong Kwong Yang, who has been serving as the company's Chairman, has now been granted full executive authority as Executive Chairman. Mr Chong was recently appointed as Chairman to lead the company's product suite expansion into the small and medium businesses (SMEs) segment, alongside focusing on the civil servant category of consumers (IOUpay's partnership with IDSB) and further developing IOUpay's customer origination and product distribution model.
With this move, the company has also achieved an overall reduction in the fees paid to IOUpay's Directors, in line with the company's aggressive focus on increasing operational efficiencies.
More on the development
Mr Isaac Chong Kwong Yang has been a director of IOUpay since 2014 and was recently appointed as IOUpay's Chairman. The latest move designates him as the company's Executive Chairman, with primary focus on assisting and managing the company's near-term goal of reducing costs and paving the way for positive cashflow and IOUpay's profitability in the least possible time. The company has said that all executives of IOUpay would report to Mr Chong.
Notably, Mr Chong was appointed as IOUpay's Chairman to lead the company's pivot and product suite expansion into the SME segment, while also focusing on the company's civil servant category of consumers vertical, which has IDSB as the investment partner. IOUpay's strategic pivot and product expansion also involves development of customer origination and distribution for bank-funded offerings.
The company has further stated that the recent Board restructuring exercise has assured an overall cut in fees paid by IOUpay to its Directors.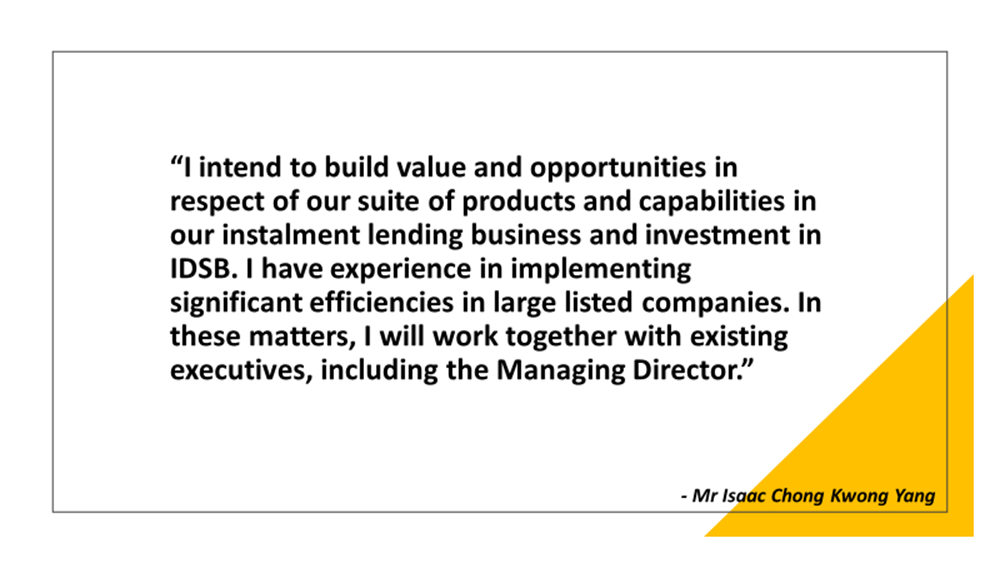 Source: IOUpay ASX release dated 9 March 2023; © 2023 Krish Capital Pty. Ltd.
About IOUpay
The company operates in the South East Asia region, primarily in Malaysia, to provide a range of fintech services including process banking and Buy Now Pay Later (BNPL). It supports institutional customers in securely authenticating end-user customers. It is also working with telecommunication network players to provide mobile over-the-top services, with a view to leveraging their subscriber base and building dynamic communities.
Shares gain 5%
The ASX-listed shares of the company registered a surge of more than 5% and closed at AU$0.041 as of end of trading session on 9 March 2023.