Highlights

In a recent report and accompanying blog, CSIRO has talked about the threat that superbugs pose to humans
Antimicrobial resistance is being fuelled by factors like climate change, which let superbugs to thrive in warm temperatures
Invion Limited, an ASX listed entity, is leading the research and development of PhotosoftTM technology
The tests have found that PhotosoftTM technology has the potential to kill a wide variety of superbugs
One of the hardly ever discussed fallouts of rising global temperature is the rise of superbugs. Superbugs can be understood as a strain that has resistance to antibiotics. In its recently released report on the subject-matter, the Commonwealth Scientific and Industrial Research Organisation (CSIRO) – an Australian government agency engaged in scientific research -- has talked about the 'silent pandemic' facing the human population due to antimicrobial resistance (AMR).
The report by CSIRO, titled 'Curbing antimicrobial resistance', stresses on 'technology-powered' approach to overcoming the situation. In this light, Australia's listed life sciences company -- Invion Limited (ASX: IVX) -- asserts to be working toward solutions. Let us know more.
The CSIRO report
CSIRO has stated that climate change is fuelling the spread of AMR, and there is lack of new treatments for effective diagnosis and prevention. It also talks about how embracing of technology and a human-driven approach can lead to improvements. In an accompanying blog, CSIRO has also warned that next time anyone takes an antibiotic drug, it 'may not work'. Bacteria, it says, has developed resistance to these traditional drugs.
Superbugs are said to be 'thriving' in warm and wet conditions, and there needs to be 'modern solutions', including point-of-care diagnosis, to manage and prevent AMR. The detailed report also asserts that AMR can disrupt any progress on the Sustainable Development Goals (SDG).
Invion's PhotosoftTM technology shows effectiveness against superbugs
Invion is a listed entity leading the global R&D of PhotosoftTM technology to help support the treatment of a range of infectious diseases and ailments like cancer.
Last year, the company released promising early test results of the technology on infectious diseases. These included in vitro tests by the Australian Centre for Antimicrobial Resistance Ecology (ACARE) that demonstrated Photosoft's activity against multiple strains of methicillin-resistant Staphylococcus aureus (MRSA) bacteria. The bacteria is a type of superbug, which is antibiotic resistant and difficult to treat.
Notably, ACARE also found that compounds of Photosoft were effective against other bacteria and fungi.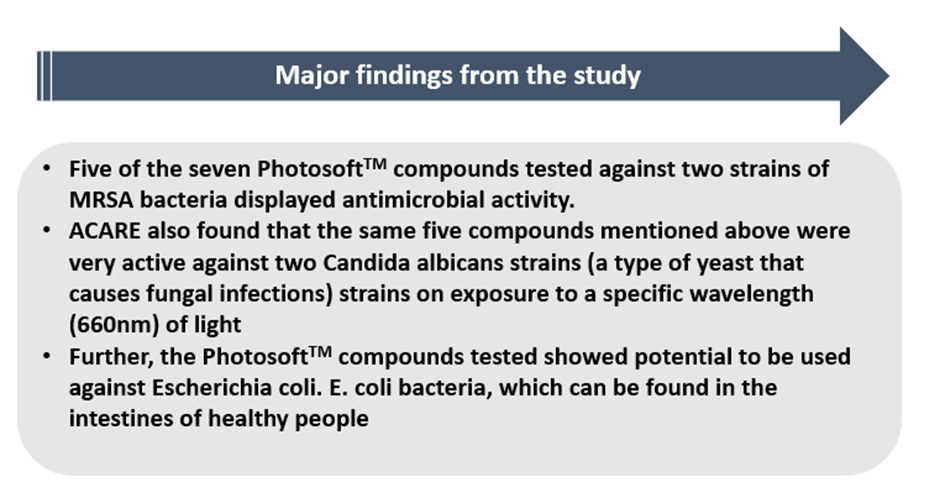 Data source: IVX update
For the PhotosoftTM technology, Invion has also reported potential against SARS-CoV-2 virus. In independent tests, Photosoft compounds showed activity against two variants -- Delta and Omicron BA.1. Besides, Invion is also working on treatment of a range of cancers, with at least two clinical trials planned in this ongoing calendar year -- on skin cancer and anogenital cancer. IVX's lead drug candidate for cancer is INV043.
Invion believes that the findings against MRSA bacteria in the ACARE partnered study are perhaps a corroboration that its technology-driven solutions are proving effective against superbugs.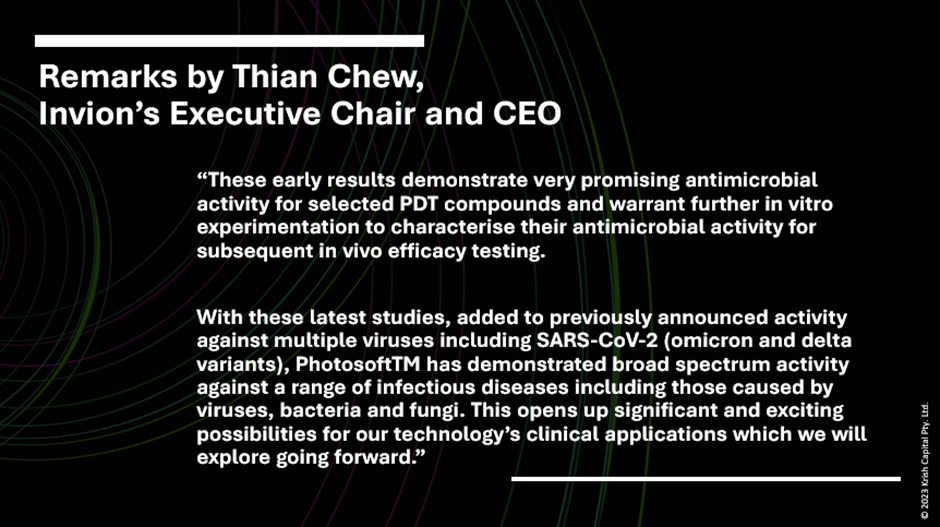 Data source: IVX update