Do you know the mechanism behind the convenience of so many things in your daily life?
It is the mechanism that stands on contemporary technologies like Internet of Things, Artificial Intelligence, Big Data and cloud computing. These technologies have gained immense attention and have penetrated into individual lives as well as industries due to their applications pouring in.
The individuals have seen great convenience and demand satisfaction due to these technologies; however, with some cost of either in terms of money or in terms of privacy and data sharing. Data sharing and the interaction between machines lay the foundation for such technologies to produce desired results for the users.
At the industry front, companies have employed these technologies for numerous purposes, especially in strategy formulation, customer engagement and customer satisfaction being placed at the centre.
In short, the technology of Internet of Things comprises of an ecosystem where everything is connected to the internet one way or another via computing devices embedded in daily life objects that exchange information and media to generate significant data for further optimised strategies and decisions.
The significance of this modern technology can be validated through a Statement of Strategic Intent and Cooperation signed between the Australian Space Agency and Australian space start-up Myriota (a global leader in nanosatellite Internet of Things (IoT) connectivity) in July this year, aimed at enhancing the capabilities of the space industry.
Government Initiatives towards Building Trust in Data Use
The Government is undertaking a number of initiatives towards ensuring confidence in how data is being used by government agencies and businesses. Some of these have been listed below.
Implementing a Consumer Data Right;
Developing an ethical framework in partnership with industry and research organisations;
Delivering legislative reforms to help streamline the sharing and release of public sector data;
Protecting Australians' privacy and confidentiality;
Undertaking inclusive consultation around the new data sharing and release framework;
Supporting the work of the Office of the Australian Information Commissioner in advising the public, government agencies and businesses with regard to the Privacy Act 1988;
Shaping international rules that facilitate the free flow of information and data across borders;
Developing and championing global governance standards relating to misuse of data.
The Government is making continuous and progressive efforts to ensure data availability, and boost the use of high-quality, well-managed data, while also building Australia's national capability in data analytics through the cutting-edge work of Data61 established in 2016.

Australia, which was ranked 2nd out of the 94 countries by the 2017 Global Open Data Index, is expected to further lead the way on opening its datasets to the public.
In July 2018, the Australian Institute of Family Studies had assessed the following as opportunities for potential digital technology use at work or in the social services sector (as identified by survey respondents):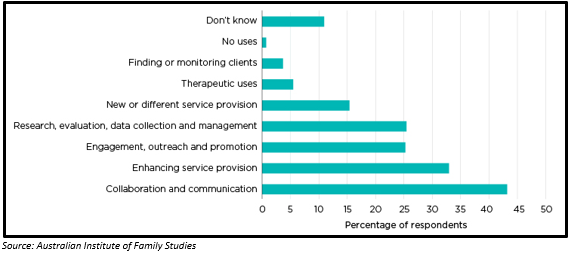 With such transparency and confidence-building steps from the Australian Government, penetration of the internet and internet-based devices has certainly increased till date. This opens numerous opportunities for companies operating in the technology sector of Australia as well as globally.
2019 was a good year for tech industry in Australia. The S&P/ASX 200 Information Technology Index witnessed growth of around 35% year-to-date, surpassing S&P/ASX 200 which grew by around 21% over the same time frame.
With this backdrop, let us have a look at one of the budding companies in the Australian IT sector.
RooLife Group Ltd (ASX: RLG) is a technology ignited company, which caters to its customer base with fully integrated eCommerce, digital marketing and customer acquisition services. All the company's offerings are centred on steering online sales for its clients, especially for Australia and China-integrated sales strategies - driven via the RooLifeGroup hyper-personalisation Artificial Intelligence System.
The reason that the modern-day consumers have made a shift in the trend of online shopping by ignoring broadcasted content with increased anticipation of customised solutions has ignited the need to produce content that an individual customer would appreciate and engage with.
One of the focus areas of RooLife Group Ltd is working on these opportunities with an aim to empower consumers as well as companies by implementing its breakthrough technologies.
The Company's current focus is to facilitate Australian businesses to commercialise directly to Chinese consumers, through processing the payments by way of the WeChat and Alipay mobile payments platforms in AUD or CNY. Towards the personalised end, the option of access to Mandarin-language in this process has been included by RooLife.
Targeting the potential in the Chinese market, which is strongly constituted by technologically advanced users and huge population base, the Company engages in providing a heap of services to brands in the areas including licensing, marketing, logistics, payment collection, processing as well as valuable insights into customer buying behaviour.
The Company's product suite includes:
RooLife eCommerce platform - targeted at simplifying the sale of Australian products into China.
Daishu - core AI and Machine Learning platform of the company, an eCommerce-specific recommendations engine, which utilises industry-standard techniques to engage and convert users.
Synapse - An easy-to-use dashboard that offers actionable insights into customers, diving into what makes them tick, from the most preferred interests across a large user population to individual preferences and personality attributes.
Identifying the eminence to address the need of individual customers; it is imperative to note the consumers' choices and preferences and device strategies to discover and generate the substance they can engage with.
The Company is of the view that the businesses ought to pursue towards the empowerment of individuals by listening, learning and then promoting their business, to reclaim the value and legitimacy they add to the market.
Stock Performance: On 18 December 2019 (AEDT 03:43 PM), the RLG stock was trading at a price of $ 0.036 with a market capitalisation of $ 12.26 million. In the last one year, the RLG stock has increased by 9.09%.
---
Disclaimer
This website is a service of Kalkine Media Pty. Ltd. A.C.N. 629 651 672. The website has been prepared for informational purposes only and is not intended to be used as a complete source of information on any particular company. The above article is sponsored but NOT a solicitation or recommendation to buy, sell or hold the stock of the company (or companies) under discussion. We are neither licensed nor qualified to provide investment advice through this platform.