Construction, real estate, housing and property were terms that created quite a buzz in the Australian economy in 2019. The sector was deprived of any lift after being in a state of free fall for over the past two years period. The fall in housing prices and over all housing market slump has caused a constant shrink of the construction space of the country.
For an insight, concerning the matter, please read our article on the Property Plummet.
In this present article, we have gathered the new occurrences in four construction companies, which are listed and trading on the Australian Securities Exchange.
Let us observe these updates, and look at how these stocks have been performing from investing point of view:
Fletcher Building Limited
Company Profile: An employer, producer, home builder and partner on infrastructure and construction projects, Fletcher Building Limited (ASX: FBU) is dually listed on both NZX and ASX. The company operates via 6 divisions - Distribution, Concrete, Building Products, Construction, Australia and Residential and Development. Its registered office is in Penrose and FBU would conduct its AGM in November 2019.
2019 Annual Results: On 21 August 2019, FBU released its 2019 Annual Results, recording a Revenue from continuing operations of $8,308 million, up by 1 per cent on pcp. The NPAT was $164 million, after the company incurred a loss of $190 million in pcp. The EBIT before significant items was $631 million, within the company's earnings guidance range and up from $50 million in pcp. Also, FBU declared unfranked dividend of NZ 15 cps for the period ending 30 June 2019, which would be paid by 19 September 2019. It has a record date of 29 August 2019 and Ex- date f 28 August 2019. The dividend reinvestment plan would not be operative for this dividend payment.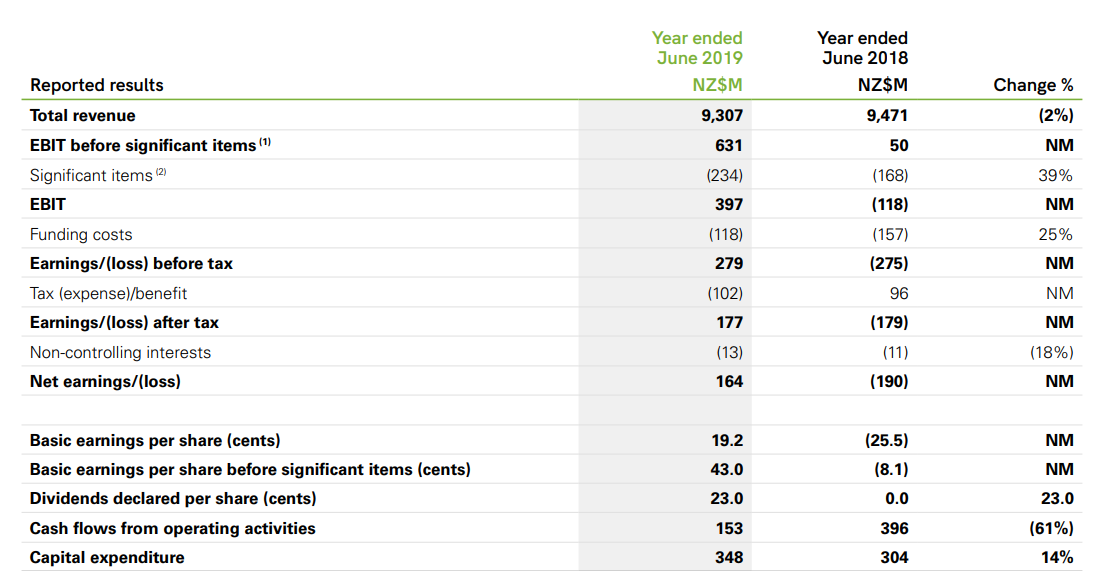 FBU's Performance (Source: FBU's Report)
The company did fall prey to the tough market conditions, catalysed by increase in input costs and weak operating disciplines in some parts of Australia. However, the NZ business delivered good results, and FBU is confident to conclude rest of the legacy B+I projects within the provisions that were previously set in February last year.
A highlight of the year was the sale of international businesses - Roof Tile Group and Formica, which delivered proceeds over FBU's expectations. The company has begun its NZ$700 million to 800 million range debt reduction and would distribute up to NZ$300 million to stakeholders via an on-market share buyback program. Through the $1.3 billion divestment of the international businesses, FBU ended the year with a strong balance sheet with net debt of $325 million.
On the outlook front, FBU is aiming at strengthening the Australian market and has a leadership team in place which is targeting $100 million of gross annual cost-out benefit by FY21 with almost $50 million of this to flow to net EBIT in FY21. In the medium term, 7% EBIT margins are expected to be generated.
Whereas in New Zealand area, the company anticipates housing consents to ease a little off the present peaks. Also, in non-residential construction is to be at the same levels, and infrastructure expense is to ease in significant roading with a shift towards water, rail and so forth.
Stock Performance and Returns: At the time of writing on 22 August 2019 at 12:27 PM AEST, the FBU stock was trading flat at A$4.460, with a market capitalisation of A$3.81 billion and approximately 853.35 million outstanding shares. The YTD return of the stock has been a negative 3.32 per cent.
Boral Limited
Company Profile: Australia's largest construction materials and building supplier, Boral Limited (ASX: BLD) had introduced an Australian-First, Forward Moving Aggregate Spreader, which was designed and engineered to improve road construction safety and reduce costs. BLD was listed on ASX in 2000 and has its registered office in NSW.
Diversified geographic exposure of BLD (Source: BLD's Report)
New Substantial Holder: On 9 August 2019, BLD pleasingly notified that Sumitomo Mitsui Trust Holdings, Inc. along with its subsidiaries became a substantial holder in FBU on 7 August 2019, with 58,915,250 securities, representing a voting power of 5.03 per cent.
Property Development Management Deed: On 21 June 2019, the company notified the media and investors that it had entered into a property development management deed, in relation to BLD's Scoresby site, with Mirvac Group (ASX: MGR), who would manage the urban development of the 171-hectare site over a multidecade period. A new housing community and substantial new parklands have also been proposed for the site. The project completion would conclude in 2035.
As a result of the Deed, the company anticipates receiving $3 million in FY2019 and ~$66 million of EBITDA through to FY2026 period. Beyond this, BLD expects approximately $30 million EBITDA from Property earnings.
Stock Performance and Returns: At the time of writing on 22 August 2019 at 12:25 PM AEST, the BLD stock was trading at A$4.975, down by 0.1 per cent, with a market capitalisation of A$5.84 billion and approximately 1.17 billion outstanding shares. The YTD return of the stock has been 2.68 per cent.
Incitec Pivot Limited
Company Profile: With origins in Europe and North America, and part of the Australian business since last century, Incitec Pivot Limited (ASX: IPL) is a global leader in the resources and agricultural sectors, focussing on Zero Harm. IPL has 20 manufacturing plants across the world and JV operations as well. The company caters to its customers with its production, technology and innovation services. Its international manufacturing facilities generate an array of explosives, fertilisers and so forth.
Update on Project Range in the Surat Basin: On 21 August 2019, Central Petroleum Limited (ASX: CTP)  notified on an update from Queensland, regarding the Project Range in the Surat Basin. Accordingly, CTP mentioned that NSAI or Netherland, Sewell & Associates had independently certified 270 PJs of 2C Contingent Resources (100 percent Joint Venture) of Walloons coal seam gas at the Project Range. This result substantially surpasses the original estimate which was in the range of 150 to 170 PJs (100 percent JV). CTP's 50 percent share of the RC Resources is 135 PJs of 2C.
The JV is 50:50 amid Central Petroleum Limited (ASX: CTP) and a 100 percent owned subsidiary entity of Incitec Pivot. Post this, the JV seeks to together select a location for a production pilot to demonstrate gas flows to surface, and a multi-well production pilot is in pipeline for drilling to commence early next year. Towards the exploration and appraisal, including the production pilot, the company would be contributing up to $20 million in the Project Range.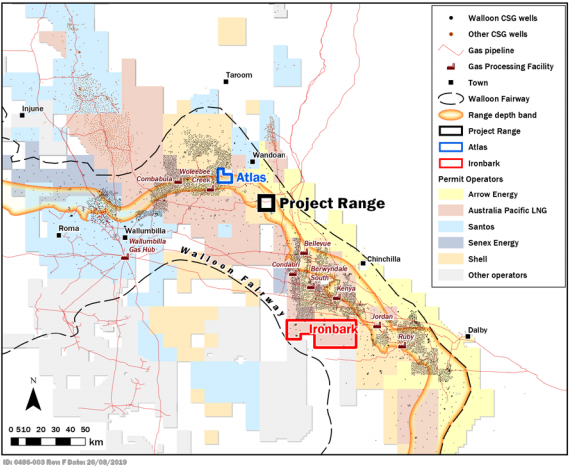 The Project Range (Source: IPL's Report)
Stock Performance and Returns: At the time of writing on 22 August 2019 at 2:21 PM AEST, the IPL stock was trading at A$3.205, down by 0.156 per cent, with a market capitalisation of A$5.15 billion and approximately 1.61 billion outstanding shares. The YTD return of the stock has been -0.62 per cent.
Downer EDI Limited
Company Profile: A designer and builder, Downer EDI Limited (ASX: DOW) sustains assets, infrastructure and facilities, while providing services across ANZ. Dual-listed on the ASX and NZX, the company has a history of over 150 years. The company is the owner (by 88%) of Spotless Group Holdings Limited and has its registered office in NSW.
The market and investors are eagerly awaiting the release of DOW's full year results on 22 August 2019.
Royal Adelaide Hospital Update: On 21 August 2019, the company pleasingly notified that Spotless Group Holdings Limited (ASX: SPO) was successful in signing a new pact with the Government of South Australia and Celsus, regarding the delivery of services at the new Hospital. Subject to approvals, the term sheet includes a settlement of historical abatement claims, a revised KPI and abatement regime for provide clarity of Spotless' services, an increment to Spotless' monthly service fee and collaborative commitments of involved parties towards cost reduction and improvement of patient outcomes.
The settlement had been effective 1 July this year and accordingly, the additional service fee is to be paid from 1 July as well, up to June 2022, post re-pricing via subcontract terms and conditions. Delighted with the agreement, CEO, Mr Grant Fenn stated that the agreement would enhance the contract's cash position per on a monthly basis and offer a solid foundation towards developing the hospital's operating model.
Stock Performance and Returns: At the time of writing on 22 August 2019 at 11:44 AM AEST, the DOW stock was trading at A$7.730 up by 2.348 per cent, with a market capitalisation of A$4.49 billion and approximately 594.7 million outstanding shares. The YTD return of the stock has been 13.62 per cent.
---
Disclaimer
This website is a service of Kalkine Media Pty. Ltd. A.C.N. 629 651 672. The website has been prepared for informational purposes only and is not intended to be used as a complete source of information on any particular company. Kalkine Media does not in any way endorse or recommend individuals, products or services that may be discussed on this site. Our publications are NOT a solicitation or recommendation to buy, sell or hold. We are neither licensed nor qualified to provide investment advice.
There is no investor left unperturbed with the ongoing trade conflicts between US-China and the devastating bushfire in Australia.
Are you wondering if the year 2020 might not have taken the right start? Dividend stocks could be the answer to that question.
As interest rates in Australia are already at record low levels, find out which dividend stocks are viewed as the most attractive investment opportunity in the current scenario in our report.
CLICK HERE FOR YOUR FREE REPORT!