Highlights

Blue chips are often considered as large value assets, which usually give stable returns
At times, even blue-chip assets like tech stocks can have big price drops
Below are the three likely blue-chip cryptos if one looks at price change so far in 2022
What is a blue-chip crypto? It is one question that is arguably ruling many crypto discussions, thanks to the wild price swings this year. But does any blue-chip cryptocurrency even exist? To understand this, let us first know what blue-chip means in the secondary market.
What exactly is a blue-chip asset?
Blue-chip stocks, mutual funds or similar assets are those that manifest a lesser amount of price volatility. These are usually more stable than their peers. Some analysts consider large caps as essential blue chips, while some others consider regular dividend paying stocks or dividend aristocrats as blue chips.
In poker, the chips that are blue in colour carry more value than chips of other colours. In stocks, large value is often viewed as a necessary element for categorisation as a blue chip. Large-cap companies are often very established and hold hegemonic positions in the industry they operate in. This helps their listed shares to be comparatively more stable.
However, the losses booked this year by shares of tech giants or the fall from grace of General Motors in the wake of the Great Recession of the late 2000s are instances that show how even blue-chip stocks can manifest extreme volatility.
Also read: What is Chapter 11 bankruptcy? Can Voyager Digital still operate?
Blue-chip cryptos
If viewed from the lens of the poker game, Bitcoin (BTC), Ethereum (ETH), and Tether (USDT) are the top blue-chips among cryptoassets.
BTC rules the cryptoverse with respect to market dominance (over 42% share in the total market cap), ETH ranks second, and stablecoin USDT is at the third position. However, BTC has lost over 55% this year, and ETH's year-to-date (YTD) loss is at nearly 70%. USDT is unscathed so far, thanks to its 1:1 peg with the US dollar.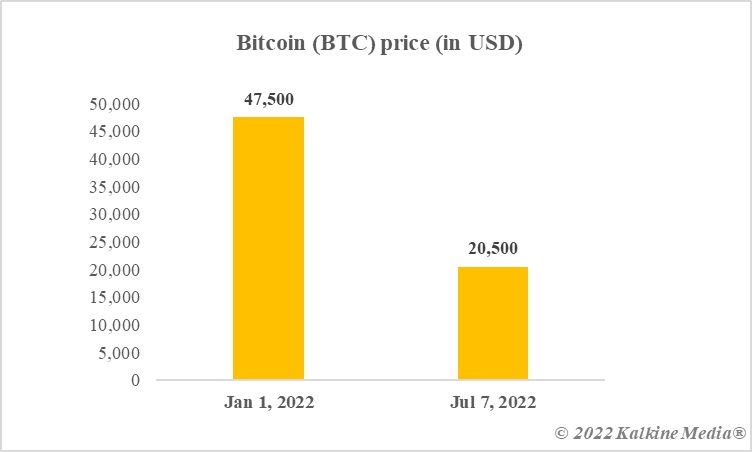 Data provided by CoinMarketCap.com
But if one considers price volatility and stability as the criteria, the below three cryptos can be considered as blue chips.
1. BitTorrent-New (BTT)
The BTT token is associated with the BitTorrent project, a P2P file sharing enabler. The token was launched after BitTorrent used TRON's blockchain to decentralise its operations. According to CoinMarketCap, the BTT crypto has performed relatively better than its peers on a YTD basis. It also ranks in the top 100 cryptos.
2. STEPN (GMT)
STEPN is a project that has cryptos, NFTs, and gaming, with the so-called focus on carbon neutrality. The GMT token was launched in March this year, and it has since traded in the green. It is also one of the top 100 assets.
3. ApeCoin (APE)
The APE token owes its popularity to the NFT space. BAYC collectibles, linked to the APE token, are quite famous among NFT fans. APE was unveiled earlier this year, and it rose to great heights in no time, but is now back to where it started from. However, the token's YTD return has not yet turned negative.
Also read: NFT corner: LimeWire marketplace and Lions Not Sheep NFTs launched
Bottom line
There is no consensus on blue-chip cryptos. By market value, BTC and ETH are the contenders, while in terms of YTD returns in the wake of extreme volatility in cryptos this year, the above three might rule the chart.
Risk Disclosure: Trading in cryptocurrencies involves high risks including the risk of losing some, or all, of your investment amount, and may not be suitable for all investors. Prices of cryptocurrencies are extremely volatile and may be affected by external factors such as financial, regulatory, or political events. The laws that apply to crypto products (and how a particular crypto product is regulated) may change. Before deciding to trade in financial instrument or cryptocurrencies you should be fully informed of the risks and costs associated with trading in the financial markets, carefully consider your investment objectives, level of experience, and risk appetite, and seek professional advice where needed. Kalkine Media cannot and does not represent or guarantee that any of the information/data available here is accurate, reliable, current, complete or appropriate for your needs. Kalkine Media will not accept liability for any loss or damage as a result of your trading or your reliance on the information shared on this website.